by Jeff Carlson, The Epoch Times: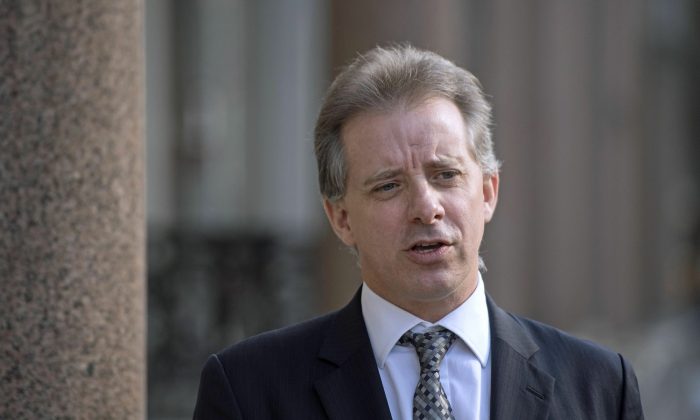 A recently released State Department memo revealed that dossier author Christopher Steele met with Kathleen Kavalec, then-deputy assistant secretary for European and Eurasian affairs, on Oct. 11, 2016, just 10 days prior to the FBI obtaining a FISA warrant on Trump campaign adviser Carter Page on Oct. 21, 2016.
Notably, Victoria Nuland is the former assistant secretary of state for European and Eurasian affairs. Nuland admitted to receiving an early version of Steele's dossier in July 2016.
As noted in a May 10, 2019, letter sent by Sen. Lindsey Graham (R-S.C.) to both Secretary of State Mike Pompeo and Inspector General Michael Horowitz, "Ms. Kavalec's contacts with Steel may have been the most significant and memorialized communications with him by a U.S. government official prior to the issuance of the Carter Page FISA warrant."
Kavalec was mentioned during the Aug. 28, 2018, testimony of DOJ official Bruce Ohr, who stated that Kavalec was an "official at the State Department and she had also, I believe, spoken with Chris Steele at some point. And whatever I had from her, I gave to the Department as well, because I thought it related to the same subject matter." Kavalec is misspelled as Cavilick in the Bruce Ohr transcript.
It appears that at least one meeting between Ohr and Kavalec took place on or prior to Nov. 21, 2016, based on dates in emails from Kavalec to Ohr in which a meeting between the two was referenced. Ohr reiterated to congressional investigators that he "reported the conversation to the FBI."
On Oct. 11, 2016, Kavalec met with Steele and Tatyana Duran, who was referenced as being with Steele's firm Orbis Security. Information regarding Duran remains minimal at this point, and she recently took down her LinkedIn profile.
The meeting was likely brokered by Jonathan Winer, a former deputy assistant secretary of state for international law enforcement and former special envoy for Libya, whom Steele had known since at least 2010. Winer was thanked by Kavalec on the following day in an email that was released as part of the State Department documents obtained by Citizens United through a FOIA request:
"Thanks for bringing your friend by yesterday – it was very helpful. I'll be interested in seeing the article you mentioned."
Winer received a separate dossier, very similar to Steele's, from longtime Clinton confidant Sidney Blumenthal. This "second dossier," compiled by longtime Clinton operative and former journalist Cody Shearer, echoed claims made in the Steele dossier. Winer gave Steele a copy of the "second dossier." Steele then shared it with the FBI, which may have used it as a means to corroborate Steele's own dossier.
"J. Winer" is also listed at the top of notes from the meeting taken by Kavalec. Also included are multiple references to former Trump campaign adviser Carter Page (spelled as "Paige" in Kavalec's typed notes); former Trump campaign manager Paul Manafort; Sergei Millian, who is often described as a source for Steele's dossier; former Trump lawyer Michael Cohen; and Russian Alfa Bank. Interestingly, "Alfa" is spelled correctly in Kavalec's notes unlike in the Steele dossier, which misspelled the institution as "Alpha."