by Geoffrey Grinder, Now The End Begins: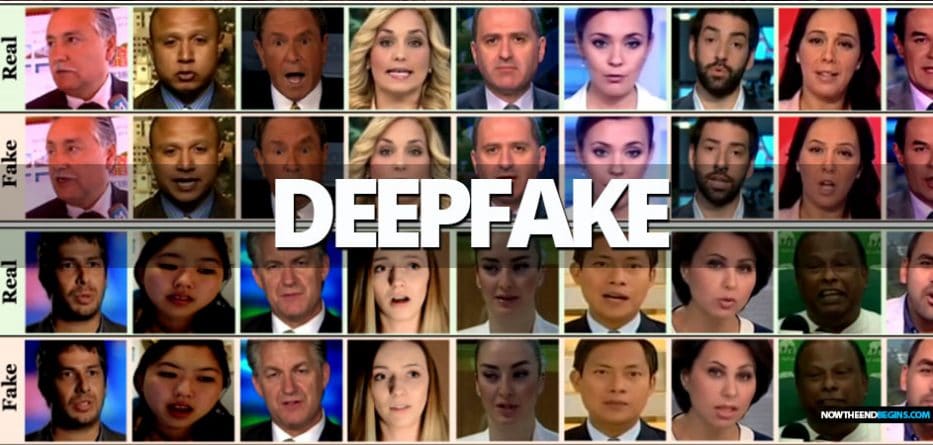 Imagining how a deep fake video could quickly create a very scary real-world scenario is not hard.Say, for instance, a video of a world leader, such as Vladimir Putin, pops up on the internet declaring war on another country, or, maybe, the head of a major company announcing his or her abrupt resignation, putting the markets in a tailspin.Videos like that can spread like wildfire before fact checkers, journalists, and governments even have the chance to authenticate it.And the U.S. government is paying attention. Deep fakes were a topic at the recent worldwide threats hearing in front of the Senate Intelligence Committee.
Director of National Intelligence Dan Coats responded by saying emerging technology like deepfakes pose "a major threat to the United States and it's something the intelligence community needs to be restructured to address."
For many of you reading this article, you are probably not familiar with the term 'deepfake', but from the sound of it, you can most likely figure it out. A deepfake is the combining of real images of people with real voices, then processing it through very powerful AI, with the end result being a video of a real person in their own voice saying and doing things they have never said or done. If that doesn't terrify you, it's only because you haven't stopped to consider the possibility of you being the star of a deepfake production.
"And he had power to give life unto the image of the beast, that the image of the beast should both speak, and cause that as many as would not worship the image of the beast should be killed." Revelation 13:15 (KJV)
This sin-cursed world is heading at breakneck speed to its date with destiny where the armies of Antichrist will meet to do battle with the King of Kings and His redeemed army on white horses in the Battle of Armageddon at the Second Coming, after the born again Church is removed in the Pretribulation Rapture. But along the way, you can absolutely expect to see things you never thought possible.
"But thou, O Daniel, shut up the words, and seal the book, even to the time of the end: many shall run to and fro, and knowledge shall be increased." Daniel 12:4 (KJV)
Our love affair with technology is a funny thing. We speak into a box we hold in our hands, and never give it a second thought how on earth it is possible to look into that box to see and hear the person on the other end. AI is almost at a pointnow where the 2D imagery is getting ready to step out of the box and become 3D.  And as we hurtle headlong into this scary and uncertain future, it's time to get out of the box and back into The Book.
'Deepfake' videos that can make anyone say anything worry U.S. intelligence agencies like DARPA
FROM FOX 5 NY: A video of a seemingly real news anchor, reading a patently false script saying things like the "subways always run on time" and "New York City pizza is definitely not as good as Chicago" gives a whole new meaning to the term fake news.
But that fake news anchor is a real example of a fascinating new technology with frightening potential uses. I was stunned watching the Frankenstein mix of Steve Lacy's voice coming out of what looks like my mouth.
THE VIDEO IS WHAT IS KNOWN AS A DEEPFAKE: A COMPUTER-GENERATED CLIP USING AN ALGORITHM THAT LEARNED MY FACE SO WELL THAT IS CAN RECREATE IT WITH REMARKABLE ACCURACY.
My generated face can be swapped onto someone else's head (like that original video with Steve) or it can be used to make me look like I'm saying things I've never said. For this piece, I worked with Lyu and his team at the College of Engineering and Applied Sciences at the University at Albany.
For many people, seeing is believing. "I would say it's not 100% true anymore," Lyu said.
Their deepfake research is funded by the Defense Advanced Research Projects Agency, or DARPA, which acts as the research and development wing of the U.S. Defense Department. They're working to develop a set of tools the government and public can use to detect and combat the rise of deep fakes.
"What we're doing here is providing a kind of detection method to authenticate these videos," Lyu said.
What's more, deepfakes technically aren't that hard to make. All it takes is a few seconds of video of someone, a powerful computer, and some code, which Lyu and his team don't release publicly.
"The real danger, I believe, is the fact that the line between what is real and what is fake is blurred because of the existence of this kind of technology," Lyu said.
Read More @ NowTheEndBegins.com