by Chris Menahan, Information Liberation: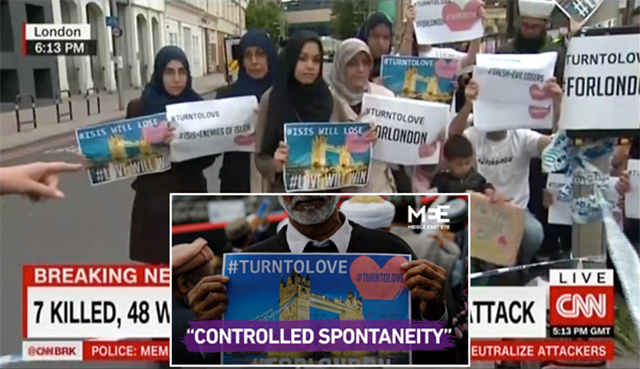 The British government staged the "Muslim" response to the 2017 Islamic London Bridge terrorist attack all the way down to the hashtags pushed on social media so that the public would focus on a "sense of unity with strangers" rather than "reacting with violence or anger," according to a bombshell new report from the London-based Middle East Eye.
After the 2017 attack at the London Bridge, video went viral showing police guiding a group of Muslims before the media's TV cameras as they presented slick signs saying "#TurnToLove," "#LoveWillWin," "#ISISWillLose," and so on.
Most people thought it was evidence CNN staged the incident. In fact, it turns out it was staged by the UK government itself — and it wasn't the first time.
Watch Ian Cobain of the Middle East Eye explain how the scam is run:
From the Middle East Eye, Ian Cobain, 22 May 2019, "'Mind control': The secret UK government blueprints shaping post-terror planning":
The British government has prepared for terrorist incidents by pre-planning social media campaigns that are designed to appear to be a spontaneous public response to attacks, Middle East Eye has learned.

Hashtags are carefully tested before attacks happen, Instagram images selected, and "impromptu" street posters are printed.

In operations that contingency planners term "controlled spontaneity", politicians' statements, vigils and inter-faith events are also negotiated and planned in readiness for any terrorist attack.

The campaigns have been deployed during every terrorist incident in recent years including the 2017 London Bridge attack and the Finsbury Park mosque attack.

Within hours of an attack, other campaigns are swiftly organised, with I "heart" posters being designed and distributed, according to the location of the attack, and plans drawn up for people to hand out flowers at the scene of the crime, in apparently unprompted gestures of love and support.
[This rally in the aftermath of the 2017 London Bridge attack was staged by the British government, evidence suggests.]
The purpose of the operations, according to a number of people involved in their creation, is to shape public responses, encouraging individuals to focus on empathy for the victims and a sense of unity with strangers, rather than reacting with violence or anger.

[…]Examples of "controlled spontaneity" within the UK that MEE has identified include:

– a media campaign that was swiftly deployed after a number of British and American aid workers were beheaded by Islamic State militants in 2014.

– the use of hashtags, posters and vigils after the London Bridge attacks of June 2017 in which eight people were murdered and almost 50 injured.

– a Twitter, Facebook and mainstream media campaign that was employed later that month, shortly after a man drove his van into a group of people outside a mosque in north London, killing one person and injuring 10 others.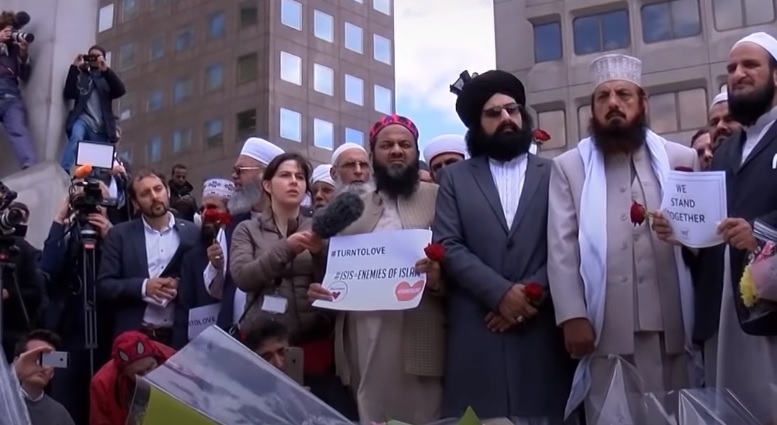 'We're sending you a hundred imams'

While covert messaging developed as part of the Prevent programme is aimed at Muslims, particularly young men, attempts to plan for "controlled spontaneity" in the wake of a terrorist attack are aimed at the general population.

The day after the London Bridge attacks, a team of men arrived at the scene of the murders in an unmarked van.

They could be seen being admitted behind the police cordon, where they plastered walls with a number of posters bearing images of London, and number of hashtags that were already circulating on Twitter: #TurnToLove, #For London and #LoveWillWin.

This practice, known in the UK as fly-posting, is a minor criminal offence, but police admitted the members of the fly-posting team behind their cordon and took no action. The men doing this work declined to tell journalists who they were, or where they were from.

When the cordon was eventually lifted and members of the public were able to return to the scene of the attacks, they found themselves surrounded by apparently impromptu signs of the public's defiance and unity.

The day after that, a government official telephoned Southwark Council, the local authority for the area where the murders happened.

"He said: 'We're sending you a hundred imams,'" a council official recalls. Two days after that, about 100 imams and Muslim community leaders from across the UK duly appeared on the bridge, and one read a statement condemning the attack.

The following weekend, a group of Muslims arrived at the bridge and handed out thousands of red roses. One of the organisers described it as "a symbolic gesture of love" for people affected by the attack.

What the event's organiser did not say is that she worked at the Home Office, in law enforcement.

She told MEE that it was entirely a "grassroots" initiative with no government assistance: "I was acting as a member of the community and sought assistance from my personal networks."
The British government also worked covertly with The Sun and a company called "Breakthrough Media" (now "Zinc Network") to release this cover story with a Muslim woman wearing a "Union Jack hijab" after British aid worker Alan Henning was murdered by ISIS in October 2014:
Read More @ InformationLiberation.com