by Wolf Richter, Wolf Street:
Largest US Trucking Company: "Volume, or lack thereof, is obviously the main story." The inventory pile-up hurts. And the driver shortage is ending.
J.B. Hunt, the largest trucking company in the US by revenues, and a barometer of the goods-based sector of the economy, reported late Monday that revenues rose 7.3% on higher freight rates and fuel surcharges, that net profit inched up only 1.2% despite those price increases, and that Intermodal revenues ticked up 2% while Intermodal shipping volume fell 7%. And that sums up about the freight industry that is facing a downturn in shipments but is clinging to price increases as sole source of revenue growth.
Freight shipment volume in the US across all modes of transportation – truck, rail, air, and barge – in March fell 1% from last year, according to the Cass Freight Index. It was the fourth month in a row of year-over-year declines, and the first declines since the transportation recession of 2015 and 2016. The chart shows the changes in percent for each month compared to the same month a year earlier: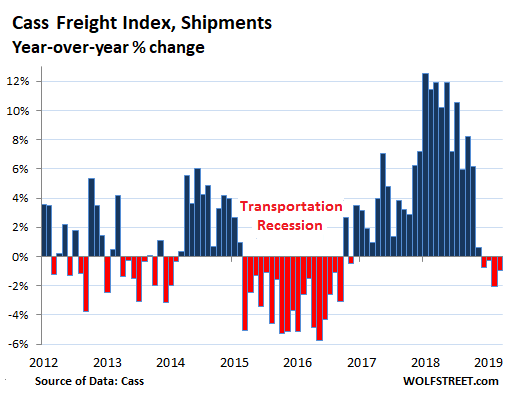 The Cass Freight Index tracks shipments of goods for the consumer and industrial economy by all modes of transportation but does not cover shipments of bulk commodities, such as grains or chemicals.
On a sequential basis from February to March, the Cass Freight Index for Shipments rose 2%, a typical seasonal increase this time of the year. The chart below shows just how big the boom in 2018 (black line, on top) had been, including six months with double-digit year-over-year growth rates in shipments: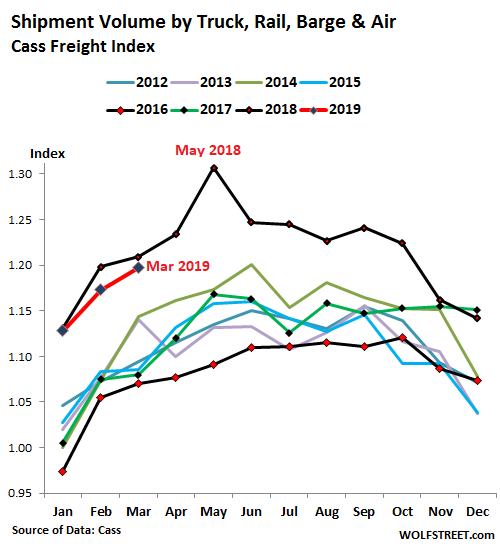 That boom of 2018 is now unwinding. And J.B. Hunt fleshed out some of the details. In the conference call (transcript via Seeking Alpha), CFO David Mee conceded that J.B. Hunt's  "published results obviously revealed headwinds in parts of our business." And he added, "In Intermodal, volume, or lack thereof, is obviously the main story."
Intermodal freight in the US is a combination of truck and rail, such as containers hauled by truck and then transferred to rail, or semi-truck trailers that piggyback on special rail cars.
In January through late February, weather conditions caused some disruptions, Mee said. But…
When the service began to improve, we did not see a snap-back in customer demand in March which was our biggest surprise and frankly our miss to our expectations. While it is way too early to make a trend call for even second quarter 2019 or for the rest of the year, we are still waiting for customer demand to accelerate.
Intermodal shipment volumes were down 7% in January, were down 6% in February, and were down 7% in March, he said and there has been no post-bad-weather recovery so far.
Terry Matthews, Executive VP Intermodal, added: "Much slower West Coast volume" in Intermodal were caused not only by the Chinese New Year "but because of the potential tariffs" that were supposed to go into effect. They had apparently caused some front-running.
"The other thing that we're hearing from customers is that the warehouses are full," Matthews said. "We've got a very late spring, and the typical restocking of spring merchandise did not show up in March as it has in past years."
Concerning this pileup of inventories, David Mee added: "I think they need to bleed off some inventory here early in the second quarter." In other words, these goods in warehouses need be sold – and orders and shipments are going to slow until inventories have been whittled down.