by Stefan Stanford, All News Pipeline: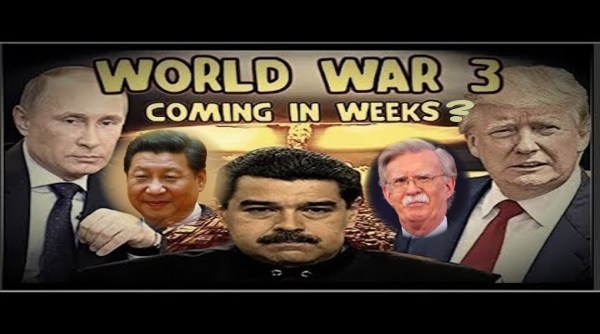 In this new story over at The Stranger that both the Drudge Report and Steve Quayle had linked to on Wednesday, they give us the latest update on the staggering situation in Venezuela, where the Chinese People's Liberation Army has just sent a team from the world's largest standing army into Venezuela with The Stranger story pointing out what this means: three major nuclear-weapon countries are converging on Venezuela.
While President Trump national security advisor John Bolton recently admonished Russia on their sending of troops to the country, claiming that 'anything was on the table' in regards to a US response, China has doubled-down upon Russia's moves in what this story over at News Click calls "a game changer". And while China's troops are allegedly there to deliver humanitarian aid, we should remember that China and Russia recently held THE biggest wargames in history during 'Vostok 18' back in September, prompting complaints from NATO that the drills were "a rehearsal for a major conflict."
Might we soon witness World War 3 unfolding with Chinese and Russian troops now in Venezuela and Bolton and the US having threatened Russia to get their troops out already? From this story over at The Stranger titled "If You Are Not Paying Attention, the World-Ending Storm of a Third World War Is Gathering in Venezuela":
At first, the US's aggressive position on Venezuela seemed uncomplicated. Troops were quickly on the mind of the top hawk in D.C.—White House National Security Adviser John Bolton, the man who, in the first years of the 2000s, played a key role in leading the US into an adventure—the second Iraq war—that proved to be disastrous, and placed American imperial power in a terminal crisis (the collapse of the Project for the New American Century).
The fickle public had forgotten about all that. Bolton, a member of the "old gang" (Cheney, Rummy, Wolfowitz), could resume the war drumming he loves so much. The press could be expected to amplify it. And old allies would fall into line. Venezuela has oil, a socialist government in turmoil, and pro-American opponents who are ready to exploit the oil and turmoil. What could go wrong with the regional exertion of basic imperial power?
Then the Russians arrived and began supporting the socialist leader that the US wants to oust, Nicolas Maduro. And now a team from the largest standing army in the world, the Chinese People's Liberation Army, have, according to Al-Masdar News, been deployed to a crisis that's becoming more and more dangerous. What this means is that three major nuclear-weapon countries are converging on Venezuela.
(If you like stories like this, please consider donating to ANP to help keep us in this battle for the future of America.)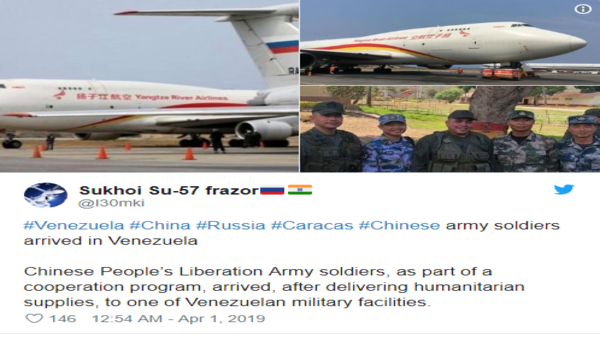 If things weren't complicated enough already in Venezuela where the people have been starving under Nicolas Maduro for several years now, the nation has also seen several electrical grid outages over the past few weeks and with the world's biggest superpowers converging, as The Stranger story points out, these latest moves by China muddy the waters even more, and at a time when the US's dominance in war is in great question should we go up against Russia and China.
As globalist think tank RAND had warned back in March following their carrying out of a World War 3 simulation featuring a war between the US and Russia/China, the U.S. continues to lose against Russia and China two top war planners had warned. "In our games, when we fight Russia and China, blue gets its ass handed to it" RAND analyst David Ochmanek said. Once again, from The Stranger story.:
There are more complications. Bolton's policy positions are clear enough:
Since joining Trump's White House, Bolton has pursued an agenda that includes trying to break Iran financially, oust Venezuelan President Nicolas Maduro, shield Americans from the reach of the International Criminal Court and toughen the U.S. posture toward Russia. He coordinated with key lawmakers, U.S. diplomatic and defense officials and the Israelis to compel Trump to slow an abrupt withdrawal of American forces from Syria.
But his position in the White House is not so clear. His expanding public profile, Bloomberg reports, seems to be getting at Trump's goat (or, put another way, big ego). The growing split between Bolton the globalist hawk and Trump the anti-globalist is certainly on the radar of Russian and Chineseintelligence. This state of things is bound to throw US foreign objectives into a confusion that will debilitate the main peaceful way out of the crisis—diplomacy. 
Read More @ AllNewsPipeline.com