by Wolf Richter, Wolf Street:
The four account for 58% of global manufacturing value added. And the big exporters are getting hit.
The global slowdown in manufacturing progressed another notch in February. Among the top four manufacturing giants in the world, the US is the cleanest dirty shirt. Together, they produced 58% of the world's "value added in manufacturing" in 2016:
China: $3.08 trillion (26% of global total)
US: $2.18 trillion (18% of global total)
Japan: $979 billion (8% of global total
Germany: $718 billion (6% of global total)
China's small and mid-size manufacturers sink.
In February, manufacturing output declined for the third month in a row, and at the steepest rate since March 2016, according to the official Purchasing Managers Index (PMI), released by China's National Bureau of Statistics. For these PMI measures, a value below 50 means "contraction," and a value above 50 means "expansion":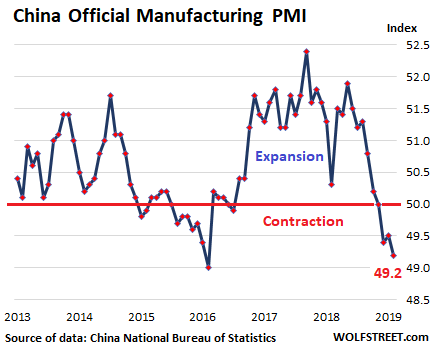 Small-sized manufacturers in China got hit the worst, with their PMI falling to 45.3, while the index for mid-sized manufacturers dropped to 46.9. Large manufacturers showed growth, at 51.5. And all combined, with the sub-index for employment, at 47.5, manufacturers were shedding jobs.
Japan dragged down by domestic demand & exports.
The Nikkei Japan Manufacturing PMI fell to a 32-month low of 48.9 in February. New orders declined at a quickened pace as new export orders continued to fall "amid lower sales to China."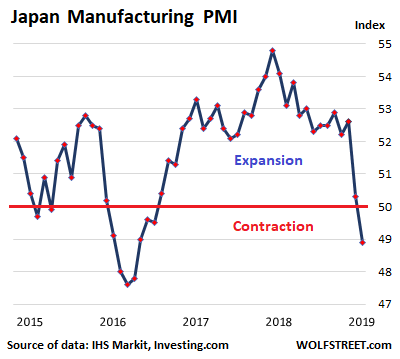 "Deteriorating demand conditions were signaled in the February PMI survey," according to IHS Markit, which compiles the survey. New orders for Japanese manufacturers "dropped at the fastest rate in over two-and-a-half years." And the decline in orders was "broad-based across both domestic and foreign markets, with falling new export sales also recorded."
Businesses cut their output expectations for a ninth month in a row. The manufacturing executives on the panel cited "global trade frictions, downbeat demand forecasts, and the impending consumption tax hike" in Japan.
PMI measures are based on surveys of industry executives whose names and companies are not disclosed. These "panelists" are asked to rate various aspects of their companies – new orders, new export orders, employment, backlog, inventories, supply chain delays, input costs, etc. — by whether each of these aspects is increasing or decreasing. Their responses form the sub-indices, which are then combined into the overall headline index (the basis for these charts).
These PMIs are a quantified boots-on-the-ground view by panelists who see how their company are being impacted by economic developments. They can get outright gloomy in the run-up to a crisis, such as the European Debt crisis from 2010-2012, and have proven to be fairly accurate predictors of manufacturing data coming down the pike.