by Caitlin Johnstone, Caitlin Johnstone:
After news broke that Robert Mueller had turned in his final report without recommending any further indictments, MSNBC's Rachel Maddow began frantically retweeting blue-checkmarked Twitter pundits who claimed that since nobody knows the contents of the report yet, the news that the number of Americans indicted for conspiring with the Russian government is set at zero doesn't matter.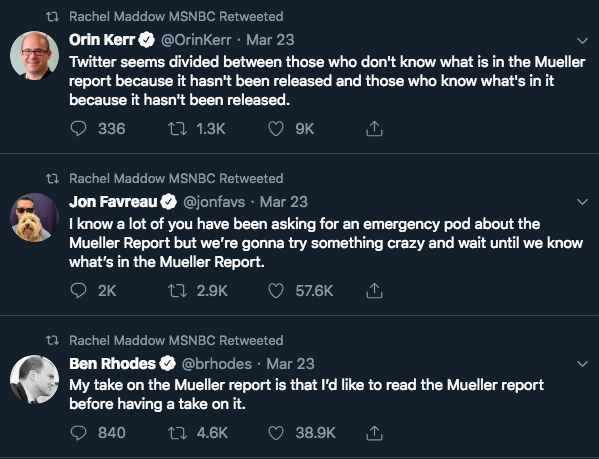 Well guess what, Rachel? We know what the report contains now.
US Attorney General William Barr has sent a letter to congressional officials which you can read here. It contains the following unequivocal quote:
The Special Counsel's investigation did not find that the Trump campaign or anyone associated with it conspired or coordinated with Russia in its efforts to influence the 2016 U.S. presidential election. As the report states: "[T]he investigation did not establish that members of the Trump Campaign conspired or coordinated with the Russian government in its election interference activities."
A footnote on the document clarifies that the Mueller investigation defined coordination with the Russian government very broadly, to include not just overt coordination but any "agreement—tacit or express—between the Trump Campaign and the Russian government on election interference." No such agreement, tacit or otherwise, was found to have taken place.
So that's it then. The central and foundational claim of the Russiagate conspiracy theory has been found to have been completely baseless. The report asserts that Russia hacked and distributed Democratic Party emails (a claim that the public has still yet to see any hard evidence for), and "did not draw a conclusion – one way or the other" whether Trump committed obstruction of justice in the investigation of baseless collusion allegations, but the central and foundational Russiagate claim that Trump and the Kremlin conspired to steal the 2016 election has been killed. Finito. Case closed. Debate over.
And Trump is loving every second of it.
No Collusion, No Obstruction, Complete and Total EXONERATION. KEEP AMERICA GREAT!

— Donald J. Trump (@realDonaldTrump) 24 March 2019
"No Collusion, No Obstruction, Complete and Total EXONERATION. KEEP AMERICA GREAT!" tweeted America's reality TV star president exactly as you would expect him to, taking some creative license with the actual contents of Barr's letter.
This is your life for the next 594 days, America. You can expect to hear over and over and over again, from today until November 2020, that the president was victimized for over two years by a "WITCH HUNT" which was "COMPLETE and TOTAL FAKE NEWS!" All Trump will have to do to get re-elected is keep his economy narrative going and repeat the claim that he's been unjustly persecuted by the establishment "swamp".
And it will work, because that claim will not be unfounded.  As much of a corrupt establishment crony as Trump has proven himself to be, he does indeed have all the facts he needs to successfully sell the narrative that the political/media class has spent over two years pushing a baseless conspiracy theory that the highest levels of the US government had been infiltrated by the Kremlin, and he can indeed claim persecution and victimization in the process. He can easily leverage this into sympathy and support in his reelection campaign, and can use it to reinforce his tarnished image as an enemy of the beltway swamp. Those who've been selling the Russiagate narrative handed him this weapon.
Read More @ CaitlinJohnstone.com