from RT: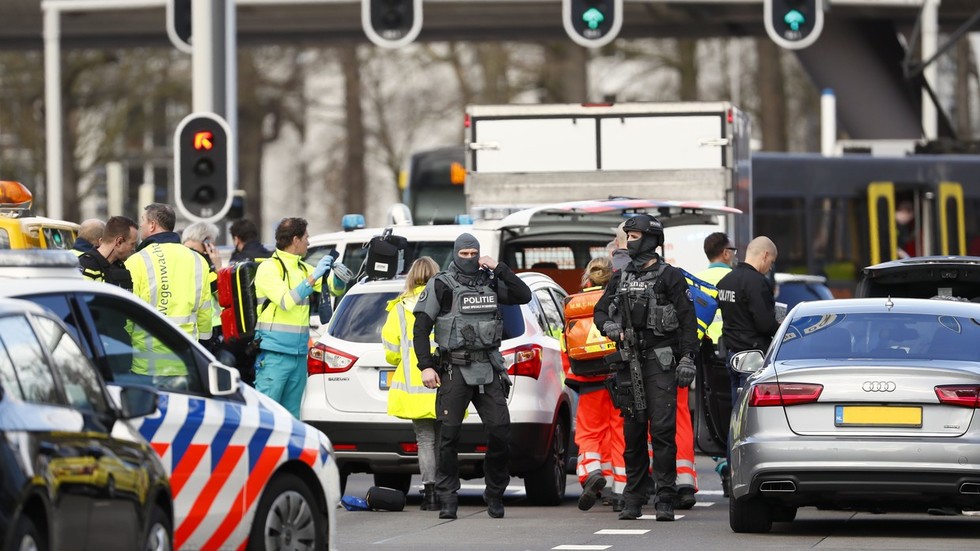 One person was likely killed and several more people were injured in a shooting that broke out in the Dutch city of Utrecht. Terrorism is being investigated as a potential motive, police said.
The Dutch counter-terrorism unit has surrounded a building where the gunman may be located, local media has reported. The perpetrator manged to escape the scene of the crime earlier, despite police cordoning off the area and adjacent streets.
A square around a tram station outside downtown Utrecht is also on lockdown.
The shooting has likely left one person dead, a police spokeswoman said. Ambulances and emergency services are also present although the number of injured is yet to be clarified.
Police said it's looking at all plausible motives for the shooting, including terrorism.
The police is investigating the shooting at the #24oktoberplein in Utrecht this morning. An possible terrorist motif is part of the investigation.

— Politie Utrecht (@PolitieUtrecht) 18 March 2019
Medevac helicopters have been send in to airlift the wounded, Utrecht police said. They also urged drivers to make way for medical vehicles.
BREEK – Volgens getuigen heeft een man in een tram op weg naar Utrecht CS een wapen getrokken en meerdere personen neergeschoten. Hulpdiensten massaal aanwezig en bezig met eerste hulp in de tram. pic.twitter.com/eQOWF2e5Ze

— Yelle Tieleman (@YelleTieleman) 18 March 2019