by John W. Whitehead, Rutherford Institute: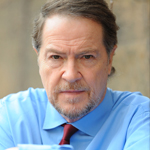 "Pity the nation whose people are sheep
And whose shepherds mislead them
Pity the nation whose leaders are liars
Whose sages are silenced
And whose bigots haunt the airwaves
Pity the nation that raises not its voice
Except to praise conquerors
And acclaim the bully as hero

And aims to rule the world

By force and by torture…

Pity the nation oh pity the people

who allow their rights to erode

and their freedoms to be washed away…"

—Lawrence Ferlinghetti, poet
War spending is bankrupting America.
Our nation is being preyed upon by a military industrial complex that is propped up by war profiteers, corrupt politicians and foreign governments.
America has so much to offer—creativity, ingenuity, vast natural resources, a rich heritage, a beautifully diverse populace, a freedom foundation unrivaled anywhere in the world, and opportunities galore—and yet our birthright is being sold out from under us so that power-hungry politicians, greedy military contractors, and bloodthirsty war hawks can make a hefty profit at our expense.
Don't be fooled into thinking that your hard-earned tax dollars are being used for national security and urgent military needs.
It's all a ruse.
You know what happens to tax dollars that are left over at the end of the government's fiscal year? Government agencies—including the Department of Defense—go on a "use it or lose it" spending spree so they can justify asking for money in the next fiscal year.
We're not talking chump change, either.
We're talking $97 billion worth of wasteful spending.
According to an investigative report by Open the Government, among the items purchased during the last month of the fiscal year when government agencies go all out to get rid of these "use it or lose it" funds: Wexford Leather club chair ($9,241), china tableware ($53,004), alcohol ($308,994), golf carts ($673,471), musical equipment including pianos, tubas, and trombones ($1.7 million), lobster tail and crab ($4.6 million), iPhones and iPads ($7.7 million), and workout and recreation equipment ($9.8 million).
So much for draining the swamp.
Anyone who suggests that the military needs more money is either criminally clueless or equally corrupt, because the military isn't suffering from lack of funding—it's suffering from lack of proper oversight.
Where President Trump fits into that scenario, you decide.
Trump may turn out to be, as policy analyst Stan Collender warned, "the biggest deficit- and debt-increasing president of all time."
Rest assured, however, that if Trump gets his way—to the tune of a $4.7 trillion budget that digs the nation deeper in debt to foreign creditors, adds $750 billion for the military budget, and doubles the debt growththat Trump once promised to erase—the war profiteers (and foreign banks who "own" our debt) will be raking in a fortune while America goes belly up.
This is basic math, and the numbers just don't add up.
As it now stands, the U.S. government is operating in the negative on every front: it's spending far more than what it makes (and takes from the American taxpayers) and it is borrowing heavily (from foreign governments and Social Security) to keep the government operating and keep funding its endless wars abroad.
Certainly, nothing about the way the government budgets its funds puts America's needs first.
The nation's educational system is pathetic (young people are learning nothing about their freedoms or their government). The infrastructure is antiquated and growing more outdated by the day. The health system is overpriced and inaccessible to those who need it most. The supposedly robust economy is belied by the daily reports of businesses shuttering storefronts and declaring bankruptcy. And our so-called representative government is a sham.
If this is a formula for making America great again, it's not working.
The White House wants taxpayers to accept that the only way to reduce the nation's ballooning deficit is by cutting "entitlement" programs such as Social Security and Medicare, yet the glaring economic truth is that at the end of the day, it's the military industrial complex—and not the sick, the elderly or the poor—that is pushing America towards bankruptcy.
We have become a debtor nation, and the government is sinking us deeper into debt with every passing day that it allows the military industrial complex to call the shots.
Simply put, the government cannot afford to maintain its over-extended military empire.
"Money is the new 800-pound gorilla," remarked a senior administration official involved in Afghanistan. "It shifts the debate from 'Is the strategy working?' to 'Can we afford this?' And when you view it that way, the scope of the mission that we have now is far, far less defensible." Or as one commentator noted, "Foreclosing the future of our country should not be confused with defending it."
To be clear, the U.S government's defense spending is about one thing and one thing only: establishing and maintaining a global military empire.
Although the U.S. constitutes only 5% of the world's population, America boasts almost 50% of the world's total military expenditure, spending more on the military than the next 19 biggest spending nations combined.
In fact, the Pentagon spends more on war than all 50 states combined spend on health, education, welfare, and safety.
The American military-industrial complex has erected an empire unsurpassed in history in its breadth and scope, one dedicated to conducting perpetual warfare throughout the earth.
Since 2001, the U.S. government has spent more than $4.7 trillion waging its endless wars.
Having been co-opted by greedy defense contractors, corrupt politicians and incompetent government officials, America's expanding military empire is bleeding the country dry at a rate of more than $32 million per hour.
In fact, the U.S. government has spent more money every five seconds in Iraq than the average American earns in a year.
Then there's the cost of maintaining and staffing the 1000-plus U.S. military bases spread around the worldand policing the globe with 1.3 million U.S. troops stationed in 177 countries (over 70% of the countries worldwide).
Future wars and military exercises waged around the globe are expected to push the total bill upwards of $12 trillion by 2053.
The U.S. government is spending money it doesn't have on a military empire it can't afford.