by Mike Gleason, Money Metals: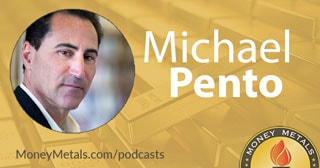 Welcome to this week's Market Wrap Podcast, I'm Mike Gleason.
Coming up Michael Pento of Pento Portfolio Strategies joins me for a must-hear conversation on why he believes central bankers must perpetually keep interest rates near zero — and the massive inflationary bubble economy that will likely result. Also, find out how Michael is approaching gold and gold related investments for his clients right now. Don't miss a tremendous interview with Michael Pento, coming up after this week's market update.
Click HERE to listen
Precious metals markets are trading mixed this week as gold struggles to regain the $1,300 level. Gold prices pushed higher mid week but got pulled back down on Thursday. As of this Friday recording, the yellow metal comes in just above that key physiological level at $1,303 an ounce, up a very slight 0.3% for the week.
Silver looks lower by just a couple cents or 0.3% this week to bring spot prices to $15.36 an ounce. The platinum market shows a weekly gain of 1.6% to trade at $834. And finally, palladium is leading the precious metals pack once again – advancing 2.4% this week to trade at $1,559 per ounce.
Palladium finds itself just few dollars shy of another new record high. It has been recording all-time highs with regularity this year. Over the past three years, palladium prices have tripled in value.
One of the real world consequences is a rise in catalytic converter thefts from parked vehicles.
A car's catalytic converter typically contains platinum or palladium in relatively small amounts. The metals help remove harmful pollutants from emissions.
In recent years, automakers have favored palladium for use in the converters of most gasoline-powered vehicles. That decision seemed smart when palladium prices were cheap. Now that they are approaching sky high territory, automakers are fretting.
And many car owners across the country are facing costly replacement bills for stolen catalytic converters. Thieves eager to cash in on high palladium prices are targeting everything from students' cars to church vans.
News Anchor 1: Good evening, everyone. The Appaloosa's Police Department is dealing with a rather unique crime, catalytic converter thefts.

News Anchor 2: Thieves have been going around the city, stealing the devices from cars, and investigators believe they know the reason

Police Officer: There's some metals, precious metals, inside of the converters that they're taking them for. They're selling them.

News Reporter 1: Part of a vehicle's exhaust assembly, catalytic converters help filter out pollution.

Mechanic: All that has to filter through here.

News Reporter 1: Mechanic, Robert Zaharitas says they're a hot commodity with crooks because the interior contains small amounts of precious metals.

News Reporter 2: Crooks are climbing under vehicles and taking the catalytic converters. They even hit a student's car while it was parked outside of school. And replacing this car part is not cheap.

News Reporter 3: The van used at Living Faith Baptist Church doesn't normally sound like this.

Church Pastor: We looked up underneath, and you can see where it had been sawed off on both sides of it.

News Reporter 3: Bill Chambers says they discovered the catalytic converter was missing last night as a group was loading up the van with donations for a food bank.

Church Pastor: Couldn't believe somebody would do something like that, especially to a church.

County Sheriff: We've had a few churches that have been hit with their vans, and so this is a trend that we've not seen in several years.
Some in law enforcement are calling on car manufacturers to install anti-theft cages around catalytic converters to deter thieves. In the meantime, motorists are being advised to install vehicle alarms and avoid parking their vehicles in unsecure, wide open areas where thieves like to operate.
Unfortunately, bull markets in metals bring out the worst in some elements of society. When copper prices were at record highs, criminals set their sights on homes, construction sites, and electrical infrastructure. When other base metals were flying high a few years ago, some cities even suffered thefts on manhole covers.
When gold prices were setting records day after day from 2010 to 2011, scammers came out of the woodwork. Some ran slick television ads on cable TV news programs touting the value of gold but then sold customers overpriced coins falsely touted as "rare." Some of these shady coin dealers got hit with lawsuits over their fraudulent and deceptive business practices.
Unfortunately, bait and switch "rare coin" peddlers haven't really gone away. They will undoubtedly be back in bigger numbers to prey upon the uninformed when the gold market is grabbing headlines and trading at record highs.
Seasoned precious metals investors aren't moved by sales pitches for obscure coins with huge markups. They don't wait to buy until mainstream media headlines tell them the gold market is hot. Instead, they accumulate common, low-premium bullion products over time – ideally when prices are low and the market is quiet – aiming to get the most ounces for their dollars.
Money Metals Exchange has a simple way for you to purchase bullion each month – automatically and at a discount. It's our Monthly Savings Plan.
Every month, Money Metals will deliver beautiful gold and silver bullion products directly to you. Or you can store your metals holdings securely at Money Metals Depository. We offer high security storage in our state-of-the-art facility.