by Wayne Madsen, Ron Paul Institute: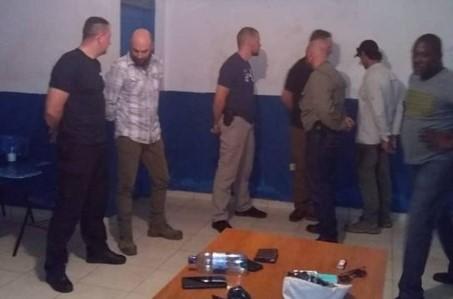 The city of Miami, Florida may have started out as a retirement mecca for winter-worn pensioners from northern climes. However, after the beginning of the Cold War and US military and Central Intelligence Agency intervention in Guatemala, Cuba, the Dominican Republic, Chile, Nicaragua, Venezuela, Guyana, the Bahamas, and other Western Hemisphere nations, Miami became a refuge for exiled wealthy businessmen escaping populist revolutions and elections in South and Central America and spies. The retirement and vacation capital of the United States quickly became the "Tropical Casablanca."
Now home to thousands of limited liability corporations linked to the CIA, as well as private military contractors, sketchy airlines flying from remote Florida airports, the interventionist US Southern Command (SOUTHCOM), and exiled oligarchs running destabilization operations in their native countries, Miami – or MIAMI, "Military Intervention and Mercenaries, Inc." – serves as the nexus for current Trump administration "regime change" efforts.
The latest example of Miami being a hive of CIA operatives came after five Americans, one Serbian permanent resident of the United States, and another Serbian national, were arrested by the Haitian National Police in Port-au-Prince with weapons, advanced communications devices, drones, and other military hardware amid anti-government protests linked to CIA regime change operations. The government of Haitian President Jovenel Moise and Prime Minister Jean Henry Céant is under US pressure to sever its diplomatic and financial links with the government of Venezuelan President Nicolas Maduro, who the Trump administration is attempting to replace with Juan Guaido, a CIA agent-of-influence and US puppet.
The Americans and Serbs were subsequently transferred to Miami on the authorization of Haitian Justice Minister Jean Roody Aly, who was assured by the Donald Trump administration that the seven men would be criminally tried by the United States. Once in Miami, the US Attorney's Office in Miami, which takes its orders from the CIA-friendly Attorney General, William Barr, declined prosecution of the men but "debriefed" them, a term usually applied to intelligence agents who are caught and expelled by foreign authorities. The decision by the Haitian administration to release the seven men has resulted in a political firestorm in Port-au-Prince, with the Haitian Senate demanding answers about the role Moise played in ordering the Central Bureau of the Judicial Police of Haiti to release the individuals, described by Prime Minister Céant as "mercenaries" and "terrorists."
Two of the Americans – Christopher Michael Osman and Christopher Mark McKinley – are former US Navy SEAL officers. Another, Kent Leland Kroeker, is a former US Marine. A fourth American, Talon Ray Burton, is a former US Army military policeman and an ex-employee of the American mercenary Blackwater firm, which was founded by ex-Navy SEAL Erik Prince, the brother of Trump's Education Secretary Betsy DeVos.
The fifth American, Dustin Porte, also ex-US military, is the president of Patriot Group Services, a subcontractor for the US Department of Homeland Security.
The two Serbians, Vlade Jankvic and Danilo Bajagic, were permitted to fly to Washington, DC after arriving in Miami from Haiti. An eighth man arrested with the Americans and Serbs, Michael Estera, a Haitian national, remains in Haiti. Curiously, Estera had earlier been deported to Haiti from the United States.
McKinley reportedly changed his name from Christopher Heben. In 2015, a jury found Heben not guilty of filing a false police report claiming an African-American man shot him outside a store in Ohio. He subsequently changed his last name to McKinley, the same name of one of the Ohio-born US presidents. Heben previously served with SEAL Team 8 in Afghanistan, Kosovo, and Iraq. Sfter leaving the Navy, Heben was found guilty of forging physician prescriptions for anabolic steroids. McKinley runs a security company called Invictvs Group. It is noteworthy that Augustus Sol Invictus, also known as Austin Gillespie, is a far-right white nationalist, who ran for the Libertarian Party's nomination for the US Senate in Florida in 2016. He was also a speaker at the 2017 "Unite the Right" rally in Charlottesville, Virginia, which led to neo-Nazi and Ku Klux Klan violence against counter-protesters.
Read More @ RonPaulInstitute.org