by Susan Duclos, All News Pipeline: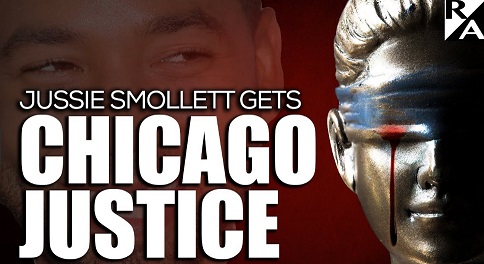 The Chicago Police Department had Jussie Smollett dead to rights, their investigation done by the book, leading to his arrest and being charged on 16 counts of felony disorderly conduct charges for filing a false police report claiming he was the victim of a hate crime by two men that yelled "This is MAGA country."
On Tuesday March 26, 2019, prosecutors abruptly dropped all charges against Smollett, which has the Chicago PD and Mayor, Rahm Emanuel, up in arms, questioning the INjustice of what is happening.
As they pushed to drop charges, prosecutors also took the very unusual step of getting a judge to seal his records, but despite that, the Chicago PD did respond to a Freedom Of Information Request (FOIA) and released their complete investigative file on Smollett's arrest to CBWChicago, who has them published online, immediately before prosecutors convinced the judge to broaden the seal to include PD records.
The Chicago PD was aware of the original seal, but claim they did not view the order as applying to CPD or city records, but it appears that they were probably aware it did apply to them, but are so enraged that they spent hundreds of man hours, built an airtight case, just to see the Chicago State Attorney let him walk away scot-free, because their response to the FOIA request came within one day.
They wanted these records in the public before the cover-up could erase it all: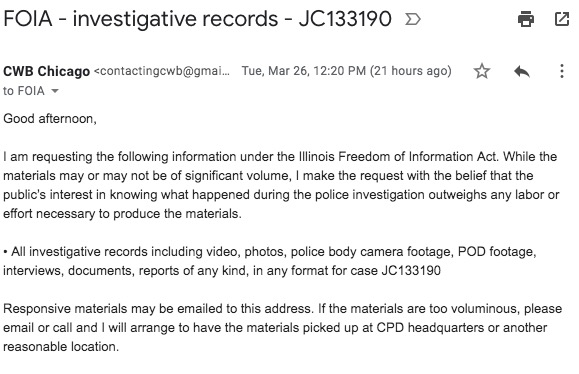 Award winning ABC journalist Stephanie Wash provided the update on the original seal, then the broadened one.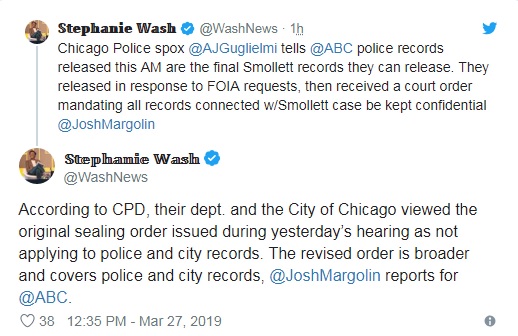 What is fascinating after reading file one (39 pages) and file two (22 pages), is apparently the Chicago PD was aware very early on that Smollett had perpetuated a hate crime hoax, as on the date of the initial report, January 29, 2019, the "original type of incident" was listed as "Aggravated Battery 0f Hands, Fist, Feet/ Minor injury (o440), and by January 31, 2019, they had "Reclassified to type of incident" listed as "Public Peace Violations/Other Violation (2890), for filing a false police report.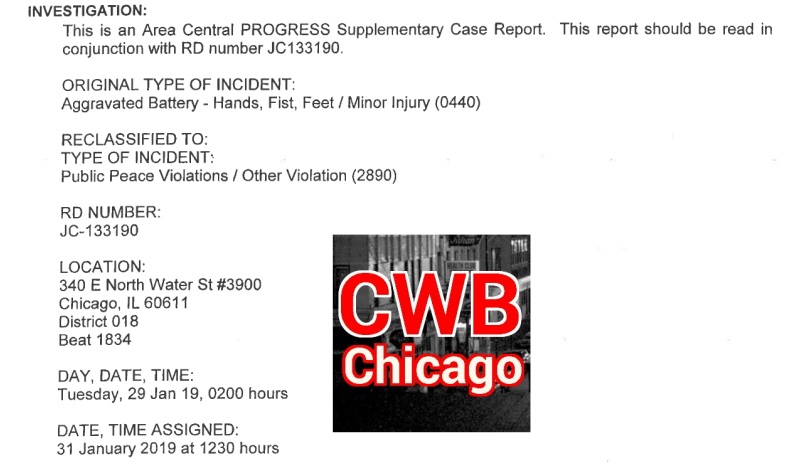 They knew within two days that he faked the attack, so police were busy building their case against him, while watching him interviewed and claiming he fought back, and crying fake tears for the television cameras.
Is it any wonder that everyone from the Chicago PD Superintendent Eddie Johnson, to the Mayor Rahm Emanuel, are calling this a "whitewash of justice," while slamming the prosecutors?
Chicago Mayor Rahm Emanuel stood shoulder-to-shoulder with his city's police force Tuesday afternoon, denouncing prosecutors for dropping charges against "Empire" star Jussie Smollett and slamming the episode as a "whitewash of justice."

Chicago Police Superintendent Eddie Johnson and Emanuel said they were not only furious with the outcome of Tuesday's surprise hearing but also blindsided by the decision itself, with the officials only learning Smollett wouldn't face charges for allegedly faking a hate crime at the same time the public found out.

"Where is the accountability in the system? You cannot have – because of a person's position – one set of rules applies to them and another set of rules apply to everyone else," Emanuel said. "Our officers did hard work day in and day out, countless hours working to unwind what actually happened that night. The city saw its reputation dragged through the mud…It's not just the officers' work, but the work of the grand jury that made a decision based on only a sliver of the evidence [presented]. Because of the judge's decision, none of that evidence will ever be made public."
Adding to the appearance of a massive cover-up we see ABC News correspondent Terry Moran, reported late Tuesday "Celebrity justice: Cook County clerk's office tells @ABC they were shocked that no written motions were filed with the court in connection with today's surprising dismissal in the Smollett case. On top of that, the case has been wiped off their database as if it never existed."
So, they have sealed his case, are expunging his record, and apparently are trying to bury any and all information about his crime, which is possibly why the Fraternal Order of Police is demanding a federal investigation into Cook County State's Attorney Kim Foxx's "interference" in this case, according to Chicago Sun Times.
In renewing the call for a federal investigation into what he called Foxx's political "interference" on behalf of the Smollett family, Preib argued that the state's attorney's office's decision to drop the charges "only gives more foundation to our claims."

Foxx's initial request that Johnson transfer the case to the FBI came after an influential supporter of the "Empire" actor reached out to Foxx personally: Tina Tchen, a Chicago attorney and former chief of staff for former first lady Michelle Obama, according to emails and text messages provided by Foxx to the Sun-Times in response to a public records request.
Read More @ AllNewsPipeline.com