by Stefan Stanford, All News Pipeline: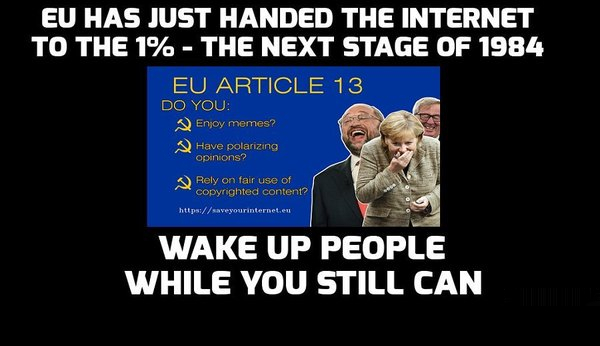 – Article 13 Also Offers Proof The Globalists Are Terrified Of 'Meme Warfare' In 2020
In this extremely new important story over at RT that Steve Quayle had linked to on his website with a sobering SQnote we'll share in the conclusion of our story, RT reports upon a dark day for the internet after the European Parliament voted to pass the extremely controversial 'Article 13' which the entire internet, both left and right, quickly warned would even ban 'Meme's' from being posted to social media there though EU officials claim the passing of this law will protect those who post 'legal' meme's.
Just the latest mass censorship effort on the internet, aligning with what is now happening to youtube alternative Brighteon as we'll explore more below, we find it quite interesting that EU member states have been given two years to pass their own laws to put Article 13 into effect. Just the latest 'extension' that aligns perfectly with how long the UK believes it may take to get out of the EU while also aligning with the 2020 US Presidential election and the next presidency to begin in January of 2021, with these 'events' also helping to show that the 'political games' being played are on a 'global chessboard'.
And as we've long been warned, the direction that the European Union is moving with massive censorship to placate certain 'protected' political groups was absolutely coming to America with Barack Obama's presidency and as we've seen ever since, if the Democrats have their way, what is happening in the EU today will be in America by 2021 should Democrats win in 2020. From the RT story.:
The European Parliament has voted to adopt the highly controversial Article 13 provision which would govern the production and distribution of content online under the auspices of increasing copyright protections.
Tuesday's move will update the EU's 20-year-old copyright rules and will govern audiovisual content, much to the dismay of many social media users who have already begun outpouring their grief online.
However the parliament said in a statement that sharing memes and gifs has been protected "even more than it was before" and they will continue to beavailable and shareable on online platforms.
Julia Reda, a German MEP with the Pirate Party, described it as a "dark day for internet freedom."
Article 13 or 'The Directive on Copyright in the Digital Single Market' makes all platforms legally responsible for the content hosted and shared on their platforms.
The process of updating the bloc's copyright laws began in the European Commission two years ago, ostensibly to protect Europe's publishers, broadcasters and artists and guarantee fair compensation from big tech companies.
The onus will now be on tech companies to clamp down on content-sharing on their platforms, which will likely ensure yet more draconian policing of speech and content.
EU member states now have two years to pass their own laws putting Article 13 into effect.
(If you appreciate stories like this, please consider donating to ANP to help keep us in this battle for the future of America.)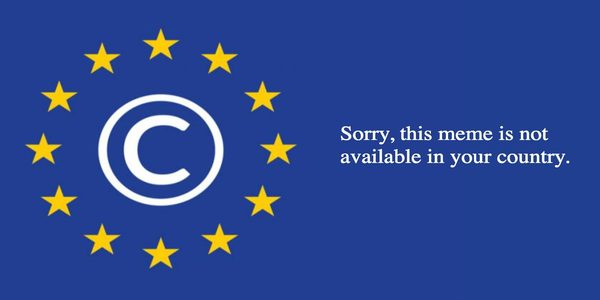 With us now having been shown a two-year window for the globalists to attempt to regain control with all globalists eyes set to 2020/2021 and Draconian online censorship one of the '
vehicles
' which they'll be using, we have to take a look here at what is now happening to Mike Adams website '
Brighteon
' following a massive 
crackdown
 upon them by the nations of New Zealand and Australia after his youtube alternative was used by numerous people to upload videos 
of the 'New Zealand event'
.
As we had reported in this March 23rd ANP story, New Zealand's rapid descent into something resembling an Islamic State should be looked at as a huge warning to Americans and just as we had warned in that story, massive censorship soon followed thereafter all across the internet, with Adams' 'Brighteon' taking a huge hit as he shared in this Natural News story.
And now, following extreme threats from those two nations states to completely demolish his platform, and under extreme threat from internet infrastructure providers as well, Adams has issued this emergency message to Brighteon users.:
Following the Christchurch shootings in New Zealand, the governments of both New Zealand and Australia attempted to annihilate Brighteon by threatening our upstream providers, claiming our hosting of the shooting videos constituted "promotion of violence."
In response to that imminent threat, we were forced to remove all videos that contained footage from the New Zealand shooting, even against our principles of working to protect free speech. We were also forced to temporarily suspend some accounts to prevent further posting of videos that could have resulted in us being de-platformed within hours. (Nearly all those suspensions are now being reversed.)
Today, we are fighting both a short-term and a long-term battle to protect free speech and defend your right to post controversial content in the interests of public debate. Until we achieve planned improvements in the self-reliance of our infrastructure, we are forced to deploy the following changes to our rules:
All videos will now be moderated before being approved for public viewing. We apologize in advance that this may introduce a few minutes' delay into the time required for your video to go live. 
Read More @ AllNewsPipeline.com