by Mike Gleason, Money Metals: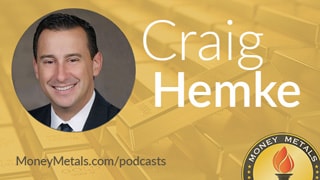 Welcome to this week's Market Wrap Podcast, I'm Mike Gleason.
Coming up we'll hear a tremendous interview with Craig Hemke of the TF Metals Report. Craig weighs in again and offers a concise and clear explanation on what's been happening in the broken and rigged silver futures markets. And also tells us why he sees 2019 being a similar setup to what we saw in gold and silver back in 2010 and 2011 when the metals went on an historic run. Don't miss a fantastic interview with Craig Hemke, coming up after this week's market update.
Click HERE to listen
Markets got roiled this week on some downbeat economic reports and a surge in the U.S. dollar.
The Dollar Index broke out to a 21-month high on Thursday after the European Central Bank came out swinging with more stimulus measures. The ECB indicated it intends to leave ultra-low interest rates in place at least through early 2020. That coupled with bleak new forecasts for European economic growth helped drag down the euro and give life to the dollar on foreign exchange markets.
Dollar strength is usually negative for precious metals, and this week was no exception, at least until today. With a bit of a bump here on Friday gold now shows a slight weekly gain of 0.3% to bring spot prices to $1,298 per ounce. Similar story in silver, which seems to have found a temporary bottom perhaps and is now moving off of it. The white metal currently comes in at $15.40 an ounce, up 0.8% now on the week. Platinum is lower since last Friday by 5.2% to trade at $818. And white-hot palladium is succumbing to selling pressure – down 2.2% this week to trade at $1,515 per ounce as of this Friday morning recording.
For the near term, metals markets appear vulnerable to further selling if the dollar breakout holds. So the question is: How high can the Dollar Index go?
The dollar closed Thursday at 97.63 on the Index. If it continues to rally, then the key level to watch would be 100. The dollar rally of 2015 stalled twice right at 100.
The Donald Trump administration would be none too pleased to see the dollar make a run through the 100 level. President Trump himself has repeatedly expressed his displeasure with the Federal Reserve's interest rate hikes.
Even though the Fed paused on hiking in January, the U.S. rates are still significantly higher than in Europe and elsewhere in the developed world. The newly dovish posture of the European Central Bank had the same effect in the foreign exchange markets as a rate hike in the U.S.
More bad news for President Trump – on Wednesday, the Commerce Department reported that the United States posted a record $621 billion trade deficit with the rest of the world in 2018. The trade gap with China also grew to a record.
The Trump administration's tariffs seem not to have had their intended effect. Officials can spin the growing trade deficit as evidence that consumers and businesses are confident about the economy. They are binge buying foreign goods because they have confidence and growing spending power.
The problem is that it's still deficit spending. It's just another piece of the debt-fueled "everything bubble." From corporations to consumers to students to politicians, everyone is leveraging up to increase their spending power now at the expense of the future.
The debts will eventually come due. President Trump just hopes that doesn't come before the 2020 election.
It's hard to keep track of how many people have declared their candidacy for president on the Democrat side. One idea now being pushed by the left wing of the party is something called Modern Monetary Theory.
It's a fancy name for money printing. Essentially, MMT would have the government just print whatever money needed to cover deficits instead of borrowing it in the bond market.
No longer would taxpayers be burdened with having to pay interest on new debt. But giving members of Congress blank checks to spend money into existence directly would blow any remaining semblance of fiscal responsibility in Washington out of the water.
Every dollar that government spends – whether that dollar comes from taxes, from borrowing, or is simply created out of thin air – extracts real resources from the economy. The real cost of government is how much it spends as a percentage of the economy.
In an extreme version of Modern Monetary Theory, there might be no taxes or borrowing of any kind. The government would just print what it needed to cover its spending.
That doesn't mean we would get government for "free." Oh, no – government would exact its costs on citizens by devaluing their dollar-denominated wages and salaries.
At first the inflation rate might just be the equivalent of a tax. But as the government progressively expands the currency supply year after year, inflation would accelerate and the economy would become unstable.