by Jim Hoft, The Gateway Pundit: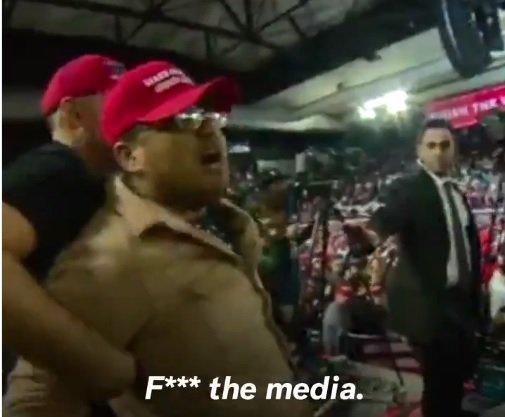 Monday night at the Trump border rally in El Paso, Texas an unhinged man in a Trump MAGA hat rushed the media platform.
The Washington Examiner reported:
The unidentified man ran down a set of stairs in the press section in the El Paso County Coliseum and jumped onto a platform where cameras were recording Trump's speech.
The man shoved a handful of cameras, causing them to topple, and pushed reporters, knocking some of them over the roughly two-foot-high ledge.

One reporter yelled, "Get the police, get the police." Police were standing about 20 feet away near attendees in other sections. A police officer ran into the chaos after reporters had gotten a hold of the intruder, who yelled, "Fuck you. Fuck the media."

The man was kicked out of the venue, according to a Trump campaign official.
Here is the video of the incident.
'F*** the media!' – this is the moment a BBC cameraman was attacked by an angry Trump supporter at a rally in El Paso https://t.co/M3Ort3I95a pic.twitter.com/xtTyw21jL3

— Newsweek (@Newsweek) 12 February 2019
Read More @ TheGatewayPundit.com