by Matt Agorist, The Free Thought Project: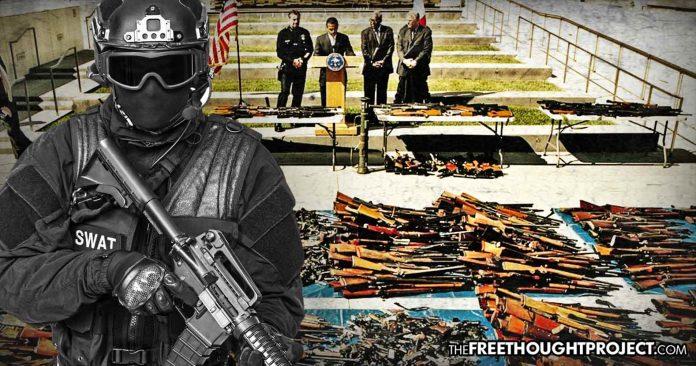 As politicians claim they aren't coming for your guns, over 1,700 citizens have had their guns confiscated in 2018 and this number is likely far higher as many states don't report it.
As politicians and anti-gun rights activists continuously chant, "we don't want to take your guns," behind the scenes — in only the year — politicians have been working overtime to limit your right to bear arms. These laws are all a reaction to the tragic shooting in Parkland, Florida and, like most politicians always do, they are not letting this tragedy go to waste.
Since the tragic shooting in Florida last February, the Giffords Law Center to Prevent Gun Violence has recorded a whopping 55 new gun control measures in 26 states—in just the first six months of the year.
Some of these laws being passed are 'Red Flag' laws which are used to disarm individuals who are reported as a threat by a family member or friend. Many believe that these red flag laws are dangerous as they can prompt police action with little to no due process.
As a recent report out of FOX32, points out, nine states have passed laws over the past year allowing police or household members to seek court orders requiring people deemed threatening to temporarily surrender their guns, bringing the total to 14. Several more are likely to follow in the months ahead.
To show how willing these states are to use these laws, an unprecedented 1,700 orders to seize guns were issued in 2018, likely resulting in the confiscation of thousands of guns. What's more is the fact that this number is likely far greater because there is no requirement to report these numbers and this data doesn't include California who has recently implemented some of the most draconian gun laws in the country.
To those who may be in favor of such laws, consider the following: There is no way to stop an estranged spouse from calling police repeatedly and telling them their ex is threatening to cause harm to others.
Anyone, any time, now has the ability to claim someone else is a threat and have police take their guns. One does not need to delve into the multiple 'what if' scenarios to see what sort of ominous implications arise from such a practice. Luckily, some states have put in checks that require further investigation before police go in to take someone's guns.
Although it is not perfect, an example of one of these red flag laws with a system of checks is in Illinois. Gov. Bruce Rauner signed laws last year authorizing judges to take weapons away from people facing problems that make them dangerous to themselves or others. However, the person making the claim has 14 days to produce "clear and convincing" evidence that the person in question is potentially dangerous and should have weapons taken from him or her for up to six months.
Although the ostensible intention of these recently passed laws is to stop a future tragedy, it is important to point out that there were already laws on the books that should've stopped Nikolas Cruz from ever getting a gun. But the none of them worked.
Citing Cruz as the reason for advocating the erosion of the 2nd Amendment, the anti-gun activists are claiming he should've had his guns taken which would have prevented the tragedy. Sadly, however, they are ignoring the fact that he was accused of multiple felonies—and should've never been able to purchase a gun in the first place—but law enforcement failed to act on any of it.
Also, in California as TFTP reported last month, taking someone's guns away does not prevent that person from illegally obtaining another firearm and using it to commit murder.
In January, a tragedy unfolded in California as a deranged gunman, Kevin Douglas Limbaugh, walked up on an innocent woman, officer Natalie Corona, pulled out his guns and began shooting her repeatedly until she died. Limbaugh then fired several more shots at others before turning the gun on himself and taking his own life.
Limbaugh obtained the gun illegally because police had already taken his legal ones.
According to police, Limbaugh's guns were confiscated last year likely related to the red flag law. In September, Limbaugh was charged with a felony count of battery with serious bodily injury. That charge stemmed from Limbaugh punching a co-worker, Gilbert Duane McCreath, while the two worked at the casino the night of Sept. 20, according to the Sacramento Bee.
Read More @ TheFreeThoughtProject.com