by Chris Menahan, Information Liberation: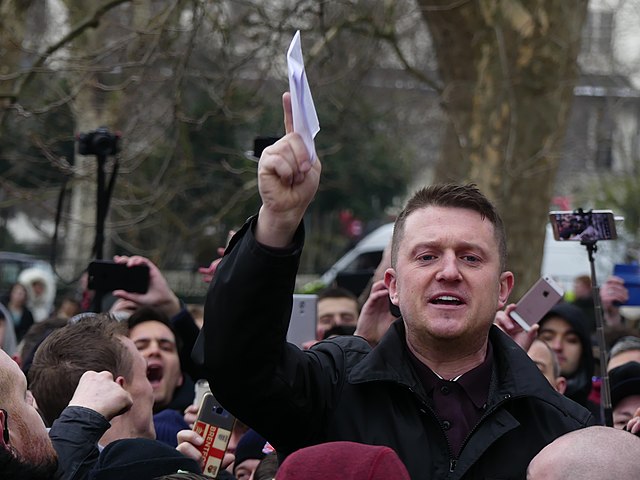 British activist Tommy Robinson released a viral documentary on Monday exposing an upcoming BBC hit piece against him using undercover video only to be banned one day later by Facebook and Instagram.
From Breitbart, "Tommy Robinson Banned from Facebook, Instagram":
Facebook has banned British citizen journalist and street organiser Tommy Robinson from its platforms, including Instagram, in a move that comes days after he released a new documentary exposing what he claimed to be dishonest practise at establishment media giant BBC.
Tommy Robinson being banned by Facebook and Instagram was timed deliberately so he couldn't defend himself against the BBC hit piece about to come out.

This is how they operate.

But conservatives keep preaching "muh free market" until we are silenced into oblivion.

— Paul Joseph Watson (@PrisonPlanet) 26 February 2019
Tommy Robinson had the third-largest Facebook page in the UK, measured by engagement. He was as big as Jeremy Corbyn & Theresa May. Tommy represents millions of Brits who are ignored by the establishment.

Facebook is tampering with British democracy.

— Ezra Levant 🍁 (@ezralevant) 26 February 2019
The social media giant claimed in a statement published Tuesday that Tommy Robinson's own Facebook page, which had around one million 'likes' before deletion, "has repeatedly broken [Facebook community] standards, posting material that uses dehumanizing language and calls for violence targeted at Muslims. He has also behaved in ways that violate our policies around organized hate."

Facebook claimed the move "is not a decision we take lightly."

Responding to the ban, English Defence League founder turned citizen journalist Tommy Robinson told Breitbart London: "…the reasons they've given are just complete lies. They're saying I incited violence and that I openly called for violence against Muslims, that's just a lie. If that was the case then they could show evidence of messages where I'd said that but I never have.

"This is continued censorship which we all knew was coming but its been done instantly because of my documentary which exposed the establishment working with Hope not Hate, working with the BBC in order to destroy my name to the nation. When I exposed what they were doing they've put down the pressure to completely delete me from the internet. This has to show people the levels they're gonna go to silence any opposition to mass migration and the Islamisation of this nation."

Robinson's removal from the platform is only the latest in a series of bans targeting the campaigner in recent years. He was de-platformed by Twitter in May 2018, banned from receiving payments by Paypal in November of that year, and had Youtube videos blocked from earning revenue in January 2019.
It seems like they really don't want people watching this documentary:
[Mirror]
Robinson talked about the documentary and his ban Tuesday on the Alex Jones Show:
"My documentary went out 24 hours ago, it had one and a half million views, and today I've been deleted from the internet," Robinson said. "And everyone who shared that documentary, with major profiles … have all been deleted today."
Growing list of those who shared Panodrama banned overnight: TR Raheem Kassam,Danny Tommo,Kev Dale TR for Freedom & Justice 5000 mem,Jon Wong,Ricky Freedom,Dawn Knight,Liam Tuff ,Reece Coombe,Damien Heads,Joel McGuigan, Darrell Goodliffe,Alex Nieora,Richard Inman,Paul Mcgovern https://t.co/udsDtMZCT4

— Lisa Reynolds Barbounis (@Lisaelizabeth) 26 February 2019
Read More @ InformationLiberation.com