from Corey's Digs: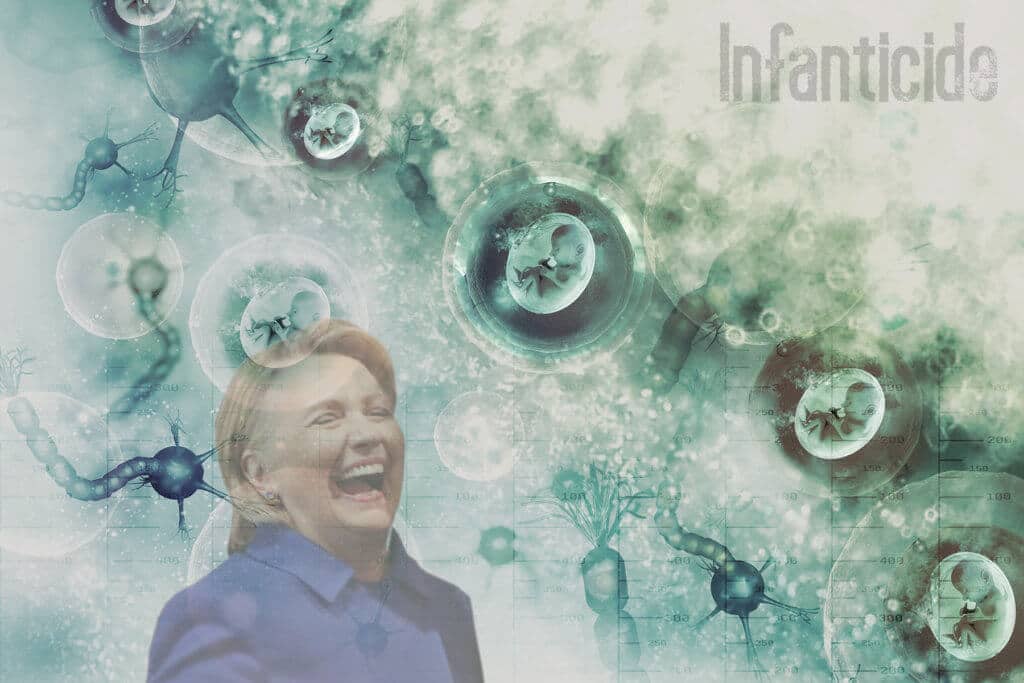 Pay very close attention, because there is a lot more going on with their abortion agenda, than meets the eye. Who's involved, where is this headed, and what atrocities have already occurred? Something very significant began back in 1993, leading up to this, and no one is reporting on it.
New York's 'Reproductive Health Act' brought shock and awe to the entire country, by legalizing full-term abortions, and decriminalizing it. As barbaric as this all is, no one seems to be focused on the nurses and midwives' addition to this bill, who coincidentally have been trained by the Clinton Health Access Initiative, Partners in Health, Planned Parenthood, and the Ivy League schools, for over two decades. While everyone is still trying to catch their breath, the reality of what lies ahead, may unfortunately include unthinkable, sinister acts. Based on past events, actions, and evidence of fetal tissue and body parts being sold, new "youth" blood clinics opening their doors, and prior experimentation on prison babies, it's time to wake from the shock, and pay very close attention. This is both a physical and spiritual battle – armor up. They just legalized allowing a new born baby to suffer and die outside of the womb, if they did not succeed with the abortion procedure. This is murder in the worst degree.
As mind-altering as this bill is, Virginia, Vermont and Rhode Island are a few of many states that are quickly pushing to pass similar laws, while the battle with pro-lifers continues. There are other very significant changes in the New York bill, that they camouflaged in multiple "refer to" sections, with a separate 6-page document. Below, is a breakdown of the key changes New York passed, incredible repercussions this may have on the future, and a specific agenda that goes back over two decades, setting up for this very day. 
Breakdown of The New Abortion Laws in New York
An abortion can be performed if the patient is within 24-weeks from the commencement of pregnancy, OR there is an absence of fetal viability, OR the abortion is necessary to protect the patient's life OR health. Yet, they do not specify health reasons, leaving this wide open. Though, under existing judicial interpretation, her emotional well-being is likely included. Therefore, a woman can have an abortion in her third trimester, providing she can convince her practitioner or nurse that it's necessary.
In addition to M.D.s, nurse practitioners, physician assistants, and midwives may perform nonsurgical abortions. After the 12th week, the procedure must be in a hospital. After the 20th week, an M.D. must be present to handle the care of any live birth.
They removed abortion from criminal code and moved it under health, therefore, if a man were to beat a pregnant woman, and she lost her child, it would no longer be considered a felony murder. This also protects medical professionals who perform abortions from criminal prosecution, including if illegal abortions were performed.
No consent from their partner or "cooling off" period is necessary.
It is now legal to take drugs with the intent to cause a miscarriage.
Removed legal protections for babies born alive; immediate legal status, a dedicated physician to care for the child, and records of life-sustaining efforts. Because they are not allowed to murder a newborn baby outside the womb, if the baby didn't die prior to removing it from the mother, they cannot end its suffering.
The dilation and extraction procedure is used for an abortion after 21 weeks. The fetus is rotated, and forceps are used to grasp and pull the legs, shoulders, and arms through the birth canal. A small incision is made at the base of the skull to allow a suction catheter inside. The catheter removes the cerebral material until the skull collapses. The fetus is then completely removed.
As Hillary Clinton cheered Andrew Cuomo on, leading up to the big announcement, and all gathered around, applauding with excitement, many people all around the world, were watching in horror. While Cuomo's tweetreceived only 2.8k likes, and was flooded with over 11,000 comments of disdain, one woman's comment struck the hearts of many, receiving 6.8k likes. To put this in perspective, Cuomo has 849k followers and Obianuju has 61k followers.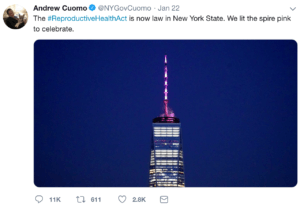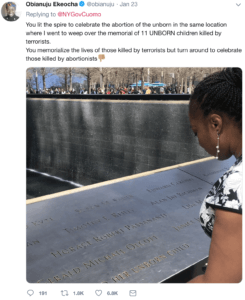 Dr. Omar L. Hamada added his professional opinion, by stating "there's not a single fetal or maternal condition that requires third trimester abortion. Not one. Delivery, yes. Abortion, no." Doctor Hamada was a guest on Fox News on January 28, 2019, where he explained his stance and discussed the third trimester of a pregnancy. Notice, Hamada received 97,000 likes on his tweet.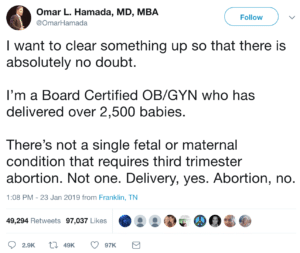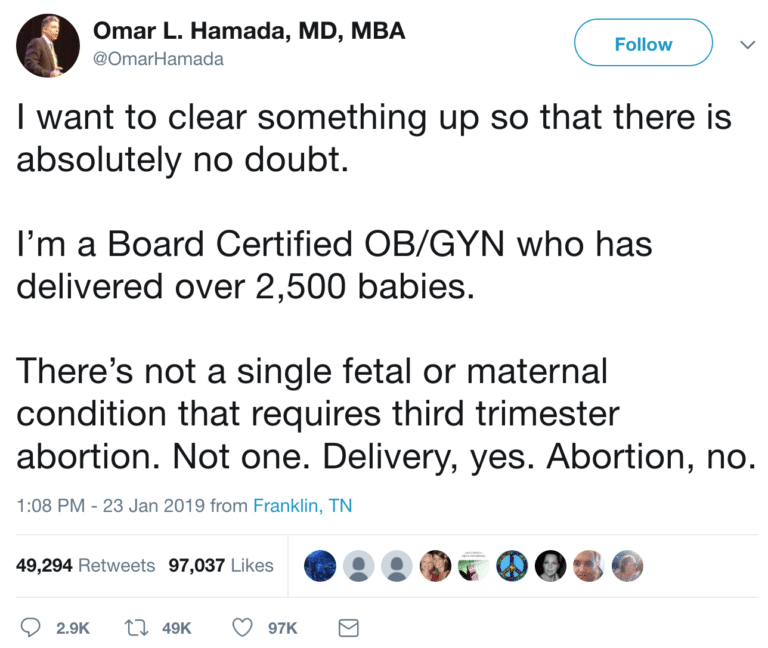 Their Plan Began in 1993
Clinton Foundation: Clinton Health Access Initiative, Clinton Global Initiative, and Clinton Climate Initiative
Planned Parenthood
Partners In Health
Ivy League Schools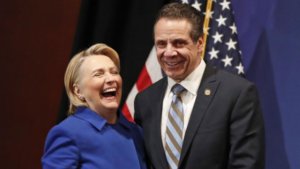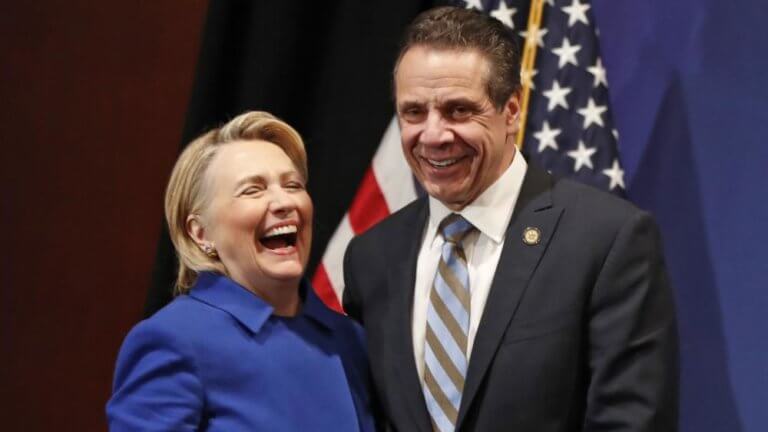 There are lawsuits pending in at least nine states, challenging who can perform abortions, so as to expand it to nurses and midwives. Planned Parenthood has a suitgoing in Idaho, Maine, Missouri, and Wisconsin.
In 1993, Planned Parenthood launched the Clinical Training and Research Initiative to expand the number of clinicians trained to provide abortions. They did this in partnership with family medicine and obstetrics/gynecology resident training programs in New York City. They train nurses, certified nurse-midwives, physician assistants, nurse practitioners, and physicians through Planned Parenthood affiliates and contracted residency programs. For over two decades, they have been staffing up nurses and midwives, for this very day. Think about that.
This training does not stop at New York City. Their reach is global, and they have been working with international alliances for 45 years, providing clinical training to increase access to abortion services in other countries. Guess where else they have been focusing their efforts, more recently? The Caribbean region. The Clinton Climate Initiative and Branson's Carbon War Room have been working on a Ten Island Challenge in the Caribbean since 2012, which has long since increased beyond just ten islands. There is extensive information on it in this 3-part article. Coincidentally, 10 of the islands the Clintons and Branson are setting up solar farms on, Planned Parenthood has setup the Caribbean Family Planning Affiliation (CFPA) on those islands as well.
Clintons, Branson, and gang are operating on these islands below (boxed in red), as well as Comoros, Seychelles, Mauritius, Puerto Rico, and likely more at this juncture in time: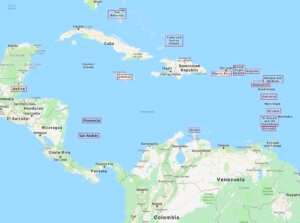 In fact, that same year in 2012, the Clinton Global Initiative announced that Planned Parenthood Federation of America was committing to combat the vulnerability of youth to unintended pregnancy, unsafe abortion, HIV/AIDS and other STDs, as well as cultural taboos around age and sexuality. They planned on training youth leaders in the U.S., Africa, and Latin America.
The same year they launched their training initiative in 1993, Planned Parenthood touted this on their website: "President Bill Clinton worked to make abortion "safe, legal and rare." He ended the "Gag Rule," instituted by the Bush Administration, which prevented women using federally funded health centers — primarily poor women — from getting the information they needed to make informed choices about unintended or health-threatening pregnancies. President Clinton reversed the "Gag Rule" in his first week in office."
In 2017, President Trump signed an executive order bringing back the "Gag Rule." This rule prevents federal funding to clinics that provide abortions or refer patients to places that do, as well as cuts foreign aid from going to groups that provide abortion services. This is a direct hit to Planned Parenthood and their affiliates.
Just how much does Planned Parenthood align with Hillary Clinton's agendas? For the first time in its 100-year existence, Planned Parenthood endorsed a presidential primary – Hillary Rodham Clinton.
Sadly, all one has to do is look at Africa to see where the Clinton Foundation, Partners in Health, Planned Parenthood, the Ivy Leagues, and so many others, have sunk their claws into, in order to carry out their agendas. Oftentimes, these agendas are tested in other countries, while they are laying the groundwork in the U.S. They have been setting up shop and training nurses and midwives throughout areas of Africa for quite some time. Whereas having additional physicians in these areas is likely of high importance for birthing and other needs, this group's intention seems to be more focused on providing additional access to abortions. In reviewing their global website, under each country they work with, they talk specifically about "abortion access." The irony is, why call themselves "Planned Parenthood", when these moms will never be parents?
Rwanda was discussed in the article 'Will The Real Jim Yong Kim Please Stand,' in regards to Partners in Health, Clinton Health Access Initiative, and Ivy Leagues all being part of a 7-year program, that is government-funded by taxpayer dollars. While Clinton Climate Initiative was kicking off their Ten Island Challenge in the Caribbean, in 2012, they were also kicking off their project in Rwanda that same year. Needless to say, 2012 was a big year, all around, for this group.
RELATED MUST WATCH:
Trump & Clinton Debate Ninth Month Abortions