by Geoffrey Grinder, Now The End Begins: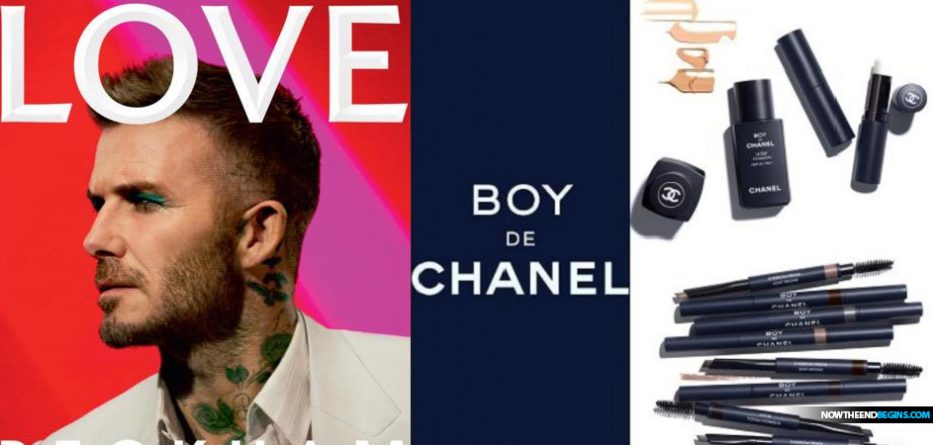 Seeing more men experiment with appearance using make-up would be a sign we're expanding the idea of "what it means to be a man," says Ingold. Joyce agrees: "While gender fluidity is in the spotlight, we're still a patriarchal society. Beckham in make-up communicates a certain liberation from the norm; he's a sportsman and a businessman and a style leader and, on the cover, I think he personifies modern masculinity, confident to step out of his comfort zone and experiment."
This month, David Beckham appears on the cover of style magazine LOVE 20.5, in Dior, styled by Kim Jones, green roses and bird tattoos spiralling up his neck.
So the challenge goes like this. If you're really a man, and are really secure, then you should have no problem 'expressing your individuality' by putting on makeup like a woman does. To drive that point home, the LGBTQ Mafia has enlisted the services of everyone's favorite metrosexual, English soccer star David beckham.
"The woman shall not wear that which pertaineth unto a man, neither shall a man put on a woman's garment: for all that do so are abomination unto the LORD thy God." Deuteronomy 22:5 (KJV)
And that's exactly how they want it. Be a manly man and put on manly makeup in a manly way, and you will finally be a real man. Only problem with that is men should not look like women, act like women or dress like women. Men and women are different, God made them that way, and that's how it is supposed to be. But in 2019, as children are taught to become transgender in kindergarten, gender norms are rapidly being erased. Why is this happening?
It is happening because we are in the end times, and this unsaved world is subconsciously preparing itself for two major events coming up right quick. The first being the Pretribulation Rapture of the Church, and the second being the rise of Antichrist. In that context, makeup for men fits right in.
The male-grooming business is exploding – and even David Beckham is wearing eyeshadow.
FROM BBC: "With the lighting and the pose, David reminded me of David Sylvian from [1970s and '80s band] Japan," says make-up artist Miranda Joyce, who worked on the shoot. "It seemed right to add eye make-up, the bright blue that Bowie wore in the Life on Mars video. I knew David could make it work, even though it wasn't something he'd done before." It's a great portrait – and yet what really got people talking was that eyeshadow.
Men are no strangers to make-up. Alexander the Great was a fan, while the Picts daubed their faces in blue woad. Wigs and beauty spots were popular in the court of Louis XIII – and let's not forget the dandies. But somewhere in the 1800s, someone decided that real men don't wear makeup and, after that, when they did, it was in a spirit of transgression. Bowie, Prince and Johnny Depp weren't (just) trying to make themselves look good, they were challenging everything we knew about gender, sex and society.
But, off the back of the LOVE cover, is men's make-up about to go mainstream? After all, here you have one of today's most famous faces wearing the stuff.
FACTOR IN MEN'S COSMETIC LINE LAUNCHES BY CHANEL AND TOM FORD, AND MALE MAKE-UP ARTISTS MANNY GUTIERREZ AND JAMES CHARLES FRONTING CAMPAIGNS FOR US MEGA BRANDS MAYBELLINE AND COVERGIRL RESPECTIVELY – AND YOU HAVE ALL THE BEGINNINGS OF A MOVEMENT. PLUS GUTIERREZ AND CHARLES ARE PART OF A POWERFUL INFLUENCER GROUP OF MEN IN MAKEUP, INCLUDING JEFFREE STAR AND OTHERS.
In January 2019, when Charles visited Birmingham in the UK to launch a palette with Morphe, traffic literally stopped. Look beyond the screaming, however, and the status quo has hardly shifted. BOY de Chanel (tagline 'Be Only You') is a streamlined collection of only three products – foundation, eyebrow pencil and lip balm – in matte-black packaging that hardly challenges conventional notions of masculinity. And the boys in make-up? They're mostly beautiful, gay, prone to hyperbole – and up to 80% of their million-strong fanbase appear to be young girls.
Why are men still so resistant to ideas of facial decoration? "Well, they're told to be," says Glen Jankowski, lecturer in the School of Social Sciences at Leeds Beckett University. "Despite claims of increasing metrosexuality, gender norms for men are still strong. Analyses of toys marketed to boys, for example, show that the messages are still to be strong, brave and uninvested in your appearance. For girls, beauty is key." Understanding the divide came as a shock to the transgender makeup artist Joseph Harwood. READ MORE
Meet the men who are spokesmodels for the men's makeup industry
Watch how colleges are teaching your kids that masculinity doesn't exist
Read More @ NowTheEndBegins.com