by Pam Martens, Wall St On Parade: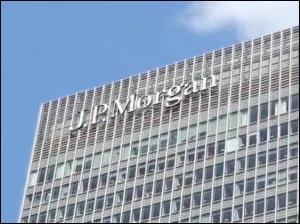 JPMorgan Chase is a Wall Street bank that has pleaded guilty to three felony counts in the past five years and lost at least $6.2 billion of its depositors' money trading high-risk derivatives in London. And yet, somehow, the bank has a market capitalization (the value of all of its shares outstanding) that makes it among the most valuable companies in the Standard & Poor's 500.
The serially fined and investigated bank, as of yesterday's close, has a market value of $342.817 billion which is $110.8 billion more than Boeing – one of the most sophisticated engineering companies in the world, producing commercial jet airplanes, military aircraft, rockets and satellites for customers around the globe.
Looking at the bizarre situation with a wider lens, if you add up the market cap at yesterday's market close of General Motors ($54.97 billion), GE ($90.199 billion), Ford ($33.454) and IBM ($124.977 billion), there's still $39 billion left over before you reach JPMorgan Chase's market cap.  A commercial bank is not supposed to be more valuable than the industrial backbone of the country. It's not supposed to be more profitable than the backbone either. And yet, somehow, JPMorgan's net income for 2018 was $32.5 billion, more than three times that of Boeing.
Another way to look at this market distortion is that JPMorgan Chase is little more than a utility company – existing primarily to offer a public good like making prudent loans to sound businesses in order to create good-paying American jobs through business innovation, keep the nation globally competitive, and U.S. industry and the economy humming along.
Another Wall Street bank that now ranks among the most valuable companies in the S&P 500 is Bank of America, parent of retail stock brokerage firm Merrill Lynch, which teetered into the bank's arms during the 2008 financial crash. As of yesterday's close, Bank of America had a market cap of $277.509 billion.
Both JPMorgan Chase and Bank of America own and operate Dark Pools where they trade the shares of their own bank and shares of their peer banks. (See Wall Street Banks Are Trading in Their Own Company's Stock: How Is This Legal?)
A dark pool is a private, unregulated trading venue that functions like a stock exchange by matching buyers with sellers – but it does so in the dark, without showing its bids and offers on stocks to the public. That has the potential for a great deal of price manipulation.
JPMorgan Chase and Bank of America also have this in common: they have spent tens of billions of dollars buying back their own stock over the past five years.
In July of 2017, Thomas Hoenig, then Vice Chair of the Federal Deposit Insurance Corporation (FDIC), sent a letter to the U.S. Senate Banking Committee. He made these points in his letter:
"[If] the 10 largest U.S. Bank Holding Companies [BHCs] were to retain a greater share of their earnings earmarked for dividends and share buybacks in 2017 they would be able to increase loans by more than $1 trillion, which is greater than 5 percent of annual U.S. GDP.
"Four of the 10 BHCs will distribute more than 100 percent of their current year's earnings, which alone could support approximately $537 billion in new loans to Main Street.
"If share buybacks of $83 billion, representing 72 percent of total payouts for these 10 BHCs in 2017, were instead retained, they could, under current capital rules, increase small business loans by three quarters of a trillion dollars or mortgage loans by almost one and a half trillion dollars."
According to statistics that Hoenig included with his letter, in just the year 2017 alone JPMorgan Chase bought back $19.6 billion of its own stock while Bank of America bought back $12 billion. Kiplinger's reported on November 9 of last year that over the past five years, JPMorgan Chase has bought back $45.5 billion of its own shares, putting it among the top 7 companies with the largest buyback programs.
What exactly do share buybacks do for the corporation? According to an incisive reportlast year by Lenore Palladino, Senior Economist and Policy Counsel at the Roosevelt Institute, buybacks work like this:
"Open-market share repurchases, often known informally as 'stock buybacks,' occur when companies purchase back their own stock from shareholders on the open market. When a share of stock is bought back, the company reabsorbs that portion of its ownership that was previously distributed among other investors. This reduces the amount of outstanding shares in the market, resulting in an increase in the price per share. The logic is that of supply and demand: when there are fewer supplies available to purchase, then an upward demand will increase share prices. In essence, then, stock buybacks raise share prices artificially. The value of the stock goes up as a result of a stock buyback, but without making the kinds of changes that would improve the actual value of the company—through more efficient production, new products, or better customer experience…"
Artificial inflation of JPMorgan Chase's share price through buybacks might explain why the stock market shrugged off three felony counts against a bank which, as of January 30 of this year according to the FDIC, had 5,142 branches in 28 states and was the nation's largest bank with $2.2 trillion in assets and over $1.5 trillion in deposits.
Read More @ WallStOnParade.com