by Jack Montgomery, Breitbart: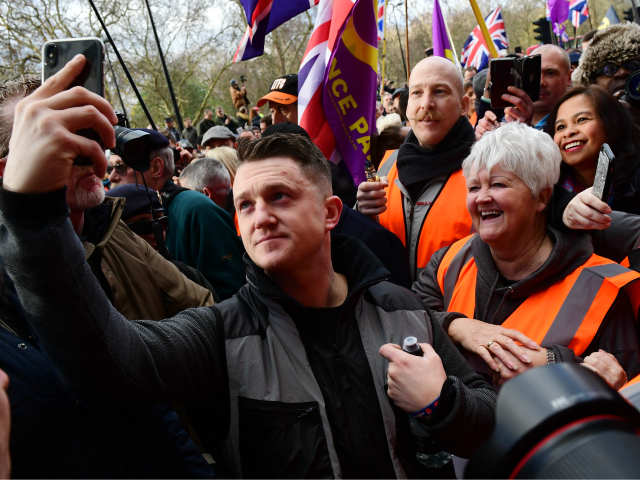 Tommy Robinson has revealed alleged undercover recordings of top BBC journalist John Sweeney, accusing the reporter of planning a fake news hit job in collusion with HOPE Not Hate, a far-left activist organisation which has received funding from billionaire plutocrat George Soros.
The former English Defence League (EDL) frontman turned anti-grooming gangs campaigner and UKIP activist unveiled the recordings to a crowd of thousands of supporters outside the BBC's offices at MediaCity in Salford, Greater Manchester, in the form of a short documentary he called 'Panodrama'.
Robinson's livestreams on the day were persistently interrupted during broadcast, with the reason why these proved unusually unreliable at the heavily-policed event currently unknown.
Robinson was forced to link to low-quality third-party streams, but an edited version of his documentary is scheduled for general release online on Friday afternoon.
In it, Robinson indicates that former associate Lucy Brown, with whom he had had a falling out, was approached by HOPE Not Hate to help BBC Panorama, the publicly-funded broadcaster's flagship investigative documentary programme, to produce what is said to have been described as a "Tommy takedown".
"This is massive. This is Britain's leading investigative journalist documentary by the BBC, that we pay for, creating, editing news, in order to destroy my life," Robinson alleges in his own counter-documentary.
You never see anything critical of far-left activists HOPE not Hate on the BBC. Is that because behind the scenes they're all buddies? Here is their senior researcher Joe Mulhall tweeting what appears to be him hanging out with a BBC political reporter. pic.twitter.com/fsl2l4f9U4

— Chris Tomlinson (@TomlinsonCJ) 10 December 2018
Brown met with John Sweeney, but apparently secretly recorded the meeting, passing the tapes to Robinson.
In clips of the recording shown by Robinson, which have been edited, Sweeney is portrayed as appearing to brag that the boozy tête-à-tête will be covered by expenses, seeming to say "Fuck it, no expense spared" at one point.