by Corey Lynn, Corey's Digs: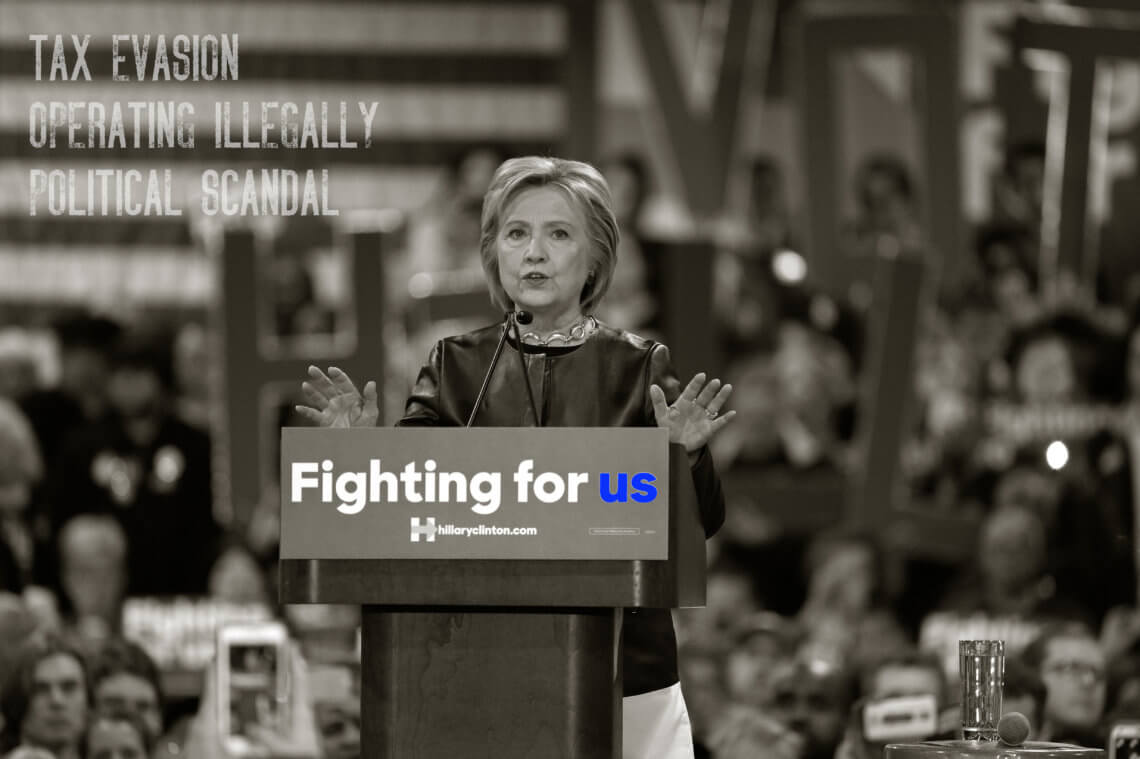 Most people are aware that "Onward Together" is a political organization to raise funds for the Democratic party, but what they don't realize, is the fact that this tax-exempt 501(c)(4) is operating ILLEGALLY, on multiple levels. IRS laws, FEC documents, and Onward Together's tax return create one heck of a recipe, burning for an investigation. Not only does Onward Together require scrutiny, it's partner organizations need a closer look as well.
Perhaps "Back Together" would have been more apropos, since Hillary Clinton got the band back together to form this tax-exempt political scandal. Even Huma Abedin is on the payroll. What's most interesting is that the DNC paid nearly $2 million to Onward Together for donor list rental/acquisition produced by Hillary for America, while the DCCC paid more than $700,000 for the same list. Sure, politicians often sell "donor lists", but Onward Together is not allowed to declare the payment as tax-exempt "royalty income," nor does this political activity align with the lawful purpose of 501(c)(4) organizations. But it gets worse.
In order to avoid unrelated business income taxes, some exempt organizations have attempted to classify, as royalties, payments that are in fact fees for services. The IRS, however, ignores contractual nomenclature and looks to the true nature of such transactions. For example, royalties were ruled not to include paymentsfor personal appearances (Rev. Rul. 81-178, 1981-2 C.B. 135) or receipts from the rental of donor lists(Disabled American Veterans v. United States, 650 F.2d 1178 (Ct. Cl. 1981). Additionally, if the exempt organization maintains control over or liability for the commercial enterprise, the royalty exclusion will likely be denied. Thus, payments derived from a license of property under which an exempt organization was liable for some development and operational costs were treated as unrelated income. (Rev. Rul. 69-179, 1969-1 C.B. 158).

It's important to note that specific laws apply to tax-exempt organizations, such as the percentage of "unrelated business income," which could result in a loss of tax-exempt status, if that portion is substantial. Based on their tax return, it would be difficult for them to justify their tax-exempt status. According to the expenses indicated on their tax return, they shelled out $1,034,514 in fundraising, $480,000 in grants to political 527 organizations, and $500,000 in grants to questionable and political 501(c)(4) organizations, and over $400,000 in payroll and professional fees, accounting for over 80% of expenditures. That goes way beyond the limited political scope allowed.
What's worse, is they only paid taxes on the $480,000, while listing over $3 million as "royalty income," which presumably accounts for the funds received from the DNC and DCCC, being as they do not appear to be included anywhere else in the return.
When speaking with Financial analyst Charles Ortel, in regard to how much politics are allowed to play a role in a 501(c)(4), he stated the following:
Contributions to a 501(c)(4) are not tax-deductible. Nevertheless, these entities are not supposed to promote or advocate specific candidates in elections. So, in theory, politics should play only a tangential role, if any, in the operation of a 501-C4.

In practice, however, 501(c)(4) organizations can operate in tandem with other like-minded entities, whether 501(c)(4 or 501(c)(3). If these entities are not scrupulously managed, "joint costs" can be allocated in ways where they become disguised political contributions, or even payoffs to ghost workers or vendors.

For example, travel and other third-party costs can be over-billed to the nonprofits, subsidizing political campaigns. Or, workers on political campaigns can be underpaid by the campaign, with additional payments routed through the nonprofits.

Another issue is that many of the ostensible regulators of nonprofit abuses, for example Lois Lerner, are married or linked to others who are paid by or who support nonprofit entities.

Fair application of existing laws and precedents to flagrant, as yet unprosecuted charity and nonprofit frauds that remain ongoing, might yield billions of dollars in revenue, just when our federal, state and local governments are desperate to balance their budgets.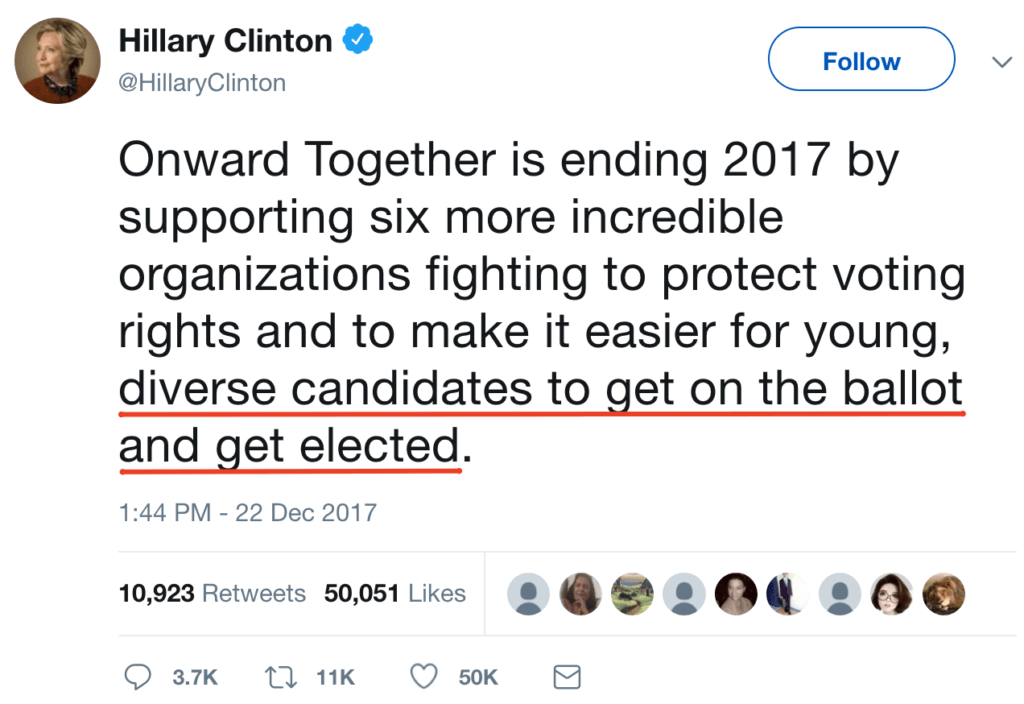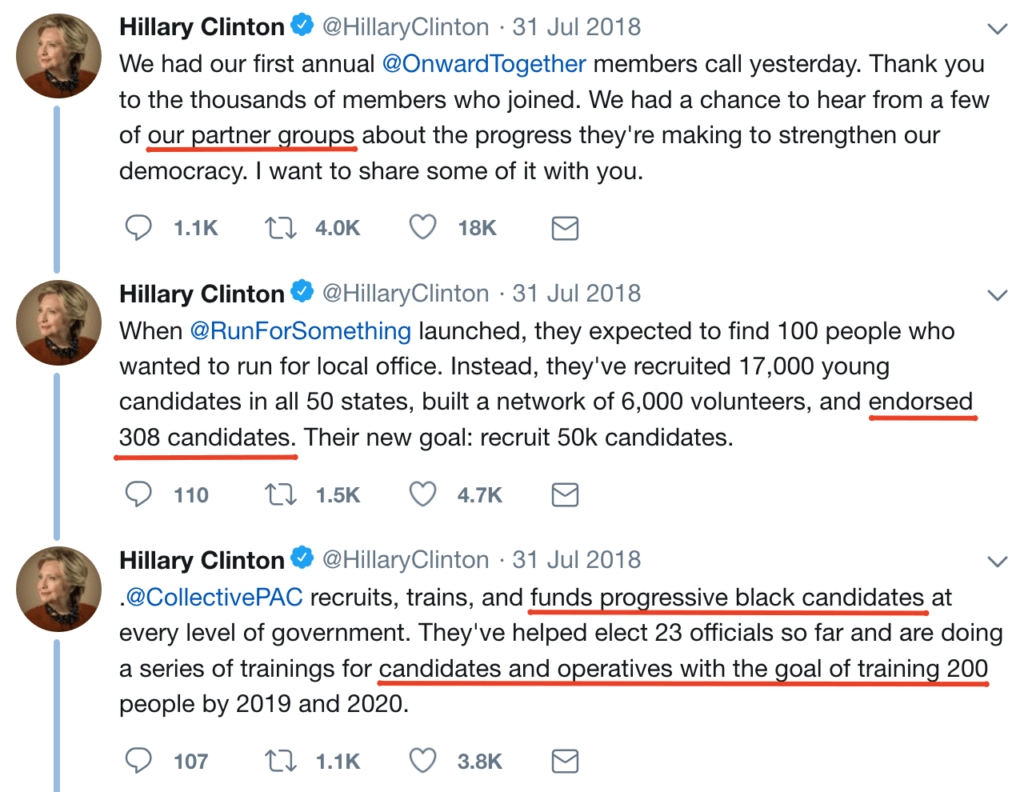 Onward Together's Political Mission is Evident
Onward Together announced their "launch" on May 15, 2017. Shortly before their launch, Politico reportedthat "The former secretary of state is building a new political group to fund organizations working on the resistance to President Donald Trump's agenda."
Despite the fact that Hillary Clinton's name does not appear as a director, trustee, on the board, or under payroll, the entire organization is promoted by her as it being hers. Additionally, she had contributed $800,000 from Hillary for America (her presidential campaign) to Onward Together just two weeks before its public launch, accounting for 25% of the overall donations. She also solicits for donations, and is seen in countless photographs with those she refers to as "OUR Partners." But then, why would she have her name listed, when Mark Elias of Perkins Coie, LLP, 2016 presidential campaign attorney, is listed as the incorporator? Anyone can create a corporation, and pay an attorney to register it for them, so that their name isn't reflected on public documents.