by Tim Brown, Freedom OutPost: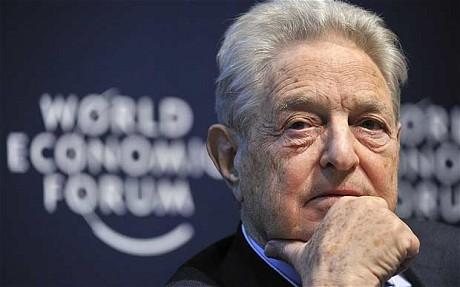 NewsGuard is the latest group of censoring, fact-checking, bias pontificating hypocrites to come down the pike. Many believe this group will save the people from their own ability to discern truth from error, all while touting that they are the beacons of truth and the determiners of who is transparent. But, over and over, as I have researched NewsGuard, I see bias and ties … and yes, George Soros.
While NewsGuard explicitly claims that they have "trained journalists who have spent [their] careers dedicated to the profession," allowing you to "see the credentials and backgrounds of everyone responsible",  and they have an "ethics of conflicts of interest policy," while being "totally transparent about how they make all of their decisions," the reality is that they are not being transparent about to whom some of their investors are tied.
Listed on their investor's page is John S. & James L. Knight Foundation, Inc.
That name may not mean anything to you, but they have a history of taking money from none other than George Soros' Open Foundation Society. Many rumors and conspiracies surround George Soros but with those put aside, it cannot be denied that he's been behind a large majority of the left's agenda and fight against the right. In other words, he's firmly planted on the left and has made it his mission to destroy conservative thought. He's been behind the funding of protestors at Kavanaugh's hearings, in order to help them get out of jail, he's given $246M to help partners organize the feminists' Women's March, given to Fusion GPS, the firm behind the Steele dossier, and he's helped fund Media Matters, an organization who has a stated mission of "comprehensively monitoring, analyzing, and correcting conservative misinformation in the U.S. media", on top of a plethora of other radical left organizations.
A search result of OpenSocietyFoundations.org came back with several key articles that involved the John S. & James L. Knight Foundation, Inc. Here are the results from that search:
The Transformational Leadership Retreat (2009) —
"The Open Society Institute Campaign for Black Male Achievement partnered with the John S. and James L. Knight Foundation to host its first annual Transformational Leadership Retreat. The retreat was conceived with the premise that "transformational times require transformational leadership." Since May 2008, the CBMA has grown to include 26 grantee partner organizations—a diverse community of educators, youth leaders, policy advocates, community organizers, academics, and philanthropists. The Campaign for Black Male Achievement is acutely aware of the work its grantee partners are engaged in on a daily basis to improve the life outcomes of black men and boys and saw the need for a valuable space for reflection and renewal.

The Transformational Leadership Retreat was facilitated by Estrus Tucker of the Center for Courage and Renewal. During the retreat, close to 60 social justice leaders connected, recharged, and envisioned innovative ways to effectively respond to the opportunities to improve and increase opportunities for black men and boys in America."
Campaign Celebrates Unsung Heroes Among Black Men and Boys (2011) —
"A new campaign launching today will highlight the stories of black men and boys—celebrating and supporting them as they lead others in strengthening their communities.

The first-of-its-kind effort will be piloted this year in two cities, Philadelphia and Detroit.

BME (pronounced Be Me) is supported by the John S. and James L. Knight Foundation and the Open Society Foundations' Campaign for Black Male Achievement. BME stands for Black Male Engagement.

"We want to shine a light on the brothers who help others achieve, who involve neighbors, friends and strangers in things that uplift the community," said Trabian Shorters, Knight Foundation's vice president for communities. "If you want to see more black men and boys solving problems and making decisions for the good of Detroit and Philadelphia, nominate them at bmechallenge.org, and let's recognize them."

TV and movies rarely feature stories of black males making time to positively engage with their communities. Their stories represent the true identity of many black men and boys—actively engaged community members who inspire those around them. BME strives to amplify the positive impact that black males have in their communities every day."
The Impact of Digital Technology on Journalism and Democracy in Latin America and the Carribean (2010) —
"The Impact of Digital Technology on Journalism and Democracy in Latin America and the Caribbean is the report from the Austin Forum on Journalism in the Americas, held at the University of Texas, Austin, in September 2009.

The forum, which the Open Society Foundations co-sponsored with the Knight Center, hosted representatives from 18 countries to discuss the impact of the digital transition on the media industry, democracy and political reporting, investigative journalism, and new media.

The report uses qualitative analysis of the personal and organizational experiences of forum participants through the transition process. Among the topics discussed in the document are the use of social media; the need for digital training; dealing with online user comments; and the use of digital technology by governments to spy on journalists. The report also includes proposals for collaboration on training, new business models for investigative journalism, and dissemination of news on new media platforms."
At first glance, you may be saying to yourself these are not necessarily bad things and some of these things occurred almost a decade ago. Fair enough, but the fact that they have partnered with this man, who has so many fingers in multiple entities on the left, should be a cause for concern, especially when they claim to promote transparency and objectivity. Additionally, the Knight Foundation has a lot of twisted ties. Even the mainly left-leaning Wikipedia states —
"While the Sandler Foundation provided ProPublica with significant financial support, it also has received funding from the Knight Foundation, the Carnegie Foundation, MacArthur Foundation, Pew Charitable Trusts, Ford Foundation, the Carnegie Corporation, and the Atlantic Philanthropies. ProPublica and the Knight Foundation have various connections. For example, Paul Steiger, president of ProPublica, is a trustee of the Knight Foundation. In like manner, Alberto Ibarguen, the president and CEO of the Knight Foundation, is on the board of ProPublica. In 2010, it received a two-year contribution of $125,000 each year from George Soros' Open Society Foundations.

ProPublica has attracted attention to the salaries it pays its employees. In 2008, Paul Steiger, the editor of ProPublica, received a salary of $570,000. Steiger was formerly the managing editor at The Wall Street Journal, where his total compensation (including options) was double that at ProPublica. Steiger's stated strategy is to use a Wall Street Journal pay model to attract journalistic talent. In 2010, eight ProPublica employees made more than $160,000, including managing editor Stephen Engelberg ($343,463) and the highest paid reporter, Dafna Linzer, formerly of the Washington Post ($205,445).

Engelberg is a former editor who co-wrote the non-fiction book Germs: Biological Weapons and America's Secret War, with Times reporter Judith Miller."
Let's go a step further though.
In December of 2017, it was reported that Soros was also funding "journalism" in seven states in the U.S., and lo and behold the Knight Foundation was right there in the midst.
Read More @ FreedomOutPost.com