by Susan Duclos, All News Pipeline: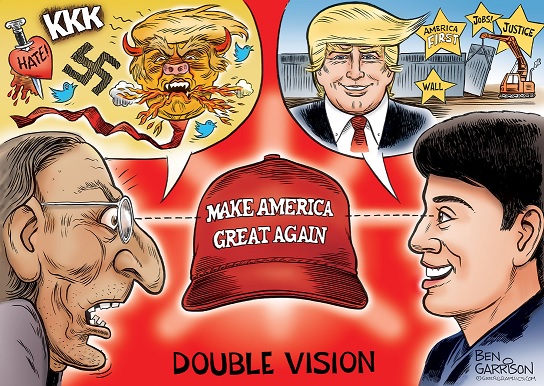 After the massive media fail just a few short weeks ago when the media helped make a selectively edited video go viral in order to attack a group of Covington Catholic high school students who were wearing MAGA hats, the media has once again jumped onto a "MAGA Hate hoax" story that has been falling apart since the initial reporting.
Before getting into the details of the alleged attack on Empire actor Jussie Smollett and the massive disinformation campaign by the media to create a "MAGA" crime, a brief recap and update on the Covington MAGA Hate hoax.
MAGA HATE HOAX ONE – COVINGTON CATHOLIC KIDS
In the case of the Covington kids, the media accused them of "surrounding" and elderly Indian "Vietnam veteran," and "mocking" him. The entire media narrative was proven to be false within 24 hours, when the full one hour 46 minute video was published.
The full nearly two hour video showed 1) The Indian man approached the teenagers, they did not "surround" him; 2) He was not a "Vietnam" veteran, and; 3) They did not taunt or mock him, but were confused as to why he got into one of the students face and started pounding his drum at him and joined in with his chants.
That is the short recap. We now see that letters have finally gone out from the lawyer representing Nick Sandmann, the boy that became the face of the Covington students that have been slandered and libeled by multiple media outlets and personalities, as well as a number of celebrities, and the list of names the Sandmann lawyers are going after is impressive.
The Covington Catholic High School lawyers sent letters, alerting potential defendants to pending lawsuits, to: The NY Times, Maggie Haberman, Washington Post, CNN, NPR, Savannah Guthrie, Andrea Mitchell, Joy Reid, Chuck Todd, The Hill, The Atlantic, Kathy Griffin, GQMagazine, Elizabeth Warren, The Guardian, TMZ, Capitol Hill Publishing Corp., Diocese of Covington, Diocese of Lexington, Archdiocese of Louisville, Diocese of Baltimore, Erin Burnett, Sara Sidner, Ana Cabrera, Amanda Watts, Ilhan Omar, Noah Berlatsky, Elisha Fieldstadt, and Eun Kyung Kim.
According to multiple reports, more names are to be added. The lawyers gave each high profile person, whether politicians, media outlets, individual journalists, or celebrities, a significant amount of time to retract, delete, or apologize for spreading the fake news about the Covington students, and their attacks against the students, after the truth was revealed.
Many outlets and individuals did delete their original tweets and postings, others apologized, and some outlets retracted and/or corrected their original false accounts, but the names listed above, did not, and in fact some continued attacking young Mr. Sandmann and the other students, which has led to online and offline threats of violence and death, and those are the people the Sanmann family lawyers are going after.
One of those lawyers, L. Lin Wood, has also published a nearly 15 minute video, described in the following manner: "2 weeks ago, the mainstream media, politicians, church officials, commentators, & celebrities rushed to judgment to wrongfully condemn, threaten, disparage & vilify Nick Sandmann based solely on a few seconds of an out-of-context video clip. It only takes 15 minutes to learn the truth. Here it is."
MAGA HATE HOAX TWO? EMPIRE'S JUSSIE SMOLLETT CASE FULL OF MISINFORMATION
Jussie Smollett is a black, gay actor that stars in a show called Empire. Smollett previously has shown massive hate for President Trump, integrated into videos, and documented statements calling him a "pig, racist and a horrible human being."
First Discrepancy: Last week a report from TMZ came out, which was followed by multiple liberal establishment media outlets, alleging that Smollett was attacked and that Smollett told police "racial and homophobic" comments were made to him during the alleged attackand the assailants yelled "This is MAGA country."
Via the initial TMZ report:
The 2 men — both white and wearing ski masks — viciously attacked Jussie as he fought back, but they beat him badly and fractured a rib. They put a rope around his neck, poured bleach on him and as they left they yelled, "This is MAGA country." 

Jussie took himself to Northwestern Memorial where he was treated. He was discharged later Tuesday morning.
The story started breaking down almost immediately when the Chicago Police Department issued a statement  to Reason Magazinesaying ""According to the victim, the offenders' faces were concealed. We have no record indicating that [they shouted 'MAGA'], we only have record of them shouting racial and homophobic slurs at him."
Read More @ AllNewsPipeline.com