by Tony Lee, Breitbart: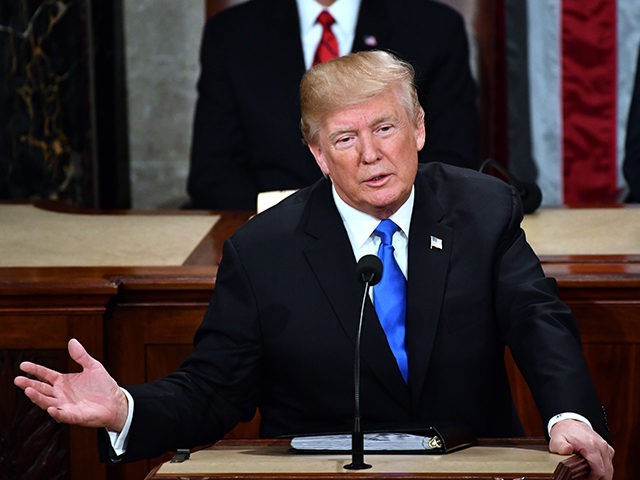 President Donald Trump will deliver his second State of the Union address on Tuesday evening (9 PM ET) before a joint session of Congress. Trump's speech, which was scheduled for Jan. 29, was postponed because of the government shutdown.
Democrat Stacey Abrams, the failed Georgia gubernatorial candidate who is reportedly thinking about running for Georgia's Senate seat in 2020, will give the response from Atlanta, Georgia. She will reportedly be surrounded by numerous activists. California Attorney General Xavier Becerra, one of the leaders of the anti-Trump resistance, will deliver the Spanish-language response. Sen. Bernie Sanders (I-VT), will also deliver a response even though he is facing criticism for taking some of the spotlight off of Abrams. Sen. Kamala Harris (D-CA), the 2020 presidential candidate, delivered a prebuttal ahead of Trump's address.
Stay tuned to Breitbart News throughout the evening for live updates. All times eastern.
—
9:43: Trump calls out Democrats who have voted for walls in the past:
"In the past, most of the people in this room voted for a wall — but the proper wall never got built. I'll get it built," Trump says. "This is a smart, strategic, see-through steel barrier — not just a simple concrete wall. It will be deployed in the areas identified by border agents as having the greatest need, and as these agents will tell you, where walls go up, illegal crossings go way, way down."
9:39: Trump now honoring Angel Moms. He says nobody should have to suffer the heartache they have had to endure. Trump introduces Debra Bissell, whose parents were burglarized and shot to death three weeks ago in Nevada by illegal aliens. Trump says not one more American life should be lost because the country could not secure its borders. Trump also honors ICE agent Elvin Hernandez. Trump says: "I pledge to you tonight that we will never abolish our heroes from ICE."
9:35: Trump on immigration. He says he wants people to come into America "in the largest numbers ever" so long as they come in legally. He asks Congress to come together on illegal immigration because it is a "moral issue." He also speaks about how working-class Americans often have to suffer because of illegal immigration while wealthy Americans "push for open borders while living their lives behind walls and gates and guards":
The Congress has 10 days left to pass a bill that will fund our Government, protect our homeland, and secure our southern border.

Now is the time for the Congress to show the world that America is committed to ending illegal immigration and putting the ruthless coyotes, cartels, drug dealers, and human traffickers out of business.

As we speak, large, organized caravans are on the march to the United States. We have just heard that Mexican cities, in order to remove the illegal immigrants from their communities, are getting trucks and buses to bring them up to our country in areas where there is little border protection. I have ordered another 3,750 troops to our southern border to prepare for this tremendous onslaught.

This is a moral issue. The lawless state of our southern border is a threat to the safety, security, and financial well‑being of all America. We have a moral duty to create an immigration system that protects the lives and jobs of our citizens. This includes our obligation to the millions of immigrants living here today, who followed the rules and respected our laws. Legal immigrants enrich our Nation and strengthen our society in countless ways. I want people to come into our country in the largest numbers ever, but they have to come in legally.

Tonight, I am asking you to defend our very dangerous southern border out of love and devotion to our fellow citizens and to our country.

No issue better illustrates the divide between America's working class and America's political class than illegal immigration. Wealthy politicians and donors push for open borders while living their lives behind walls and gates and guards.

Meanwhile, working class Americans are left to pay the price for mass illegal migration — reduced jobs, lower wages, overburdened schools and hospitals, increased crime, and a depleted social safety net.

Tolerance for illegal immigration is not compassionate — it is actually very cruel. One in three women is sexually assaulted on the long journey north. Smugglers use migrant children as human pawns to exploit our laws and gain access to our country.

Human traffickers and sex traffickers take advantage of the wide open areas between our ports of entry to smuggle thousands of young girls and women into the United States and to sell them into prostitution and modern-day slavery.

Tens of thousands of innocent Americans are killed by lethal drugs that cross our border and flood into our cities — including meth, heroin, cocaine, and fentanyl.

The savage gang, MS-13, now operates in 20 different American states, and they almost all come through our southern border. Just yesterday, an MS-13 gang member was taken into custody for a fatal shooting on a subway platform in New York City. We are removing these gang members by the thousands, but until we secure our border they're going to keep streaming back in.

Year after year, countless Americans are murdered by criminal illegal aliens.
9:27: Trump now touts his bipartisan criminal justice reform bill. He speaks about Alice Johnson, who is in attendance and to whom Trump granted clemency (after a bit of lobbying from Kim Kardashian).