from ZeroHedge: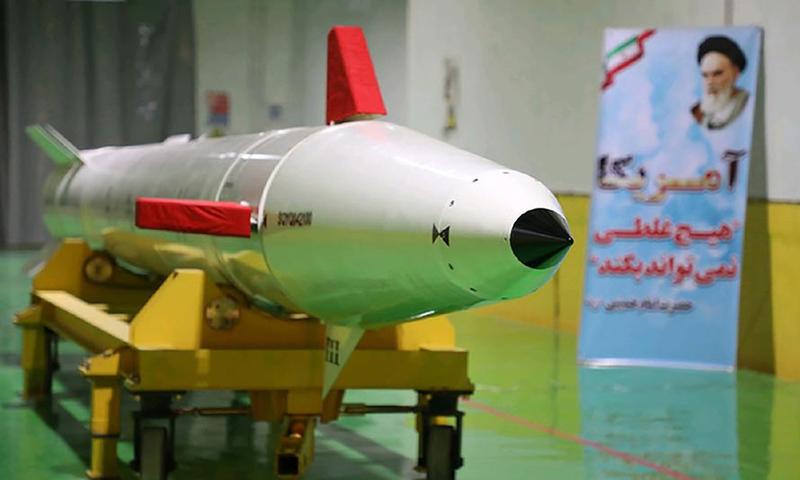 Late last week Iran's Revolutionary Guard unveiled a new surface-to-surface ballistic missile that Iran's military touts as possessing a range of 1,000 kilometers (621 miles), according to the elite force's Sepah News.
The IRGC released footage of the new missile stored deep inside what state media called an "underground" ballistic missile production facility in what appears the latest provocative snub to US and European leaders, who've recently demanded Iran halt all missile development and tests, but which Tehran has said is for defensive reasons and therefore legal within the framework of the 2015 JCPOA.
Fars News published video of IRGC commander-in-chief Major General Mohammad Ali Jafari and aerospace commander Brigadier General Amirali Hajizadeh showcasing the new missile, called Dezful, described as having "twice the destructive power" of the older Zolfaghar model, which had a range of 700 kilometers, according to statements by Hajizadeh.
And in comments aimed directly at the West, IRGC chief Jafari said, "Displaying this missile production facility deep underground is an answer to Westerners… who think they can stop us from reaching our goals through sanctions and threats," according to the AFP. The location of the facility, which appeared to show multiple rockets, was undisclosed.
🎥اولین تصاویر از کارخانه زیر زمینی تولید موشک بالستیک نیروی هوافضای #سپاه pic.twitter.com/u5H5tQg0Oq

— خبرگزاری فارس (@FarsNews_Agency) 7 February 2019
"Europeans talk of limiting our defensive capability while they have the audacity [to allow] their offensive power be used to attack innocent people all over the world," he added.
This came within the same week the European Union issued a formal statement urging Iran to abandon all ballistic missile activity, and to further cease "intervention" in regional conflicts. The EU was reacting to a recent successful test of a new cruise missile named Hoveizeh, which has a purported range of 1,350 kilometers.