by David Haggith, The Great Recession Blog: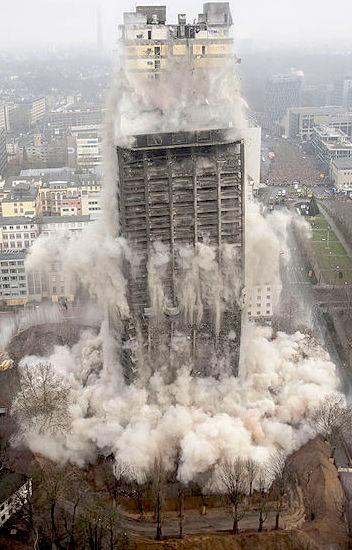 As happened with the first housing market crash that began in 2007 but didn't become widely recognized until mid-2008, the present housing crisis began exploding one story at a time last summer, and this blog was perhaps the first to state that summer's change was the turning point from decades of ascent into a collapse in housing sales and prices. I said the same thing back in 2007, and people didn't believe me then either.
The present housing market crash, like the last, was created by the Federal Reserve artificially pressing mortgage rates down, then down further, and then down as deep they dared push for years and years. Falling interest, allowed people with flat incomes to keep purchasing increasingly expensive homes. Since people buy payments more than house prices, housing prices kept rising as payments were kept in line via these artificial interest reductions.
The Fed's ill-conceived plan, however, was never sustainable prior to the last housing market crash and is not now. I've said throughout the Great Recession and ensuing years that, sooner or later, we'd get to the point where the Fed would have to raise rates, and I've said its quantitative tightening will certainly raise rates as much as it increase in stated interbank lending interest targets. I've also said that, by the time the Fed started raising rates, housing prices would be unaffordable without the Fed's artificially lowered interest; therefore, the market would have to crash all over again because , all over again, people would find themselves underwater on their mortgages.
And now here we are. US banks have not started to go down, but they are feeling serious pressure as this article will point out, while eight months of statistics now prove housing is relentlessly falling with NO hint of letting up. As I wrote in my first Premium Post, "2019 Economic Headwinds Look Like Storm of the Century," Housing Market Crash 2.0 is one of the numerous forces that will be knocking the US economy down in 2019. The rest of the global economy is already down further than the US.
The principle driver in Housing Market Crash 2.0 is the Federal Reserve's Great Recovery Rewind (the downsizing of its balance sheet, which tightens financial conditions). This, I said two years ago, would cause mortgage rates to start rising one year ago, and you can now see that mortgage rates did exactly that all of last year:
Mortgage rates rose only a minuscule blip when the Fed started with a tiny rolloff (tightening) near the end of 2017, even as I had said the Fed's unwind would not likely cause any serious damage to the economy until January 2018. Rates, however, immediately ramped up steeply went the Fed doubled its roll-off rate in January (which was when I said the balance-sheet unwind would start to have serious market impacts). This has hit stocks, bonds and housing the worst … so far.
Since the housing market is one of the major areas where Americans store wealth and since it is an industry that buys products and labor from a multitude of other industries, a decline in housing impacts the economy more than any other industry.
US Housing Market Crash 2.0
Here is the path US housing prices had been following until the market rolled over: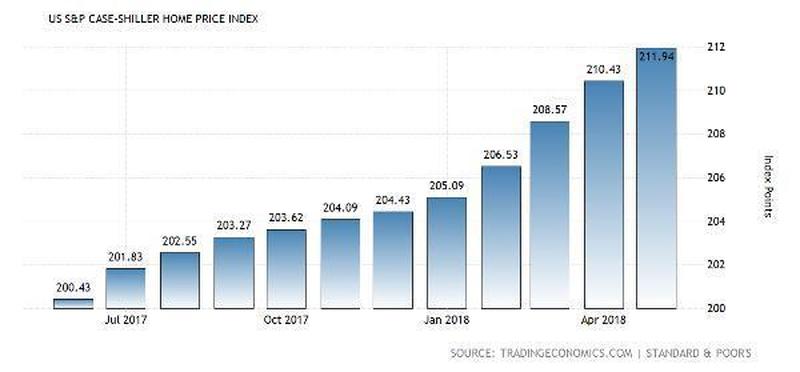 And here is a play-by-play of how the housing market crash has gone since I made my brazen summer proclamation that it had arrived on schedule:
June-July, 2018: Average housing demand in the US was reported to have fallen 9.6 percent in June YoY, while the number of listings increased. Overall, 15% fewer offers were made on homes, which is probably why the inventory grew. In many major markets, however, inventory declined. Agents in So. Cal reported bidding wars were cooling down. Where homes had been getting 10-15 offers (causing a bidding war), they were now just getting one or two.
Prices continued to climb or remained high because sales have to slump a lot before sellers become willing to accept the harsh reality that their homes, in which they have so much of their wealth invested, are not worth as much as they were. As inventory rises, buyers become more choosy and make offers on only the best-priced homes, rather than bid prices up. As a result, prices stall so do buyers until eventually their waiting overcomes seller inertia and sellers start to move down to find the more deeply coalesced pool of buyers.
In affluent areas, however, prices already began to fall. In part, this jolt down at the top was due to the Trump Tax Cuts, which funded some cuts by curbing deductions for mortgage interest and particularly for property tax. That hit areas like Manhattan, Westchester County, New Jersey and Connecticut the hardest because of their high property taxes that had been paid on behalf of the wealthy via income-tax breaks. (Property-tax bills in Westchester County, one of the highest in the nation, commonly hit $50,000 per year or more.)
On a quarterly basis, purchases nationally plunged 18% in the second quarter.
August, 2018: Near the end of summer, reports like the following started to appear for the first time in almost a decade:
"We all think next year is going to be a tough year for real estate sales," said Matthew Roach, a property attorney in Yorktown Heights, New York…. Some buyers are saying, "'Look, I'm not going to spend more than $35,000 in taxes,' " said Angela Retelny, a broker at Compass. "Houses … have to be reduced — because their taxes are just way too high for the price range…." The state of the market is such that you're seeing "dramatic price reductions every single day — every hour, pretty much," she said."
Read More @ TheGreatRecession.info