by Geoffrey Grinder, Now The End Begins: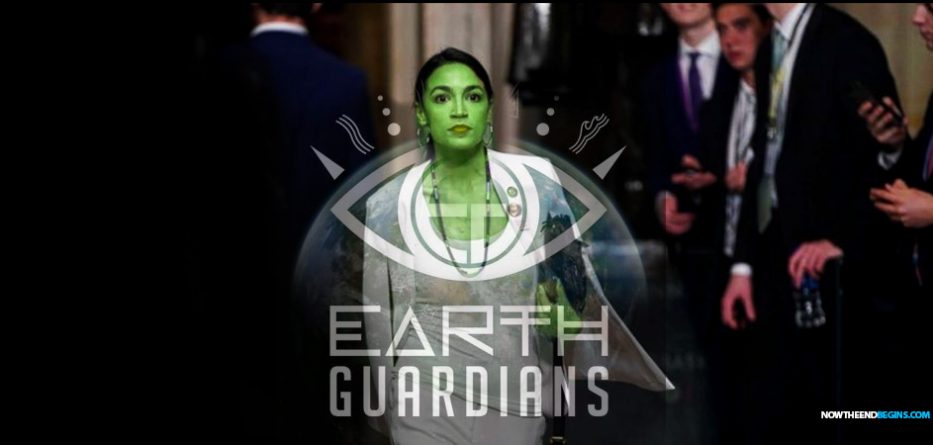 "As you know, congresswoman, one reason that people are politically conservative are skeptical of efforts to combat climate change is that it sounds to them like it requires massive government intervention, which they just don't like," Steve Inskeep asked. "Are you prepared to put on that table that, 'Yes actually they're right, what this requires is massive government intervention'?" "It does, it does, yeah, I have no problem saying that," Ocasio-Cortez quickly replied.
Democrats' plans to counteract climate change will involve "massive government intervention" into Americans' lives, Alexandria Ocasio-Cortez admitted in an interview Thursday morning.
Back in 2005, Al Gore warned us that our planet was about to go through a drastic rise in temperature, he called this coming phenomenon 'global warming'. Gore said it was unstoppable and that by 2015, New York City would be two feet under water as the sea levels began their inevitable rise upwards. In 2009, he said that the polar ice caps would be 'gone in 5 years'. Well…guess what? Things got colder not hotter, and there is more polar ice than ever before. How's that for inconvenient truth, Al?
"For this they willingly are ignorant of, that by the word of God the heavens were of old, and the earth standing out of the water and in the water: Whereby the world that then was, being overflowed with water, perished: But the heavens and the earth, which are now, by the same word are kept in store, reserved unto fire against the day of judgment and perdition of ungodly men." 2 Peter 3:5-7 (KJV)
Now Democratic Socialist Alexandria Ocasio-Cortez wants the United States government to take over the weather, spend trillions of dollars, and give everyone a coke and a smile. But you only need look to see how effective the government control of things like Amtrak and the US Post Office have been, and that will tell you just how well they will be able to 'fix the climate'.
The fun part of all this is how the regular Far Left Liberals like Nancy Pelosi are working to shut down the Democratic Socialists and Ocasio-Cortez, even though on recycled paper they seem to be working towards the same goals. But guess what? They aren't. Washington only has one currency, power, and it's power at all costs. If you think I'm kidding, just ask this guy how serious the Washington elites are about holding on to power.
OCASIO-CORTEZ: FIXING GLOBAL WARMING REQUIRES 'MASSIVE GOVERNMENT INTERVENTION'
FROM GRABIEN NEWS: Rep. Alexandria Ocasio-Cortez said she has no qualms about acknowledging a so-called "Green New Deal" will mean unprecedented governmental intrusion into the private sector. Appearing on NPR, she was asked if she's prepared to tell Americans outright that her plans involve "massive government intervention."
"AS YOU KNOW, CONGRESSWOMAN, ONE REASON THAT PEOPLE ARE POLITICALLY CONSERVATIVE ARE SKEPTICAL OF EFFORTS TO COMBAT CLIMATE CHANGE IS THAT IT SOUNDS TO THEM LIKE IT REQUIRES MASSIVE GOVERNMENT INTERVENTION, WHICH THEY JUST DON'T LIKE," STEVE INSKEEP ASKED. "ARE YOU PREPARED TO PUT ON THAT TABLE THAT, 'YES ACTUALLY THEY'RE RIGHT, WHAT THIS REQUIRES IS MASSIVE GOVERNMENT INTERVENTION'?"
"It does, it does, yeah, I have no problem saying that," Ocasio-Cortez quickly replied. "Why? Because we have tried their approach for 40 years. For 40 years we have tried to let the private sector take care of this. They said, 'We got this, we can do this, the forces of the market are going to force us to innovate.'"
"Except," she continued, "for the fact that there's a little thing in economics called externalities. And what that means is that a corporation can dump pollution in the river and they don't have to pay, but taxpayers have to pay."
Despite her Green New Deal including plans to remake "every" building in the United States, impose Medicare-for-All, as well as a universal basic income, Alexandria Ocasio-Cortez said her proposals are small compared to the crisis the world faces. [Her office posted an updated outline of the plan today.]
"Even the solutions that we have considered big and bold are nowhere near the scale of the actual problem that climate change presents to us," she told NPR.
Ocasio-Cortez also suggested there are ways to pay for her plans besides taxes, although she did not specify what.
"It is just certainly a lot of money," Inskeep said. "You don't specify where it's going to come from other than saying it will all pay for itself."
"Yeah, I think the first move we need to do is kind of break the mistaken idea that taxes pay for 100 percent of government expenditure," Ocasio-Cortez answered. "It's just not how government expenditure works. We can recoup costs, but oftentimes you look at, for example, the GOP tax cut which I think was an irresponsible use of government expenditure, but government projects are often financed by a combination of taxes, deficit spending and other kinds of investments, you know, bonds and so on."
"Well, I get that, but deficit spending is borrowing money that has to be paid back eventually through taxes," Inskeep reminded the freshman lawmaker.
"Yeah, and I think — I think that is always the crux of it," she said. "So when we decide to go into the realm of deficit spending, we have to do so responsibly. We ask is this an investment or is this actually going to pay for itself?"
Read More @ NowTheEndBegins.com