by Jeff Carlson, The Epoch Times: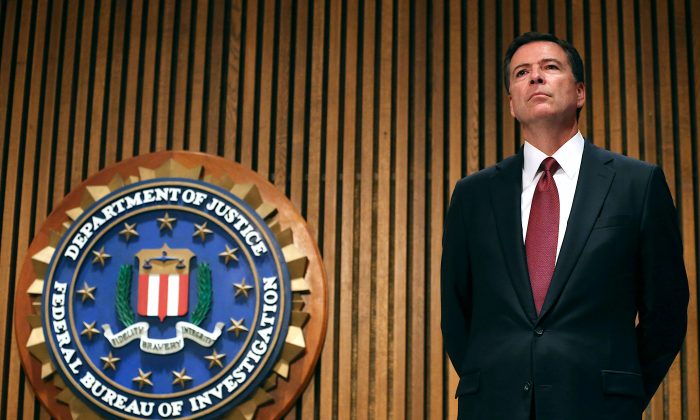 Early in the Hillary Clinton email case, the Department of Justice reached a decision that would have far-reaching implications in the FBI's investigation into Clinton's use of a private email server.
The Justice Department (DOJ), under then-Attorney General Loretta Lynch, decided to set an unusually high threshold for prosecution of Clinton, effectively ensuring from the outset that she would not be charged.
In order for Clinton to be prosecuted, the DOJ required the FBI to establish evidence of intent—even though the gross negligence statute explicitly does not require this.
This meant that the FBI would have needed to find a smoking gun, such as an email or an admission made during FBI questioning, revealing Clinton or her aides knowingly set up the private email server to send classified information.
Hillary Clinton was famously exonerated by FBI Director James Comey in a July 5, 2016, press conference, which immediately became the subject of controversy.
Notably, Comey had been convinced to remove the term "gross negligence" to describe Clinton's actions from his prepared statement by, among others, FBI lawyer Lisa Page, FBI agent Peter Strzok, senior legal counsel Trisha Anderson, and FBI analyst Jonathan Moffa.
Because of Comey's statement, many have mistakenly concluded that the FBI acted independently from DOJ influence in their investigation of Clinton. Congressional testimonies by high ranking FBI officials involved in the investigation reveal, however, that this was not the case.
The testimonies, which were conducted last year behind closed-doors, have not been publicly released, but were reviewed for this article.
DOJ Involvement in Clinton Case & Requirement of Intent
Lisa Page, an FBI lawyer who served as special counsel to Deputy FBI Director Andrew McCabe during the time of the Clinton investigation, noted during her testimony in July 2018, that the DOJ was intimately involved in the investigation.
"Everybody talks about this as if this was the FBI investigation, and the truth of the matter is there was not a single step, other than the July 5th statement, there was not a single investigative step that we did not do in consultation with or at the direction of the Justice Department," Page told congressional investigators on July 13, 2018.
Comey had also hinted at the influence exerted by the DOJ over the Clinton investigation in his July recommendation, stating that "there are obvious considerations, like the strength of the evidence, especially regarding intent."
Intent is a requirement of several statutes the FBI was looking into. But intent is specifically not a factor under the charge of gross negligence—contained within 18 U.S. Code § 793(f)—a fact that was brought up by Rep. John Ratcliffe (R-TX) during Page's testimony:
Rep. Ratcliffe: Okay. And that's — I think, when you talk about intent, that's certainly true under part of 18 793(f), but it sounds like you all just blew over gross negligence.
Ms. Page: We did not blow over gross negligence. We, in fact — and, in fact, the Director — because on its face, it did seem like, well, maybe there's a potential here for this to be the charge. And we had multiple conversations, multiple conversations with the Justice Department about charging gross negligence.
Page made clear during her testimony that the DOJ had decided that due to "constitutional vagueness" a charge of gross negligence would not be supported without accompanying proof of intent—a seemingly oxymoronic position:
Rep. Ratcliffe: Okay. So let me if I can, I know I'm testing your memory, but when you say advice you got from the Department, you're making it sound like it was the Department that told you: You're not going to charge gross negligence because we're the prosecutors and we're telling you we're not going to —
Ms. Page: That is correct.
Rep. Ratcliffe: — bring a case based on that.
Trouble Defining Intent
The word "intent" drove the entirety of the FBI's investigation into the Clinton email server.
It appears, however, that there were differing understandings of the word "intent" within the FBI. Trisha Anderson, the No. 2 lawyer at the FBI, told investigators that what she viewed as intent was "an email that the Secretary sent saying, I set up this server for the purpose of sending unclassified information for my convenience, even though I know it's not a secure system."
Page viewed the situation somewhat differently, agreeing they were looking for "an intent to do an act which is in violation of the law's central command." As she told investigators, the FBI "couldn't find any indicia of knowledge that she knew that these [classified emails] shouldn't be traversing her server."
In Anderson's understanding, she was looking for a prosecutable reason behind the establishment of the server itself. Page, however, was looking at whether Clinton knew which emails should not have traveled through the private server.
Meanwhile, Bill Priestap, head of the FBI's counterintelligence division and who was officially in charge of the Clinton investigation, said during testimony that he thought the "number of instances is absolutely a proper consideration" in establishing intent.
According to Ryan Breitenbach, who was the House Majority Counsel at the time of Priestap's interview, the State Department had identified 22 top-secret emails and 1,300 classified emails on Clinton's email server. As Breitenbach noted to Priestap during testimony, "I think there might be many who would question whether people in this room would still be in this room if we had hit 1,300 emails on our personal Gmail service."
'DOJ Not Willing to Charge This'
Priestap was shown an email sent from an unknown individual in the FBI general counsel's office to Priestap's former boss, Michael Steinbach, which contained a chart of "available statutes for prosecuting the former Secretary of State." Gross Negligence was specifically excluded from the chargeable statutes available to the FBI. Priestap, who had not previously seen the document, expressed concerns that this might have hindered the work of FBI investigators.