by Matt Agorist, The Free Thought Project: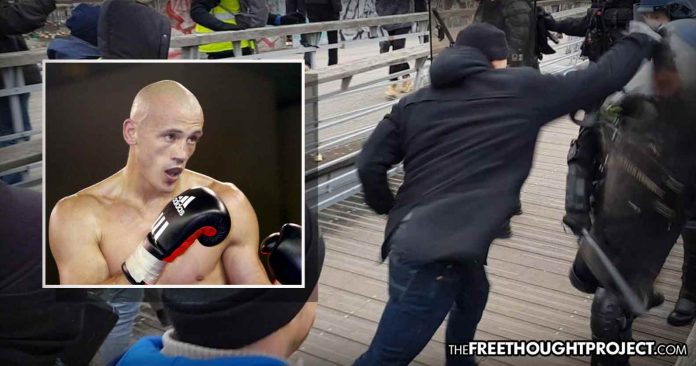 The professional boxer who was seen wailing on French police has been branded a hero by protesters and a fundraiser has exploded with support.
The Yellow Vest protests in France have entered their third month as the populist movement continues to sweep the country and other parts of the globe. The protests have not been short on violence as police have been seen savagely beating single protesters as well as protesters fighting police. One such incident, however, has garnered international attention after video of a pro boxer attacking police officers went viral.
Christophe Dettinger, known as "The Gypsy From Massy," was recorded on video over the weekend attacking riot police. In the video, the former professional boxer was seen wailing on an officer, punching through his shield and helmet.
Rocky Balboa in Paris?
#GiletsJaunes #Parispic.twitter.com/hpDYxLR69S

— Luke Rudkowski (@Lukewearechange) 5 January 2019
After the video went viral, Dettinger was branded the "French Rocky," as police issued a warrant for his arrest.
While the video shows Dettinger as the aggressor, the former light heavyweight champion says those officers attacked him first.
"I was tear-gassed, with my friend and my wife, and at a certain point the anger just rose up inside me," said the 2007 and 2008 champion of France's light heavyweight division.
On Monday, Dettinger turned himself into police and is currently still being held in jail. A fundraiser was started for him on Monday and was highly successful.
As of Tuesday evening, the fundraiser reached $170,000. Many of Dettinger's supporters claim that he was right to fight back because multiple videos have shown police officers savagely attacking unarmed protesters. In the video below, police are seen dragging a woman down the road—by her hair.
While Dettinger may be garnering a bunch of support on social media, the French government is not so happy. Officials have since called for the fundraiser to be banned and the funds to be seized by the state.
"To what level of hate have we sunk to in the public sphere that people fund gratuitous violence against someone charged with upholding public order?" Equality Minister Marlene Schiappa told France Info radio on Tuesday.
Read More @ TheFreeThoughtProject.com