by Susan Duclos, All News Pipeline: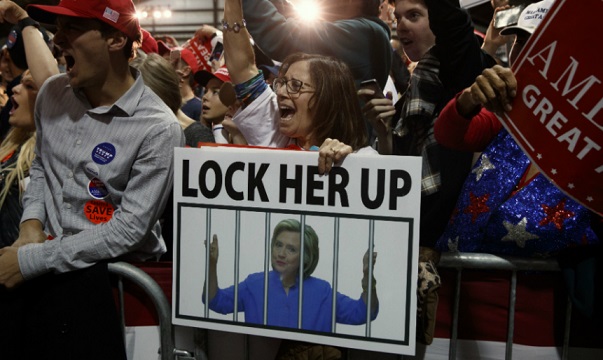 It's Not Over Yet For Hillary Clinton – Approaching Time To 'Lock Her Up'? While The MSM Slobbers Over 'Trump-Russia' Collusion, They Want You To Know Nothing Of These Under-Reported Court Cases And Investigations
Brief Background: In late March 2018, Congress was informed by former Attorney General Jeff Sessions that he had previously assigned United States Attorney, John Huber to lead a team of other U.S. prosecutors, working on conjunction with the DOJ inspector general's office (with their 470 staff members), to investigate a variety of issues that Congressional Republicans had deep concerns about, including the manner in which the Hillary Clinton private server investigation was handled, along with concerns over the FBI and DOJ's actions leading up to the 2016 presidential election.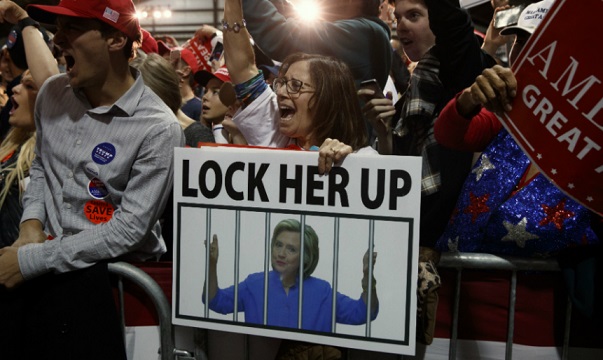 With the chaos of midterms, and the recent wall-to-wall coverage of the special counsel investigation, many have forgotten there are ongoing investigations into a variety of other issues, including the Clinton Foundation.
Where it seems like Washington DC is a "leak" factory, we have seen no leaks coming from Huber's team of prosecutors, nor from DOJ Inspector General Michael Horowitz's office, because Huber is experienced in high profile investigations and prosecutions, and keeps his cards held closely to his chest.
While Huber's investigation may not have been front page news, and in fact no one even knew he had been leading the team of prosecutors in these investigations until months after Sessions appointed him, it does not mean he hasn't been working, and gathering evidence.
With the upcoming House subcommittee hearing slated for next week, to "review the work of John Huber, the special U.S attorney named a year ago to investigate all things Clinton," as John Solomon over at The Hill reports, we now get a peek into the investigation, which includes "6,000 pages of evidence attached to a whistleblower submission filed secretly more than a year ago with the IRS and FBI."
Via Solomon, we see another critical element which may tie in previous reports:
That evidence was assembled by a private firm called MDA Analytics LLC, run by accomplished ex-federal criminal investigators, who alleged the Clinton Foundation engaged in illegal activities and may be liable for millions of dollars in delinquent taxes and penalties.

In addition to the IRS, the firm's partners have had contact with prosecutors in the main Justice Department in Washington and FBI agents in Little Rock, Ark. And last week, a federal prosecutor suddenly asked for documents from their private investigation.
Certain elements of multiple investigations into the Clintons have been undertaken by the Little Rock FBI, which is why it raised quite a few eyebrows back in August 2018, when a local radio station in Little Rock, Arkansas, reported a Boeing 757-223 with tail number N119NA had been spotted with Department of Justice employees loading boxes of documents onto the plane."
The followed up with their reasoning to speculate the boxes of documents pertained to the Clinton Foundation:
"People have been asking about our story yesterday about federal agents loading boxes in a Boeing 757 at Little Rock Airport," said Doc Washburn of Newsradio 102.9 KARN. "They want to know how we know the boxes contain documentsfrom the Clinton Foundation. We don't. But we can't think of anything else it would have been. They also want to know how we knew it was owned by the US Department of Justice. Here's the proof!"
The proof they offered were screen shots of the registration information for the Boeing 757-223 with tail number N119NA, which listed as owner "THE UNITED STATES DEPARTMENT OF JUSTICE,BRISTOL, VA, US (Government).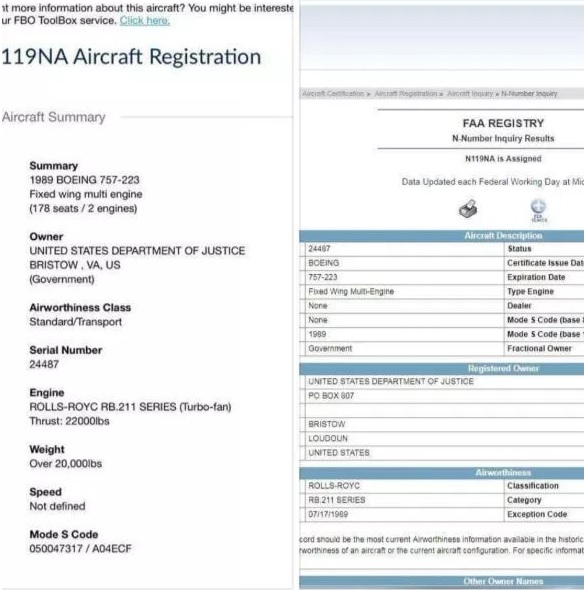 Another interesting tidbit from the lengthy Solomon report, which should really be read in its entirety, comes in the fifth, sixth and seventh paragraphs:
The 48-page submission, dated Aug. 11, 2017, supports its claims with 95 exhibits, including internal legal reviews that the foundation conducted on itself in 2008 and 2011.

Those reviews flagged serious concerns about legal compliance, improper commingling of personal and charity business and "quid pro quo" promises made to donors while Hillary Clinton was secretary of State.

The submission also cites an interview its investigators conducted with Andrew Kessel that quotes the foundation's longtime chief financial officer as saying he was unable to stop former President Clinton from "commingling" personal business and charitable activities inside the foundation and that he "knows where all the bodies are buried."
The fact that Huber's team of prosecutors are now to the point where they are reviewing the evidence compiled by MDA Analytics LLC, is not the only bad news for Hillary Clinton that has been revealed this past week.
Related: EXCLUSIVE: FBI Raids Home Of Whistleblower On Clinton Foundation, Lawyer Says
HILLARY CLINTON IS IN THE "MIDDLE" OF HER EMAIL SCANDAL
While many conservative Americans have been frustrated and angry that the FBI, via former Director James Comey and other corrupt intelligence agency officials basically "fixed" the Hillary Clinton email scandal investigation, in order to exonerate her, as Judicial Watch's Tom Fitton explains in the video below, the issue is not dead, nor over, as Fitton states "Hillary Clinton is in the middle of her email scandal," because while the FBI and the DOJ may not be interested in pursuing the investigations to the fullest, the courts are apparently more receptive, and are forcing the issue to a head.
Read More @ AllNewsPipeline.com