by Michael Snyder, The Economic Collapse Blog: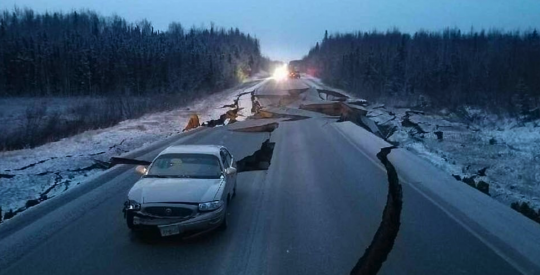 We just got more evidence that our planet is becoming increasingly unstable.  On Friday a magnitude 7.0 earthquake destroyed homes, ripped apart roads and destroyed infrastructure all throughout Anchorage, Alaska.  According to the USGS, the earthquake hit at 8:29 AM and the epicenter was approximately 7 miles north of Anchorage.  That quake was followed by a highly destructive magnitude 5.7 aftershock just a little while later.  Alaska Governor Bill Walker has declared a state of emergency, and the entire region is in a state of chaos.  Unfortunately, as global seismic activity continues to increase, more quakes like this are inevitable.  Like Alaska, the entire west coast of the United States sits directly along the "Ring of Fire", and many have warned that "the Big One" is coming sooner rather than later.
Tonight, large numbers of Anchorage residents are suddenly homeless, and that includes Alaska's most famous politician…
Light fixtures fell, glass shattered, roadways and supermarket aisles were awash from food spilled from broken jars. Video images showed some roadways had collapsed.  One man tweeted a photo of his toppled chimney and a local television station showed its studio filled with debris.

Former Alaska governor and vice presidential candidate Sarah Palin tweeted, saying her family is intact but her "house is not."
🙏🏼 for Alaska. Our family is intact – house is not… I imagine that's the case for many, many others. So thankful to be safe; praying for our state following the earthquake.

— Sarah Palin (@SarahPalinUSA) 30 November 2018
At this point it is extremely difficult to get around Anchorage.  Numerous roads were shredded by the quake and that includes the only road to Wasilla…
The quake was so strong it broke windows, cracked buildings and knocked local news station KTUU off air. Several highway and local roads crumbled in the temblor, stranding cars in the asphalt mess. The shake also broke up the only road connecting Anchorage and the nearby towns of Wasilla and Palmer.
It is going to take an extended period of time for authorities to assess the economic damage and to figure out how many human casualties there were.
Many took cover under desks and in closets as the shaking happened, but those caught out in the open didn't have anywhere to go.
One local resident named Melissa Lohr said that it "felt like the ground was gonna open up" underneath her…
"It felt like my car was uncontrollably sliding left and right and I just didn't understand because it was going perfectly fine up until then. It felt like the ground was gonna open up underneath you," Lohr said.
Read More @ TheEconomicCollapseBlog.com