by Geoffrey Grinder, Now The End Begins: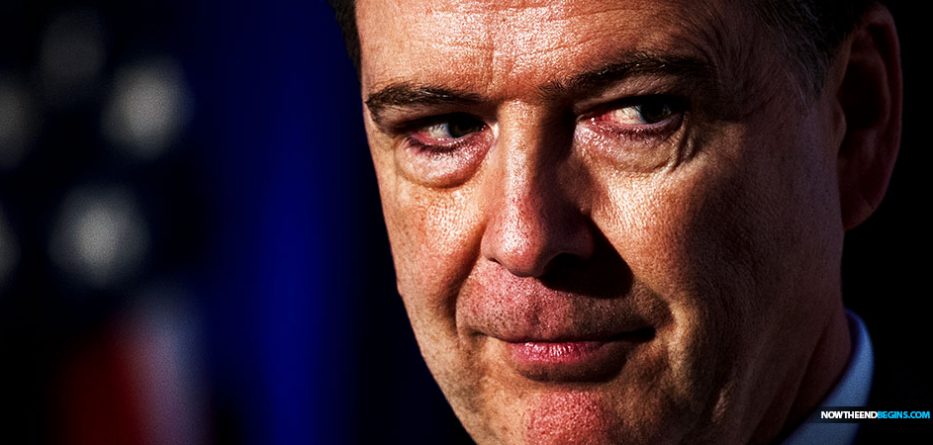 Former FBI Director James Comey admitted that the Bureau did not verify allegations in the Steele dossier before it was cited as grounds for snooping on a former Trump adviser in 2016.
One of the greatest crimes in modern American history was not perpetrated by Al Capone, John Gotti, the Clinton Crime Family or the Bush Crime Family. No, those people are rank amateurs compared to what this man James Comey pulled off while serving as the head of the FBI.
James Comey oversaw the 'investigation' into the various felonies committed by Crooked HIllary Clinton, including but not limited to destroying 33,000 emails she was told to retain, her staff destroying mobile devices she was told to retain, wiping clean her the illegal email server she used as Secretary of State despite being ordered not to. And just for good measure her husband, Slick Willie Clinton, paid an unethical and illegal visit to the attorney general Loretta Lynch all while Hillary was under Comey's investigation.
Yes, Hillary did all these things and more, and yet amazingly when James Comey was done investigating he let her off without so much as a parking ticket. Why? Because Comey and Hillary go back for decades and the whole thing was a setup. The Steele 'Russian Dossier' was financed by, guess who? Hillary and the Democrats. James Comey never investigated her, he ran interference for her.
Are you still wondering who killed Seth Rich? You shouldn't be. Take a deep dive into the Clinton Dead Pool, and you'll find out.
Comey replied with 'I don't recall' to the majority of questions
FROM THE NY POST: The admission came in closed-door testimony before congressional investigators that was made public Saturday evening.
The dossier contained memos alleging Russian influence over Trump and his advisers and helped authorities get permission from a special court to surveil former Trump adviser Carter Page.
The compilation of the Steele dossier was funded first by a conservative publication, then by Hillary Clinton's campaign and the Democratic National Committee.
The transcript from yesterday's James Comey interview is out. It includes:

'I don't know' – 166 times
'I don't remember' – 71 times
'I don't recall' – 8 times

Read the transcript for yourself. Does this sound like someone interested in telling the full story?

— Mark Meadows (@RepMarkMeadows) 8 December 2018
During his testimony Friday, Comey repeatedly professed ignorance regarding FBI investigations into Trump campaign associates in the weeks prior to the 2016 election.
Asked by Rep. Trey Gowdy (R-S.C.) what the FBI did to confirm the Steele dossier, Comey indicated that effort was still underway months after the warrant to surveil Page had already been granted and renewed. READ MORE
James Comey Admits Steele Dossier Unverified Months After FISA Warrant Granted
FROM BREITBART NEWS: The former FBI director said the anti-Trump dossier "was coming to us from a reliable source with a track record, and it's an important thing when you're seeking a PC warrant," concerning Steele.
Read More @ NowTheEndBegins.com