by Michael Snyder, The Economic Collapse Blog: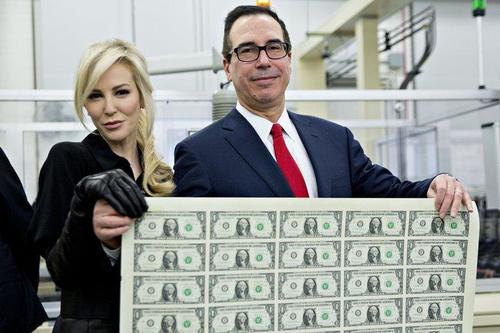 If the financial markets are going to be just fine, then why did Treasury Secretary Steven Mnuchin make emergency calls to the CEOs of the six biggest banks in America on Sunday?  And if we don't have anything to worry about, then why has he scheduled an emergency call with the Presidents Working Group on Financial Markets on Christmas Eve?  Actions speak louder than words, and we haven't seen these sorts of emergency moves since the last financial crisis.  Last week was the worst week for the stock market in 10 years, and it is understandable that they would want to try to do something to ease the panic in the marketplace, but for many this is just going to confirm that a new financial crisis has now arrived.  The following is from Secretary Mnuchin's official statement…
Washington — Secretary Mnuchin conducted a series of calls today with the CEOs of the nations six largest banks: Brian Moynihan, Bank of America; Michael Corbat, Citi; David Solomon, Goldman Sachs; Jamie Dimon, JP Morgan Chase, James Gorman, Morgan Stanley; Tim Sloan, Wells Fargo. The CEOs confirmed that they have ample liquidity available for lending to consumer, business markets, and all other market operations. He also confirmed that they have not experienced any clearance or margin issues and that the markets continue to function properly.
Tomorrow, the Secretary will convene a call with the President's Working Group on financial markets, which he chairs. This includes the Board of Governors of the Federal Reserve System, the Securities and Exchange Commission, and the Commodities Futures Trading Commission. He has also invited the office of the Comptroller of the Currency, and the Federal Deposit Insurance Corporation to participate as well. These key regulators will discuss coordination efforts to assure normal market operations.
Today I convened individual calls with the CEOs of the nation's six largest banks. See attached statement. pic.twitter.com/YzuSamMyeT

— Steven Mnuchin (@stevenmnuchin1) 23 December 2018
Apparently Mnuchin believes that the fact that he is taking action is going to "reassure" the markets.  One anonymous source told CNN that Secretary Mnuchin is "being pre-emptive"…
"It's being pre-emptive," a person familiar with the matter told CNN. "It's sending the proper message to the market so they can calculate the real picture into their Monday opening. They don't have to wait until something happens to be reassured."
But others believe that these moves could almost be akin to yelling "fire" in a crowded theater.  If investors start having flashbacks to similar meetings during the crisis of 2008, that could cause them to panic even more, and that could create even bigger problems on Wall Street.
Read More @ TheEconomicCollapseBlog.com