by Cristina Laila, The Gateway Pundit: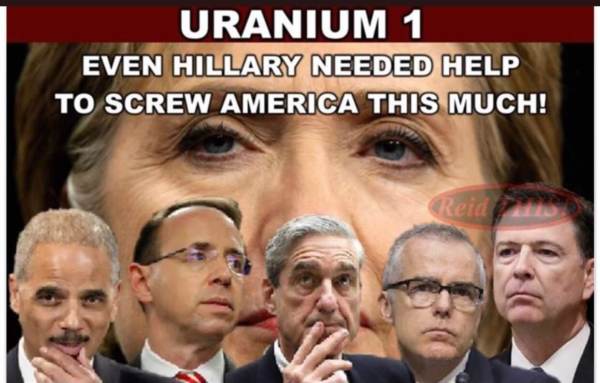 Once again Judicial Watch is doing the heavy lifting.
On Monday, President of Judicial Watch Tom Fitton announced he will be testifying on Capitol Hill this week on the Clinton Foundation pay-to-play scandal which includes Uranium One.
"I'll be testifying on behalf of Judicial Watch later this week to the House Oversight Subcommittee on Government Operations about the Clinton Foundation issue," Tom Fitton said.
"Judicial Watch broke open this scandal with Freedom of Information Act emails showing that the Clinton Foundation donors were receiving special favors and treatment from the Clinton State Department," Fitton said, adding, "This controversy also includes the infamous Uranium One Scandal."
Watch Tom Fitton discuss Clinton corruption:
Clinton Foundation under investigation — I will testify to Congress this week on behalf of @JudicialWatch. We broke the Clinton Foundation "pay to play" scandal wide open — glad Congress finally following our lead. https://t.co/c7sX5Cz3LP pic.twitter.com/3k9MT0q8Pn

— Tom Fitton (@TomFitton) 11 December 2018
Judicial Watch has uncovered many emails proving Clinton Foundation pay-to-play while Hillary was the head of the Department of State.
In April, Judicial Watch released 281 pages of newly discovered emails found on Hillary Clinton's private server.
The emails, dated 2010-2013, contained classified information and showed more Clinton Foundation pay-to-play with the State Department.
The Uranium One scandal is more than just Clinton Foundation pay-to-play — it is a national security crisis.
Prior to the Obama administration approving the very controversial deal in 2010 giving Russia 20% of America's Uranium, the FBI had evidence that Russian nuclear industry officials were involved in bribery, kickbacks, extortion and money laundering in order to benefit Vladimir Putin, reported John Solomon last October.
Read More @ TheGatewayPundit.com