by Wolf Richter, Wolf Street:
Instead of "bubble" or "collapse," it uses "valuation pressures" and "broad adjustment in prices." Business debt, not consumer debt, is the bogeyman this time.
Preventing another financial crisis – or "promoting financial stability," as the Federal Reserve Board of Governors calls it – isn't the new third mandate of the Fed, but a "key element" in meeting its dual mandate of full employment and price stability, according to the Fed's first Financial Stability Report.
As we saw in the 2007–09 financial crisis, in an unstable financial system, adverse events are more likely to result in severe financial stress and disrupt the flow of credit, leading to high unemployment and great financial hardship."
Financial firms are OK-ish, except for hedge funds.
The largest banks are "strongly capitalized" and are better able to withstand "shocks" than they were before the Financial Crisis; and "credit quality of bank loans appears strong, although there are some signs of more aggressive risk-taking by banks," the Financial Stability Report says.
Also, leverage at broker-dealers is "substantially below pre-crisis levels." And "insurance companies have also strengthened their financial position since the crisis."
A greater worry are hedge funds that are now being leveraged up to the hilt. "A comprehensive measure that incorporates margin loans, repurchase agreements (repos), and derivatives – but is only available with a significant time lag – suggests that average hedge fund leverage has risen by about one-third over the course of 2016 and 2017."
"The increased use of leverage by hedge funds exposes their counterparties to risks [that would include banks and broker-dealers] and raises the possibility that adverse shocks would result in forced asset sales by hedge funds that could exacerbate price declines."
But here is why they won't get bailed out: "That said, hedge funds do not play the same central role in the financial system as banks or other institutions."
Consumers are in pretty good shape, except…
In terms of their mortgage debt to GDP and income levels, consumers are in pretty good shape, the report said, but student loans – 90% of which are guaranteed by the government – and auto loans are out of whack, and there are some problems in the subprime segment.
But business debt, oh my!
The Fed finds that asset valuations are "generally elevated" as investors "exhibit a high tolerance for risk-taking, particularly with respect to assets linked to business debt."
"Asset valuations appear high relative to their historical ranges in several major markets, suggesting that investor appetite for risk is elevated." In this category of overvalued assets waiting for sharp price declines, it lists:
Commercial real estate ($21.2 trillion in assets) – it has a lot to say about CRE valuations and risks – see below.
Junk bonds and leveraged loans ($2.4 trillion combined) exhibit yield-spreads to Treasury securities that "are near the lower end of their historical range."
Investment-grade corporate bonds and commercial paper ($6.2 trillion) – see below.
Stocks ($33.8 trillion in market capitalization) have seen rising P/E ratios since 2012 that are now "above their median values over the past 30 years despite recent price declines."
Farmland prices ($2.2 trillion total), though down from their 2016 peak, "remain very high by historical standards."
Commercial real estate ($21.2 trillion in assets):
Though prices of commercial real estate (CRE) have been about flat compared to a year ago, they had been growing faster than rents for years. The chart below shows the index of CRE prices adjusted for inflation (via core CPI). These "real" CRE Prices are now higher than they were before it all blew up (I added the special effect in red):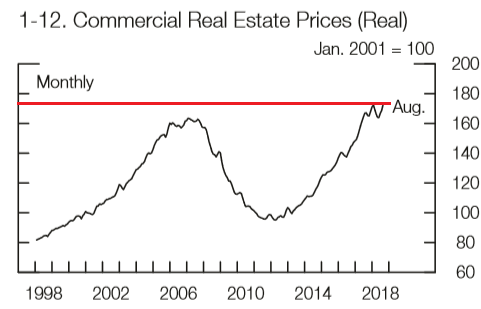 These high prices have led to capitalization rates at the time of purchase that are, compared to 10-year Treasury securities, very low. In other words, "returns to CRE property investors thus reflect a relatively low premium over very safe alternative investments." And this cannot last.
The chart below shows the three-months moving average of cap rates across the US on a square-footage basis for industrial (warehouses and the like), retail, office, and multifamily sectors: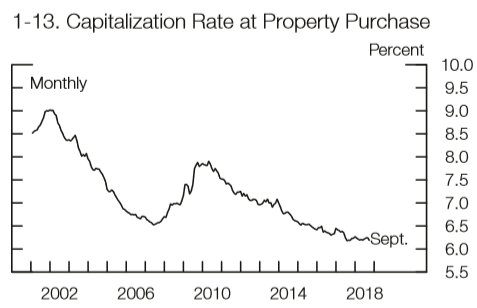 Given the CRE-bubble of historic proportions, banks should tighten lending to curtail their risks. Instead they "have eased a bit over the past year."
Borrowing by nonfinancial businesses ($17.1 trillion, excluding banks)
"Business-sector debt relative to GDP is historically high and there are signs of deteriorating credit standards," the report warns – with debt "growing fastest at firms with weaker earnings and higher leverage."
This $17.1 trillion in business debt includes:
Corporate business credit: $9.4 trillion
Noncorporate business debt: $5.4 trillion
Commercial real estate debt: $2.4 trillion