by Mike Gleason, Money Metals: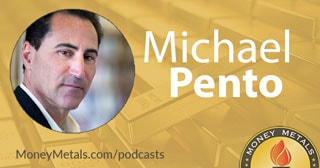 Learn Why CNBC & Bloomberg Have Banned Our Special Guest Michael Pento…
Welcome to this week's Market Wrap Podcast, I'm Mike Gleason.
Coming up Michael Pento of Pento Portfolio Strategies joins me for a conversation you will not want to miss. Michael weighs in on the recent words from Fed Chair Jerome Powell and why he believes the initial reaction from Wall Street about what the Fed will now be doing on interest rates is misguided, and he reveals the inside scoop on why he's been blackballed by CNBC and others in the mainstream financial media. So, make sure you stick around for an explosive conversation with Michael Pento, coming up after this week's market update.
Click HERE to listen
Gold and silver markets are taking in mixed signals from the economy and mixed signals from the Federal Reserve. For now at least, the signals for precious metals price trends are also mixed.
Metals markets are turning in a mixed performance this week, with gold down a slight 0.4% to trade at $1,219 per ounce. Silver was finally showing a bit of relative strength through Thursday but is giving it back here today and is now down 1.3% on the week to bring spot prices to $14.13. Showing some real relative weakness is platinum, down 4.5% to $805. Its sister metal palladium is putting in a weekly gain however of 4.9% to come in at a lofty $1,183 per ounce as of this Friday morning recording.
Metals and other assets including equities got an initial boost Wednesday from Jerome Powell. The Federal Reserve chairman suggested that his centrally planned interest rate was now close to neutral. Markets took that as a sign the central bank is getting closer to ending its long, drawn out rate hiking campaign. My guest this week Michael Pento has lots more to say on this topic coming up shortly.
Another hike is still on the table when Fed policymakers convene on December 18th. Markets may trade nervously until then. But a rate hike combined with some dovish language for 2019 might be enough to deliver a year-end rally in the stock market.
The longer term outlook for equity investors is fraught with growing risks. An angry and vindictive new Congress is set to be seated with the likes of Maxine Waters overseeing the U.S. financial system. Facing a trillion dollar budget deficit, lawmakers will be looking for ways to raise revenues. Unleashing the IRS to put the squeeze on individuals and businesses will surely be one of the top priorities of the Democrat-controlled Congress.
Recent data show tax receipts to the U.S. Treasury tapering off since this summer. It's one of many other indicators pointing toward a slowing economy. U.S. pending home sales slid 2.6% in October to their lowest level in more than four years.
Meanwhile, the chart for crude oil prices looks downright scary. The oil market appears to have finally found some support this week at the $50 level however after sliding precipitously for seven weeks in a row. The financial media report it as a supply story, with the U.S. and Saudi Arabia filling up the world's oil inventories. But there's an underlying demand story as well that should have investors concerned.
A recent survey of economists showed they see higher odds of the U.S. economy sinking into recession in the next two years, though most remain optimistic that we'll manage to avoid it. Economists are no different from the general public in the sense that they are optimistic when the economy appears to be doing well, less optimistic when it starts to weaken… and by the time they become pessimistic, the economy will already be in recession.
Similarly, by the time the Fed starts reversing course with monetary policy, it will be because something in the economy has already broken – not because Fed officials are so wise and far-sighted as to be able to anticipate moves in the economy ahead of everyone else.
The one indicator that continues to give the Fed reason to hike rates is the low unemployment number. It remains near a generational low, at least officially. However, it's a very misleading statistic since unemployment can be at a low even as the proportion of the population out of the workforce can be near a high.
But since the Fed views the economy as being at "full employment" officials there believe they still have room to ratchet rates higher. Markets, meanwhile – from real estate to commodities to stocks – seem to be flashing warning signs that the economy can't take more rate hikes.
Will the markets be right? Or will the anointed ones who pull the monetary levers and believe they know better than everyone else, including the President of the Untied States, end up being right? We may find out soon.
If more cracks develop in the foundation of the economy, expect more selling in stocks and industrial commodities. In that scenario, safe-haven buying of precious metals could rise. And when the Fed is forced to make a major policy shift toward accommodation, the lid could finally get blown off long suppressed gold and silver prices.
Well now, without further delay, let's get right to this week's exclusive interview.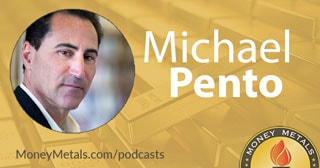 Mike Gleason: It is my privilege now to welcome in Michael Pento, President and Founder of Pento Portfolio Strategies and author of the book The Coming Bond Market Collapse: How to Survive the Demise of the U.S. Debt Market. Michael's a well known money manager and a terrific market commentator and it's always great to have him on with us here on the Money Metals Podcast. Michael, thanks for coming back again, and welcome.
Michael Pento: Hey, thanks for having me back on Mike.
Mike Gleason: Well Michael, the Dow rallied 600 points this week when Fed Chair Jerome Powell hinted that we are approaching the end of a tightening cycle. To many of us, the potential for a policy change comes as no surprise, especially given the recent carnage in the stocks. We live in a world addicted to cheap money, and frankly, we've been surprised to see the FOMC get away with as many hikes as it has. What did you make of Powell's comments? Did the consensus around three to four rate hikes in 2019 get blown up? Is the December rate hike still on the way? What are your thoughts?
Michael Pento: Well, I could take the entire interview and expound on what you just said. Let me give you my take. First of all, and I say this with all respect, Jerome Powell looks to me to be a little more feckless and a lackey of the Trump administration and of the stock market, after yesterday. He did move a little bit more dovish, but not as dovish as Wall Street would hope for and is praying for, and what they took his language to be.