by Joshua Caplan and Oliver Lane, Breitbart: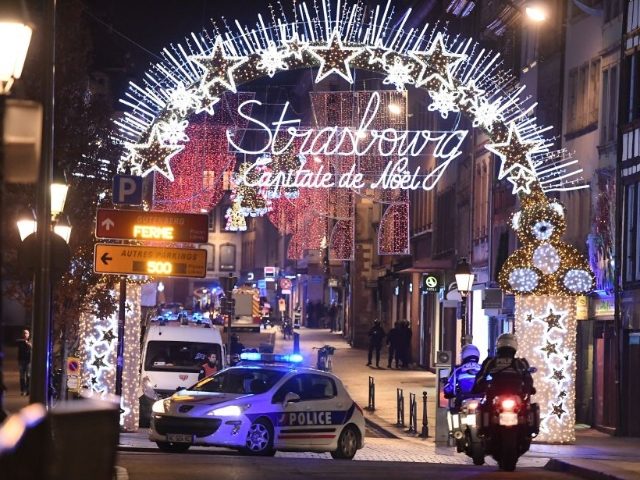 Three were killed and 12 injured in a shooting in the vicinity of the Christmas Market in the historic French city of Strasbourg Tuesday evening.
A "major public safety event" was underway Tuesday evening, according to the French ministry of the interior, after shots were fired in Strasbourg, the French city which serves as one of the two homes of the European Parliament. The ministry instructed local residents to stay in their homes.
UPDATE 0930 GMT — Five arrested but gunman still at large
The Associated Press reports of the latest on this ongoing hunt for the suspected Strasbourg attacker:
A senior French government official says that five people have been detained as police hunt for the man who attacked the Strasbourg Christmas market, but the gunman remains at large.

Laurent Nunez, secretary of state for the interior ministry, said Wednesday on France-Inter radio that the attacker could have fled to neighboring Germany.

He said that three people were killed and 13 injured, eight of them seriously. He denied reports of a police intervention at the city's famed cathedral but said the search for the attacker is constantly evolving.

Nunez said the assailant had been identified as a suspected extremist during his past stays in prison but said the motive for the attack remains unclear. A terrorism investigation was opened.
Aspects of Tuesday's attack bear a passing resemblance to the 2016 Berlin Christmas market attack, which saw police only monitor known radical Anis Amri "sporadically". After the attack which saw 12 killed and around 100 injured at the city Christmas Market, Amri was able to flee police and escape the country.
The killer was shot dead in Italy days later when he was recognised by a pair of patrolling policemen. Germany was to award medals to the officers for bravery in killing the terrorist, however declined to do so after it emerged the men had hard-right political views.
UPDATE 01:49 GMT — French interior minister holds a press conference 
France's interior minister Christophe Castaner says a gunman "sowed terror" in three parts of the eastern city of Strasbourg with a shooting spree that killed three people and left six others with serious injuries, according to the Associated Press.
Earlier police union officials had said four people were killed. Officials did not explain the reason for the conflicting death tolls.
Castaner said early Wednesday that some 350 security officers and two helicopters are involved in the search for the assailant after the Tuesday night attack.
The top French official told reporters that France is raising its terror alert level to "Attack Emergency," its highest level, and sending security reinforcements to Strasbourg. At the same time, he said the city is lifting its confinement order after hours of lockdown in multiple neighborhoods.
Le Gouvernement a décidé de placer le plan Vigipirate au niveau « urgence attentat ».
Les contrôles aux frontières sont renforcés.#Strasbourg pic.twitter.com/LRtJgbrYVj

— Christophe Castaner (@CCastaner) 12 December 2018