by Joe Hoft, The Gateway Pundit: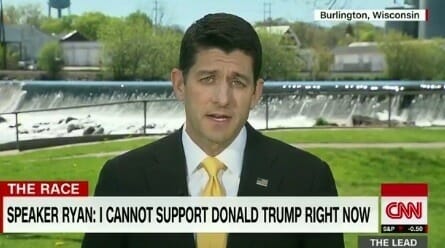 Go on now go.
Walk out the door.
Don't turn around now.
'Cause you're not welcome anymore.
Famous words by Gloria Gaynor
Speaker Paul Ryan was adamantly against candidate and then President Trump.  He said so in a tape releasedafter the election of Ryan speaking with House Republicans. 
He was also allegedly linked to the release of the p*ssy tape which almost cost candidate Trump the election. 
Ryan did nothing to support the President's border wall and to address the criminal Deep State.  He actually allowed the corrupt FBI, DOJ and Mueller investigation to harass President Trump since before his inauguration. 
Now we come to find out that he was involved in pushing the fake Russia Fusion dossier.
In early October, 2016, the TGP reported that the Clinton Campaign (Washington Post) released a video of Donald Trump bragging about grabbing p*ssy in an off the record conversation with Billy Bush.  Of course this report was coordinated and all over the air waves up an until the election.
The Los Angeles Times reported hours after audio was released of Donald Trump making sexually suggestive comments about a woman, that House Speaker Paul D. Ryan castigated Trump and said he would no longer attend their scheduled event on Saturday.
"I am sickened by what I heard today," Ryan said in a statement. "Women are to be championed and revered, not objectified. I hope Mr. Trump treats this situation with the seriousness it deserves and works to demonstrate to the country that he has greater respect for women than this clip suggests."
Paul Ryan was scheduled to campaign with Trump for the first time on Saturday October 8th, 2016.
It never happened.
Funny how @PRyan finally decides to appear w/ #Trump – only to publicly cancel and attack him! Funny how that works. https://t.co/XBJ20McXC5

— Jim Hoft (@gatewaypundit) 8 October 2016
Then that Sunday Donald Trump crushed Hillary Clinton in one of the most lopsided debates in political history. It was a brilliant performance. Trump made everyone forget about the WaPo tape.
On Monday Paul Ryan sabotaged Donald Trump again and changed the political narrative.
Read More @ TheGatewayPundit.com