by Mike Gleason, Money Metals: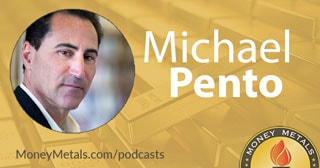 Coming up Michael Pento of Pento Portfolio Strategies joins me for an encore interview. Michael weighs in on how he sees Fed policy decisions playing out and why he believes it will have damaging long-term effects on the economy. Plus, learn why he's been blackballed by CNBC and others in the mainstream financial media. So, make sure you stick around for a replay of our explosive conversation with Michael Pento, coming up after this week's market update.
On this final Market Wrap Podcast of 2018, we'll look back at the year that was in precious metals markets… and look ahead to how things might shape up for 2019. We are certainly seeing some encouraging signs for precious metals investors in these final few trading days of December.
Click HERE to listen
Equity markets got hit by some wild gyrations around Christmas, with the Dow Jones Industrials finally gaining some footing on Wednesday and surging by 1,000 points. It appears the Plunge Protection Team is out in full force following last weekend's urgent calls to top bankers by Treasury Secretary Steven Mnuchin.
This week's recovery in stocks could have easily sent gold and silver prices retreating. Instead, the precious metals continued to move higher.
Gold closed Thursday at a 6-month high. As of this Friday recording, the yellow metal trades at $1,279 an ounce, up 1.8% for the Christmas week.
And fittingly enough, silver bells rung in a big week for the white metal. The day after Christmas, silver prices finally cleared the $15.00 level. A weekly close above that stubborn resistance would bode well for silver's near term prospects. It could get off to a hot start in 2019, as it has in each of the past few years.
Silver prices currently come in at $15.34 per ounce and are posting a weekly advance of 4.6%. Despite some year-end bullish momentum building, the silver market will still finish 2018 down by close to 10% for the year. Gold will close out 2018 with a yearly loss of only about 2%.
This year's standout precious metal is palladium. It is putting in a year to date gain of about 20%! More importantly, palladium broke out to a new all-time record high and achieved the rare feats of exceeding the prices of both gold as well as its sister metal, platinum.
The palladium market is showing no signs of hitting the skids just yet. Prices for the automotive metal are up 4.1% this week to $1,277 an ounce.
Turning to platinum, prices are little changed for the week at $793 per ounce. For the year, platinum is headed for a loss of close to 15%, it just can't seem to catch a break, even as the other metals have performed well here over these last few weeks.