from The Free Thought Project: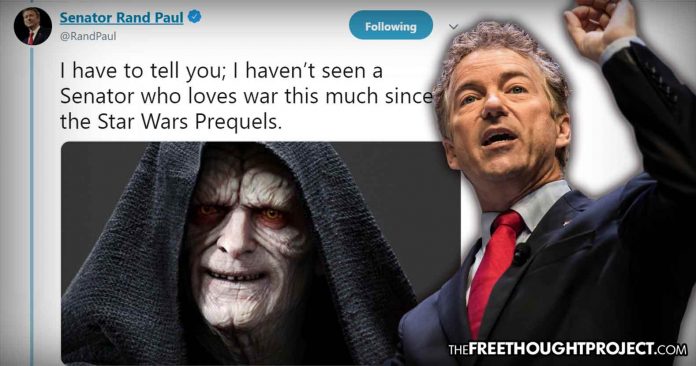 (RT) — Taking a break from the busy legislative season, US Sen. Rand Paul (R-Kentucky) had a field day on Twitter, roasting President Donald Trump, Lindsey Graham and John Bolton among others.
Paul, who, like other lawmakers, headed home for the holidays amid an ongoing partial government shutdown, has been using his spare time to make jabs at a few "people in Washington," sparing neither fellow senator, Trump advisor, nor the president himself.
You'll be surprised to learn I have some grievances with people in Washington, fellow members and others. It's time to talk about them now, because it's the holiday season.

— Senator Rand Paul (@RandPaul) 23 December 2018
Paul, who has praised Trump's decision to pull troops out of Syria, tore into the warmongering ways of National Security Adviser John Bolton and Senator Lindsey Graham (R-South Carolina) – even comparing the latter to Star Wars arch-villain Palpatine (who, coincidentally, was a galactic Senator before becoming the dark Emperor).
Paul pitied Graham for being forced to witness American troop numbers in the Middle East dwindle and thus having to make do with the several other wars the US is still in.
I have to tell you; I haven't seen a Senator who loves war this much since the Star Wars Prequels. pic.twitter.com/UFU242XYQK

— Senator Rand Paul (@RandPaul) 23 December 2018
Taking aim at Bolton, Paul tweeted that he would be delighted to see his face when Trump told him about his decision to leave Syria.
Read More @ TheFreeThoughtProject.com