from The Free Thought Project: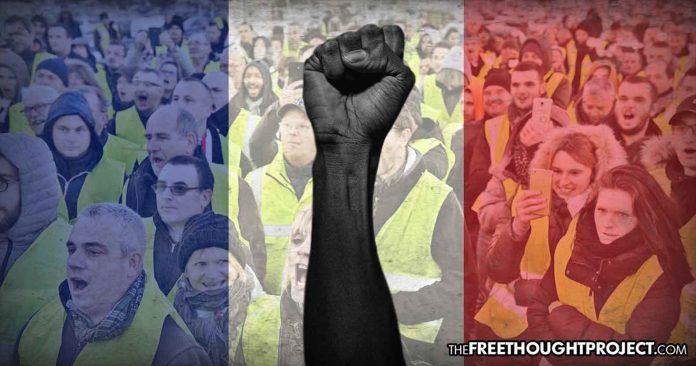 More than 100,000 people took to the streets over the weekend in a massive protest that began over a fuel tax in France—and it worked!
France — (RT) French Prime Minister Edouard Philippe has announced a six-month suspension of the fuel tax hike which triggered massive unrest across the country, saying the measure is aimed at stopping the violence and restoring public order.
The French government will suspend the fuel tax rise for six months to calm down the Yellow Vest protests, Prime Minister Edouard Philippe said in a televised speech on Tuesday. He stressed that no tax should endanger public unity and "the violence must stop."
Philippe said the protests represented "the anger of the France that works hard and struggles to make ends meet." Despite the concessions, he slammed rioters who assaulted police, saying they will be found and put on trial.
"This anger, you'd have to be deaf or blind not to see it or hear it," Philippe said in an address. "The French who have donned yellow vests want taxes to drop, and work to pay. That's also what we want," the Prime Minister maintained.
The fuel taxes will not rise until they are debated by all stakeholders and the French people. He also promised to increase the minimum wage by 3 percent next year and direct the government to focus on improving living standards.
In a series of tweets published on Tuesday, Philippe assured the public that gas and electricity prices will not go up this winter. He also admitted that more transparency on taxes is needed. "Our taxes are the highest in Europe, our tax system is terribly complex," he added.
Previously, Philippe's office has said the prime minister would announce some "measures" favoring the protesters. Culture Minister Franck Riester told reporters Philippe may make "a strong conciliatory gesture in the coming days," but did not provide any details.
Je veux ouvrir un large débat sur les impôts et les dépenses publiques. Il faut plus de transparence sur les impôts en France. Nos impôts sont les plus élevés d'Europe, notre système fiscal est terriblement complexe.

— Edouard Philippe (@EPhilippePM) 4 December 2018
Le Gouvernement n'accepte pas les violences qui ont eu lieu samedi dernier contre les forces de l'ordre, contre les monuments nationaux, les bâtiments publics et contre les commerces.

— Edouard Philippe (@EPhilippePM) 4 December 2018
Earlier on Monday, it emerged that protesters representing the movement have pulled out of the planned meeting with the Prime Minister. Two of the protest leaders, Jacline Mouraud and Benjamin Cauchy, told AFP they had received threats from hardline protesters who warned them against entering into dialogue with the government.
Read More @ TheFreeThoughtProject.com