by Jim Rickards, Daily Reckoning: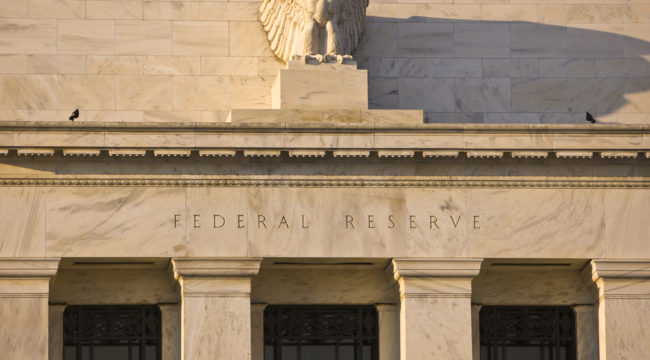 One of the major drags on the market, besides trade wars, has been uncertainty about whether the Fed will raise rates this month. Despite the verbal bravado of Federal Reserve Chairman, Jerome Powell, over how strong the U.S. economy is, he doesn't live in a vacuum.
Powell's borne the brunt of President Trump's recent accusations that the Fed's hikes are what's hurting the stock market and threatening the economy. That lead to a media debate over whether Powell would "cave" to Trump or demonstrate that the Fed is the independent body that it's legally designed to be, and continue with planned hikes anyway.
Powell's recently indicated again that he planned to go ahead with another 0.25 rate hike when the Fed meets Dec. 19, which would be the fourth increase this year.
But on Nov. 28, he revealed something in his speech at the Economic Club of New York that I've been predicting. He dialed back talk about rate hikes. He said that rates were "just below" neutral. That contrasted sharply with his comments from Oct. 3rd when he said "We are a long way from neutral at this point."
In other words, he's turned dovish.
That's a major shift in less than two months' time. But why the change? It likely had much less to do with pressure from Trump than deteriorating economic and market conditions. Heavy market volatility was just starting to return when he his Oct. 3 comment. It's only gotten worse since then. At some point, the wobbling in the financial markets must have gotten to him.
As the Daily Reckoning's, Brian Maher said, single-day losses of 300, 500, 700 — 800 points — seem almost commonplace now. "The stock market is a wreck of nerves these days," he said, "like a man walking point in a dark enemy jungle."
There are just so many points of uncertainty and weakness brewing in the markets, both within the U.S. and the global economy overall.
During 2017, a large part of the global economy was enjoying what appeared to be a sustained period of growth. Large advanced economies like the U.S., the EU and China were bustling and many emerging-market countries were healthy.
This year, that trend has all but reversed. Uncertainty has crept into stock and bond markets, along with economies around the world. China's economic growth has fallen to its weakest level since 2009. At home, spreads are widening on corporate credit, lots of CEO are warning about slowing growth, and we've seen an 8.9% decline in new home sales.
What has emerged is a growing fear that the future could be gloomier than many analysts, governments and central bank leaders anticipated. There are now two major factors that could curtail growth in the U.S.
One is the Federal Reserve itself. If the Fed were to continue raising rates too quickly, it would cause government, corporate and consumer debt payments to increase. Such a move would lead to higher deficits and defaults — and lower economic growth.
Second, while President Trump's estimated $1.5 trillion in tax cuts have contributed to boosting U.S. GDP this year, the same impact is unlikely to carry on into next year.
Read More @ DailyReckoning.com