by Wolf Richter, Wolf Street:
Homebuilders, a bedraggled bunch recently, breathe a sigh of relief, but get crushed anyway.
"NOTICE: Due to a lapse in federal funding this website is not being updated," the Commerce Department's website says currently on the page where the Census Bureau would have published this morning's data for new-home sales, inventory, and prices for the month of November.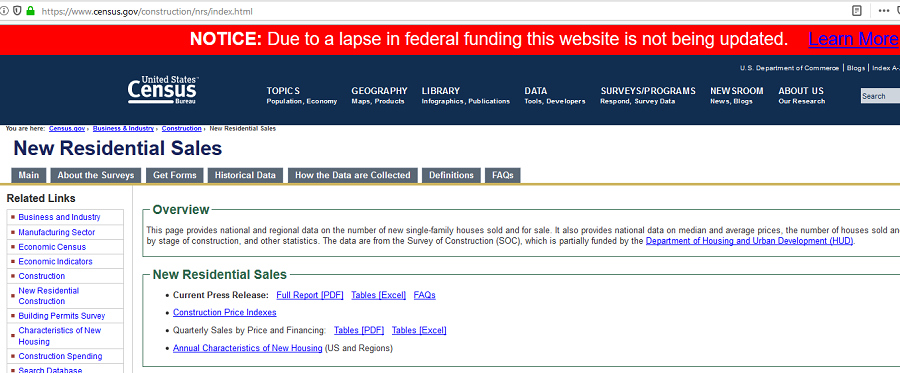 The main page of the Commerce Department's website explains: "Due to the lapse in Congressional Appropriations for Fiscal Year 2019, the U.S. Department of Commerce is closed. Commerce Department websites will not be updated until further notice. For more information, see Shutdown Due to Lapse of Congressional Appropriations."
And that's a good thing for our bedraggled homebuilders.
On November 28, when the October data for new home sales, inventory, and prices were released, homebuilder stocks got punished, after already having been brutally punished for much of the year. The data was nasty (my take at the time, including charts):
Sales of new single-family houses plunged 12% compared to a year ago.
The supply of new single-family houses for sale spiked to 7.4 months, up from 5.6 months a year ago, and the highest since February 2011, during Housing Bust 1.
The median sale price of new single-family houses sold in October dropped 6.6% from a year ago to $309,700, a price that was first reached in November 2015.
So this morning, the data for November would have come at the worst possible moment, with stocks already getting hammered for much of December, and getting re-hammered today, after the blockbuster one-day-wonder rally yesterday.
When the November 28 data was released, the iShares U.S. Home Construction ETF [ITB] fell 2.7%. At the time, it was down 29% from its peak on January 22, 2018. Some of the biggest homebuilder stocks lost nearly 4% on that day.
So homebuilders don't really need a replay of this. Nevertheless, and despite the hushed-up November data, the Home Construction ETF sank 2.5% this morning.
On Wednesday, when the overall stock market had one of its most explosive rallies and epic short-squeezes ever, with all indices surging, the homebuilders too surged, and the Home Construction ETF jumped 4.3%, bouncing off its Christmas-Eve low of 28.55, the lowest closing price since January 23, 2017, and back where it had first been in June 2016.
The Christmas Eve close was down 38% from peak of 46.25 on January 22, 2018. It completely unwound its fantastical Trump bump. And yesterday's huge bounce is a barely visible dimple in the two-year chart: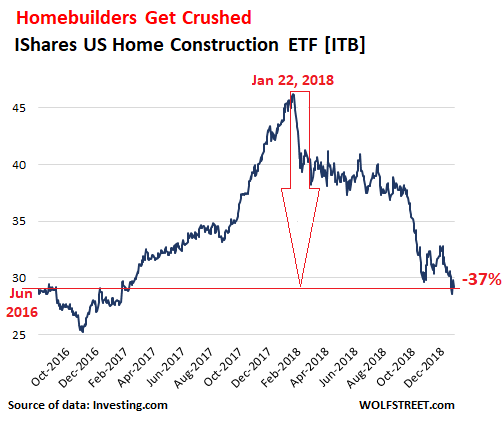 Thanks to the hushed-up data, the ITB is only down 2.5% this morning. At 29.01, it has plunged 37% from its peak on January 22 this year. And the individual homebuilders are moderately lower instead of getting a full whack from unwelcome housing data:
Toll Brothers [TOL]: -3.0%
Lennar [LEN]: -3.0%
Pulte [PHM]: -2.4%
KB Home [KBH]: -3.8%
D.R. Horton [DHI]: -1.8%
Hovnanian [HOV], a penny stock selling for 70 cents a share at the moment: +4.7%