by Mike Gleason, Money Metals: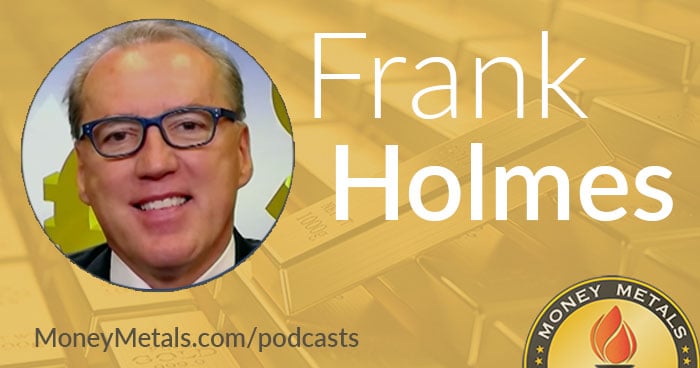 Welcome to this week's Market Wrap Podcast, I'm Mike Gleason.
Coming up Frank Holmes of U.S. Global Investors joins me and shares why he believes this past quarter has been a very constructive and encouraging one for gold — and he also gives us his outlook for the equity and metals markets in 2019. Don't miss another great interview with Frank Holmes, coming up after this week's market update.
Heavy selling in the stock market this week is stimulating demand in the future markets for safe-haven assets, most notably precious metals.
Click HERE to listen
Stocks plunged on the heels of another rate hike by the Federal Open Market Committee on Wednesday.  The FOMC raised its benchmark rate by a quarter point and signaled it intends to hike two more times in 2019.
That wasn't what investors wanted to hear. The Dow and S&P 500 each sliced through critical support levels to make new lows for the year.  December is now set to be the worst month in 10 years for the major equity averages.
December is normally positive for stocks, especially around Christmas.  But no Santa Claus rally appears to be forthcoming this year.  Instead, Fed chairman Jerome Powell decided to play the Grinch who stole Christmas cheer on Wall Street.
Not all investors are getting lumps of coal in their portfolios, however. Those who are diversified into physical precious metals are seeing some glitter.
A rally in the gold market took prices to a 6-month high on Thursday. As of this Friday recording, the monetary metal shows a 1.7% gain for the week to bring spot prices to $1,260 per ounce.
The silver market is again knocking on the door of its stubborn resistance level at $15.00 per ounce. Silver prices currently trade at $14.73 after advancing 0.8% this week.
Other alternative currencies are also rallying this week.  Bitcoin surged nearly $1,000 to trade back above the $4,000 on Thurdsday.  However, the cryptocurrency remains more than 75% below its all-time high from last year.
Renewed interest in alternative currencies comes as online fundraising platforms such as Patreon expand their purges of prominent right wingers to now include center-right, centrist, and classical liberal activists who transgress against political correctness.
Alternative fundraising platforms that allow greater freedom of speech have emerged, but they have gotten shut down one by one by their credit card payment processors.  We all should be alarmed by these developments – the de-platforming, blacklisting, and public shaming of increasingly large groups of Americans and organizations that won't toe the leftist, globalist line. It's a rigged system – one in which bankers are colluding with big tech to restrict our political speech.
Prominent center-right psychology professor Jordan Peterson is vowing to help set up a new crowd funding platform for independent content creators who have been banned elsewhere or are tired of self-censoring to avoid getting banned.  It remains to be seen whether it comes to fruition and whether it will be allowed to run credit card transactions.
Other voices in the alt tech space are getting behind payment platforms that rely on cryptocurrency. That way they can bypass the controlled banking system entirely.  Bitbacker.io is one such platform. Other systems are in development.
At stake is the principle that third parties and intermediaries shouldn't be able to prevent voluntary, legal transactions from taking place on the internet. Offline transactions conducted directly in physical coins or paper currency require no permission from banks or Silicon Valley overseers.
But once currency becomes digitized, it becomes subject to being controlled. That is why big tech, big banks, and big government forces want ultimately to make all transactions digital. They want to ban physical cash.
The Treasury Department could one day declare that minting coins and printing notes is too expensive.  Therefore, every citizen will be issued a digital wallet – perhaps linked to some biometric authentication system.  That would be the end of financial privacy involving any transactions priced in dollars.