from Breitbart: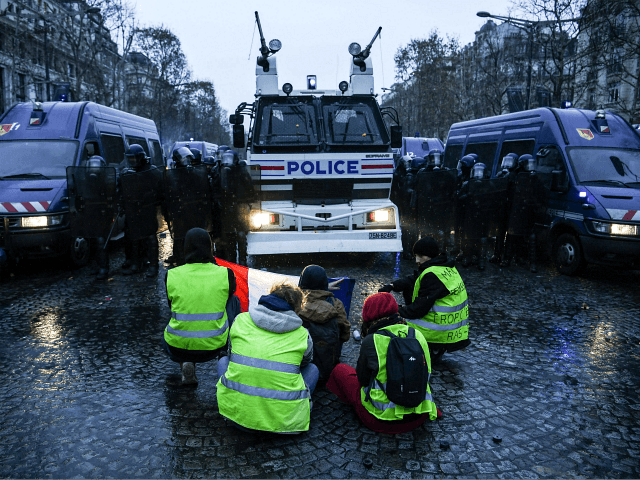 PARIS (AP) – The Latest on France protests (all times local):
6:25 p.m.
French police have pushed protesters off the Champs-Elysees in Paris with tear gas and water cannon, and re-opened the French capital's famed avenue to traffic.
Police were telling protesters to remove their yellow vests, symbols of a nationwide protest movement that began in November against economic injustice and France's high cost of living.
It was the fifth Saturday of protests in the French capital but there were many fewer protesters than in previous weeks. Police said up to 3,000 protesters were in the streets of Paris in the afternoon, compared to 10,000 a week ago, when protests degenerated into violence and looting for the second week in a row.
Police headquarters said 96 people were taken into custody Saturday.
The French press quoted authorities as saying that 33,500 protesters turned out nationwide Saturday, less than half the number of the previous week.
___
3:20 p.m.
French police have fired tear gas across the Champs-Elysees Avenue in Paris and protesters have scuffled with police outside the city's Opera house amid the fifth straight weekend of protests by the "yellow vests" movement.
Saturday saw mostly peaceful anti-government protests in the French capital but violence broke out at its margins, as groups of yellow vests tried to break through police lines as they protested France's high cost of living.
There were clashes at Opera, where some demonstrators had gathered to voice their grievances. And French police unleashed repeated discharges of tear gas along Paris' premier shopping street, the Champs-Elysees, although the back-and-forth fell short of previous violence that had scarred the avenue with broken windows and looted stores.
French police have detained 85 people in Paris in Saturday's protests.