by Lee Stranahan, The Gateway Pundit: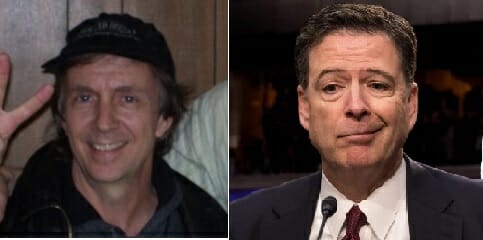 Brett Kimberlin, a convicted serial bomber and leftist activist with longtime connections to a Clinton insider who put together a second "dossier" on Trump that was sent to the FBI by Christopher Steele, has claimed on his blog Protect Our Elections that he "worked extensively with cyber experts in here and abroad on measures that can be employed to counter Russian malign" and that since "March of 2016, we have also provided significant information about this to the Department of Justice."
In 1996, the Chicago Tribune described Kimberlin:
Kimberlin, the child of a middle-class Indianapolis family, was convicted in 1981 for a series of bombings around the Indianapolis Motor Speedway, one of which tore off most of a man's leg. Described by (journalist Mark Singer) as "Indianapolis' own homegrown, holistic Hannibal Lecter," he had dealt drugs, been involved in a health foods business and pulled some cons, proving alternately engaging and duplicitous.
During the 1992 presidential election that eventually saw Bill Clinton defeat George H.W. Bush, Kimberlin falsely claimed that he had sold marijuana to Bush's V.P. Dan Quayle, a charge that facilitated by long-time Clinton insider Cody Shearer. As the Hartford Courant reported in 1991 about how the Kimberlin gained publicity via Garry Trudeau's cartoon Doonesbury:
Today, Garry Trudeau's satirical cartoon strip begins a two-week series suggesting that federal officials in 1988 covered up an investigation into 1982 allegations that Vice President Dan Quayle had bought cocaine. No basis was found for the allegations against Quayle, then a U.S. senator.

…

"I want to make it clear I never talked to Garry Trudeau," Kimberlin, jailed since 1979, said from prison last week, although at least one person who had spoken to Kimberlin — Washington free-lance columnist Cody Shearer — has also spoken with Trudeau.
This decades long connection between Kimberlin and Cody Shearer is notable because both Kimberlin and Shearer were actively working behind the scenes to dig up dirt on Donald Trump and supply it to both journalists and the FBI.
Kimberlin's work with Democrats to take down Trump wouldn't come to light until well after the election, and given Kimberlin's part, it should be a major story in its own right. Instead, the mainstream media ignored it.
Read More @ TheGatewayPundit.com