by Geoffrey Grinder, Now The End Begins: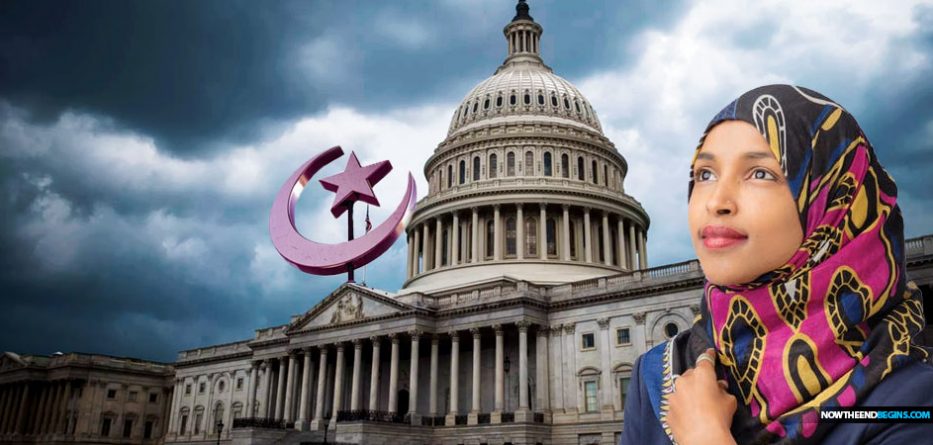 "For us, it's really about making sure that the rules allow for us to be able to push our progressive agenda and have that become policy," said Omar. Ilhan Omar drew national attention for attacks on her Muslim faith. Her move to change a House rule so she could wear a hijab on the floor prompted the Rev. E.W. Jackson to say that the floor of Congress would look like an Islamic republic.
Ilhan Omar will be sworn into the U.S. House of Representatives at a time when liberal-leaning newcomers like her are pushing for more influence in shaping the party's agenda.
Ilhan Omar has not yet been sworn in, but already the darkening storm clouds of confrontation are on the horizon. Omar is one of two Muslim women elected to Congress in 2018, both of whom are anti-Israel and anti-semitic. Democrats in Congress are already working to change centuries-old America law so that Islamic headgear will be allowed to be worn on the floor of the House.
1818 riddle: How do you boil a frog? Put him in cold water and gradually turn up the heat.
2018 riddle: How do you institute Sharia Law in America? You start with Liberals who become Far Left Liberals who become Progressives who become Democratic Socialists. Get voters to accept that and they will accept just about anything, even Sharia Law. Guess what? We're already there.
Ilhan Omar's influence already expanding in Congress
FROM THE STAR TRIBUNE: Since the midterm elections, the Congressional Progressive Caucus has negotiated with House Minority Leader Nancy Pelosi for its members — particularly freshmen — to have more committee chairmanships and spots on powerful panels usually reserved for more seasoned members, such as Ways and Means.
Omar was recently elected to a leadership role in the caucus, a position that will give her more influence, but that is nearly certain to draw more criticism.
"Top Democratic leaders have proactively sought conversations with Ilhan Omar and some other progressive stars to make sure that their views are firmly at the table," said Adam Green, co-founder of the Progressive Change Campaign Committee, which endorsed Omar. She attended the group's legislative training in 2015. "I think it's an acknowledgment that they have such a large voice and bully pulpit right now, and the ability to drive the national debate."
Omar told the Star Tribune that her early priorities will include an infrastructure package — funding roads, bridges and broadband internet — and a measure that would institute publicly funded political campaigns and automatic voter registration. She's also advocating for a proposed constitutional amendment to undo the U.S. Supreme Court's 2010 Citizens United ruling that allows corporations and labor unions the right to spend unlimited money in political campaigns.
 "FOR US, IT'S REALLY ABOUT MAKING SURE THAT THE RULES ALLOW FOR US TO BE ABLE TO PUSH OUR PROGRESSIVE AGENDA AND HAVE THAT BECOME POLICY," SAID OMAR.
During freshman orientation last month, Omar drew social media buzz with a photo on Instagram with three other incoming progressive women of color: Ayanna Pressley of Massachusetts, Alexandria Ocasio-Cortez of New York and Rashida Tlaib of Michigan. It ran with the hashtag "squad," signifying the greater diversity of the new class in Congress.
But some challenges are already emerging. Omar drew national attention for attacks on her Muslim faith. Her move to change a House rule so she could wear a hijab on the floor prompted the Rev. E.W. Jackson to say that the floor of Congress would look like an Islamic republic. READ MORE
Ilhan Omar Supports The Anti-Israel BDS Movement
Read More @ NowTheEndBegins.com