by Virginia Hale, Breitbart: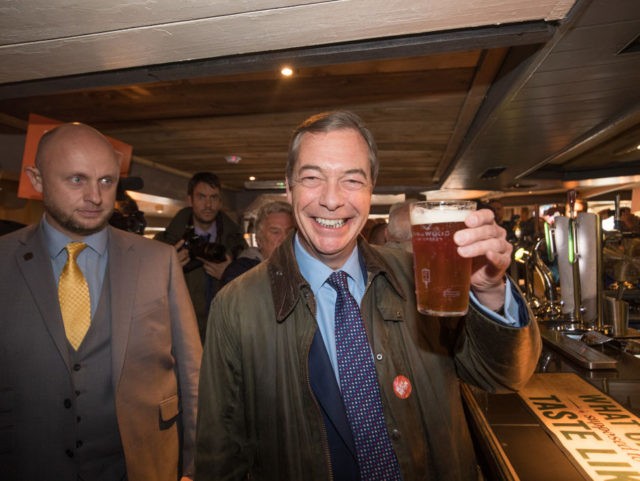 Nigel Farage has confirmed he is planning to launch a new political force to save Brexit, vowing he "won't lie down" as the political establishment tries to overturn the referendum result.
The Brexit pioneer, who resigned from UKIP last week, told the Sunday Telegraph: "I sense within me I have not fought my biggest battle yet — that is how it feels. Whether it is happenstance, serendipity, destiny.
"I am not going to lie down and watch it go down the plug hole. I couldn't do that. And I won't do that. If there are European Parliament elections I am standing and I am thinking about vehicles do to that," he added.
Though Britain is supposed to leave the EU on March 29th 2019, two years after the Article 50 clause of the Lisbon Treaty was triggered to begin the Brexit process.
Mr Farage said he believes there is "a 55 to 45 per cent chance" that delays will see the United Kingdom still in the bloc when the May 2019 elections to the EU Parliament take place.
"My view is that, between now and Christmas, Article 50 will be extended. Is there a lot of conversation about what then happens? Yes. If the Brexit ball is dropped completely, it will have to happen," he told the Mail on Sunday.
"Look, I make this absolutely clear, if they suspend Article 50 and we fight in the next European elections, I will be there."
Farage Briefed Trump on May's 'Worst Deal in History', President Saddened by 'Missed Opportunity' https://t.co/Vi3HlQMIJo

— Breitbart London (@BreitbartLondon) 29 November 2018
Mr Farage — who led UKIP on and off for nearly a decade, before quitting due to the direction the party has taken in recent months — said talks with figures from the worlds of business and politics had been underway about creating a new vehicle, the name of which was still "to be confirmed".