by Matt Agorist, The Free Thought Project: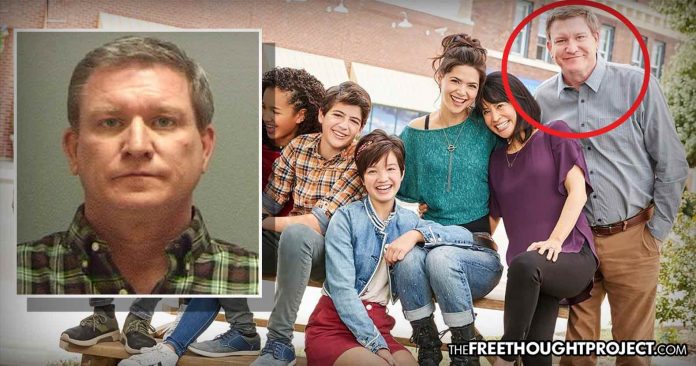 A 48-year-old Disney Channel actor has been arrested in Utah after he was allegedly caught trying to lure a 13-year-old boy for sex.
Salt Lake City, UT — A 48-year-old Disney Channel actor has been arrested in Utah after he was allegedly caught trying to lure a 13-year-old boy for sex. Stoney Westmoreland starred as the grandfather, Henry "Ham" Mack on the Disney children's series "Andy Mack"—a story about a young girl who is coming to age.
Westmoreland was arrested Friday after he was caught attempting to lure a child to a motel for sex. Westmoreland used an internet app to lure who he thought was a 13-year-old boy.
According to court documents, Westmoreland was arrested for enticing a minor by internet or text, a second-degree felony, and four counts of dealing in materials harmful to a minor, a third-degree felony.
KSL.com obtained the affidavit filed by the 3rd District Court which states that the actor began communicating online with a user he believed was underage "on an internet app used for dating and meeting people for the purpose of engaging in sexual activity."
Westmoreland asked that person to engage in acts with him and to send nude photos, police said. Westmoreland also sent pornographic photos, according to the affidavit.
The Salt Lake City police department and FBI Child Exploitation Task Force intercepted Westmoreland in a ride share as he headed to pick up the person he thought was the 13-year-old boy.
"Stoney Westmoreland, an actor working on the series 'Andi Mack,' was arrested in Salt Lake City today," a Disney Channel spokesperson told Fox News. "Given the nature of the charges and our responsibility for the welfare of employed minors, we have released him from his recurring role and he will not be returning to work on the series which wraps production on its third season next week."
While this news may seem shocking, the only really shocking aspect is the fact that Disney fired Westmoreland. The media giant has been known to not only employ convicted child sex offenders, but also place them in situations where they have access to children.
Both Brian Peck and Victor Salva were convicted of several sex crimes against children—yet went on, after their convictions, to enjoy lucrative careers within Disney's corporation. Peck, who starred in X-Menand in all three Living Dead films, served 16 months in prison and he still works with children on Disney film projects. According to court documents reported by the Daily Mail, detailing Peck's crimes against a child actor known as "John Doe" to protect his identity:
The documents show Peck was originally charged with 11 counts including: lewd act upon a child; sodomy of a person under 16; attempted sodomy of a person under 16; sexual penetration by foreign object; four counts of oral copulation of a person under 16; oral copulation by anesthesia or controlled substance; sending harmful matter; and using a minor for sex acts.
Salva also sexually abused children and continues to enjoy the good graces Disney offers.
To highlight the nature of how Hollywood not only looks the other way in these instances but actually condones them, Disney cared not about hiring Salva and, once again, gave him access to children on the set of Powder.
Instead of lambasting Disney for hiring a convicted child predator, the industry went on to praise him.
"As controversy swirled around filmmaker Victor Salva, who pleaded guilty in 1988 to molesting a boy on the set of his low-budget picture 'Clownhouse,' Salva's agent said that a good showing at the box office may salvage the 37-year-old director's career," the LA Times reported on Oct. 31, 1995.
Read More @ TheFreeThoughtProject.com